If I translate the word Maultaschen to English, it would be mouth pockets. Weird! They are basically filled pasta, cooked in a broth. You could compare them with ravioli but they are much, much bigger and have no tomato sauce. You could either fill them with ground beef or with spinach and I am sure there are a lot more fillings out there.
People in Swabia (Schwaben) enjoy their Maultaschen either in a chicken broth or fried in some butter and with fried onions and maybe some sauerkraut on the side.
Whether you fill your Maultaschen with meat or with vegetables or a little bit of both – that's up to you. Also feel free to experiment with it and use fillings that you think might be a good match to this recipe.
The dough is a pasta dough and you could also use it to make spaghetti etc.. Watch the video and see how I role it. While you don't really need a pasta machine, it helps a lot. I am the proud owner of a pasta attachment for my KitchenAid and I'm not afraid to use it! It makes this really very convenient but you could as well just use your rolling pin and some muscle grease. The pasta dough is a little bit like chewing gum. It stretches and it's important that it is not sticky. If it turns out to be sticky, add some flour. If your eggs were rather small and the dough doesn't become smooth after some time of kneading, then add a little water.
There is really not too much to it, just figure out how much filling you can put into your square piece of dough and make sure you close it properly. The egg white helps to stick the two layers together and the fork presses the doughs onto each other.
In my video, I am using some soup vegetables and add them to the broth. You don't have to do it but it really adds a lot of taste to the broth. I am sometimes buying some cellery root, leek, kohlrabi, and carrots and cut them all into small cubes. Then I add parsley and a little bit of cilantro and freeze it. This way I always have some soup vegetables on hand. Very convenient! so this is what I added to my broth in the video (minus the carrots, since I forgot to buy them last time I made this).
I can't really tell which way I like my Maultaschen better: In the soup or fried. It's both very delicious! Just make sure the Maultaschen have boiled long enough in the broth so the pasta dough is cooked through. Otherwise it would be a rather chewy experience.
There is more than one way to shape Maultaschen. Some make square packages, others shape them in rectangles … but I know them in triangles and stick to it.
This recipe makes about 24 Maultaschen. In a soup, you would probably serve 1 or 2 Maultaschen as a starter. Or you can serve 4 Maultaschen per person as the main course. Maultaschen make you feel very full very fast!
In the video I used a package of prepared spinach. I would recommend adding an egg yolk to this, so it has a better consistency after cooking.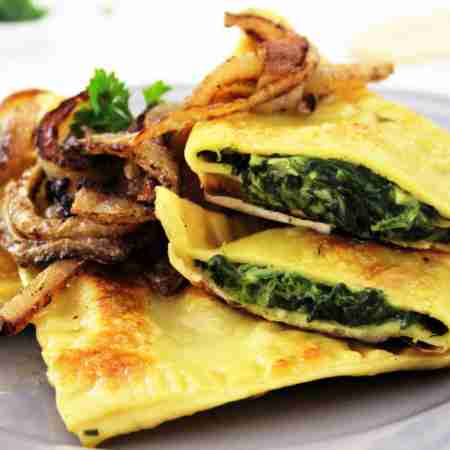 Maultaschen - Swabian Filled Pasta (Ravioli)
Ingredients
The dough
300

g

flour

3

eggs

1

Tbsp

olive oil, for sauce pan and pizza crust rim

½ to 1

tsp

salt

some

water or additional flour if needed
Spinach Filling
2

small

onions

2

cloves

garlic

2

Tbsp.

oil

600

g

fresh spinach

(2 2/3 cups)

some

pepper, fresh ground

some

nutmeg

1

egg

separated

3

liter

chicken or vegetable broth

(6 cups)
Meat Filling
1

onion

300

g

ground beef

1

egg

1

egg yolk

2

Tbsp.

chopped parsley

some

salt and pepper
Instructions
Making the dough
Mix the flour with the three eggs, the tablespoon of oil and the salt.
Use a mixer to knead it into a dough.

Cover a surface with some flour and continue with kneading the dough but now with your hands until it is smooth.

Let the dough rest for 40 minutes.

Roll half the dough with a rolling pin. If you have a pasta machine, roll the dough from wide to thin until you can almost look through it. If you don't have a pasta machine, just keep rolling the dough until it is very thin.

Cut the dough into 4 x4 inch squares.

Put some filling in the middle of the squares.
Spinach Filling
Wash the spinach and cut it into a smaller size.

Cut the garlic and onions into small cubes.

Heat some oil in a souace large sauce pan and add the onions and garlic. Sauté for a minute.

Add the spinach, stir and cover with a lid. Let cook at medium heat for 3 minutes.

Spice with salt, pepper and nutmeg, then let the mass cool a little.

Add the egg yolk to the spinach and stir.

Use this to fill the Maultaschen.
Meat Filling
Finely cut the onion and fry with the oil it in a pan.

In a bowl mix the ground beef with the egg, egg yolk, and parsley.

Season with salt and pepper.

Add the mix to the pan with the onions and fry until cooked through.

Use as a filling for the maultaschen.
Making the Maultaschen
Stirr the egg white of an egg with a fork.

Add the filling to the middle of a dough square.

Brush some egg white along the rim of the dough.

Flip the dough to a triangle (see video).

Use a fork to press the dough together.

In a large pot bring the broth to a boil.

Optional: Add some soup vegetables.

Add some of the Maultaschen and let cook for about 15 minutes.

Serve the Maultaschen either with some of the soup or fry them in a little butter and serve them with some fried onions.

If you have cooked Maultaschen as a leftover, you can easily freeze them. Thaw them and reheat them in broth.
Notes