Here comes a typical spring meal from the North: Matjes Herring in Cream Sauce! The word "Matjes" comes from the Dutch and it means "maiden". It refers to the young virgin herrings that are used for this meal. They have a very soft texture and a mild taste and are usually caught in the springtime before they mate.
The herring needs to be in the sauce overnight, which makes it even more soft and nice to eat. I am not sure if you can buy this kind of herring anywhere here in the US. I can imagine that the east coast has them but down here in Texas I haven't come across such herring and had to settle for a common herring in wine sauce. Better than nothing, right? They are however more intense in the taste.
Matjes Herring Video
Side for this Dish
Since the spring also comes with new, small potatoes, the Matjes Herring is usually enjoyed with some fresh, new potatoes. We cook them in their skin and while the Herring and sauce are cold, the potatoes are supposed to be hot. It's a perfect mix, just trust me on that!
Matjes Herring is a great meal on a hot summer day, too. It's easy to prepare ahead and the next day all you need to do is boiling some potatoes. It can't get much easier!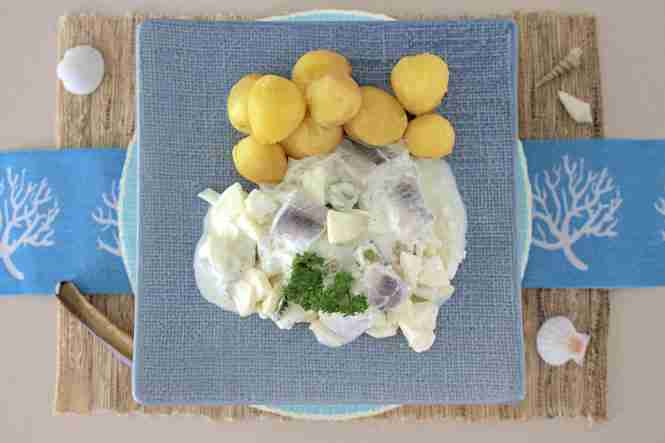 Matjes - Hering in Cream Sauce
Herring in a cold yogurt and cream sauce.
Ingredients
1

jar

herring or 8 herring filets

1

large

onion

3

Tbsp

lemon juice

2-3

apples (400g)

1

cup

yoghurt

1

cup

sour cream

1

cup + a little

cream (250 ml)

150

g

pickles

salt

pepper

sugar
Instructions
Start with cutting the onion into halves and then slice it.

Set up a pot of water and add 1/4 tsp. salt, bring to a boil.

Add the onions to the boiling water and let cook for 1 to 3 minutes, then remove them from the pot.

Peel and cut the apples into small cubes (see video).

Cut the pickles into slices.

Mix the cream, yoghurt and sour cream in a large bowl.

Add salt, pepper, lemon juice and sugar.

Next, add the onion slices, the apples and mix it well.

Wash the herring and cut into 1 inch size, then add to the sauce and mix well.

Cover the bowl with cling wrap and refrigerate for at least 12 hours.

Enjoy cold with fresh boiled hot potatoes.
Notes
You can also enjoy this as a herring salad if you use less of the cream. Instead, use a little more sour cream. Enjoy on bread or as a side or snack.