When it comes to baking bread, I will sometimes refer to "Bread Spice". If you want the rich taste of German Bread, you will need this!
A bread can have a really good taste of it's own and bread spice is not really necessary. However, many bread recipes recommend bread spice to enhance the taste or steer it into a certain direction. Now, the ingredients of bread spice are not really my favorite spices, so the more surprising it was to me, that they don't take over the flavor of the bread.
Don't like Caraway Seeds?
Well, I hear you! When I first started to make my own German bread spice, I used less if the caraway seed, just to make sure it will not come out too strong. Also, I was careful with using the spice in the dough. Little by little I started to use more, asking my family first what they think about adding more spice. You should probably start with a teaspoon and check back with your family how they like the taste and add more if they don't know what you are talking about. For us, it had turned out that 2 to 2.5 teaspoons on one bread is the minimum we need – depending on the loaf size. If the bread is for sandwiches with ham etc. I use 3 or more teaspoons of the bread spice. 1 Tablespoon per 1 kg dough is usually recommended. But if you are planning to use the bread with sweet toppings like jam, Nutella or honey, then I would recommend to use less of the bread spice. Experiment with it!
Please do not mix up bread spice with bread dipping seasoning. That is a total different thing.
I happen to have some packages of bread spice in my pantry since my father in law and my daughter just brought them for me from Germany. That't how it is sold in Germany.

But you really don't need friends in Germany to send you this stuff. It is so easy to make it!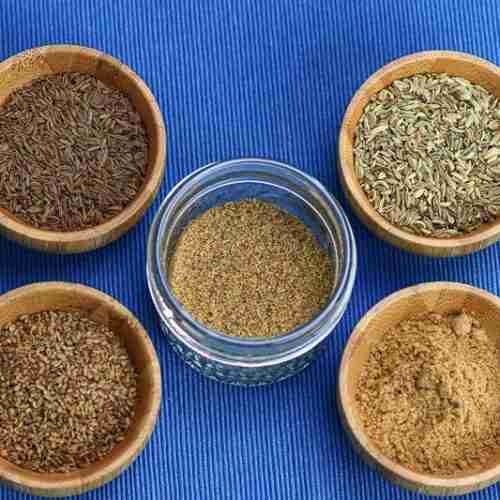 Making Bread Spice for German Bread
Ingredients
2

tbsp

fennel

2

tbsp

caraway seed

2

tbsp

aniseed

2

tbsp

coriander
Instructions