While Linzer Cookies have their origin in Austria, they are also very common in Germany. Linzer Cookies are easy to make but decoration methods differ. I chose a rather easy way while some cut out complicated shapes to cover the base cookie with the jam. Do as you like, the recipe is the same anyway.
Another staple of German Christmas and a "must bake" in December are the delicious Linzer cookies. You might have noticed that the use of almond flour or ground almonds is quite common in German Christmas baking. That is great news because almonds contain a lot of very healthy vitamins like A and E. They also contain Calcium, Magnesium, Copper, and Zink, not to mention plant proteins and fiber. Who would have thought that eating cookies could be so good for you?
Video: How to Bake Linzer Cookies
Easy Linzer Cookie Dough
To create the dough, you basically just throw the dough ingredients into a bowl, mix it and then knead the dough by hand until it is smooth. Actually, I once tried to make this recipe with margarine instead of butter but the dough was way too soft so spare yourself the disappointment and use butter.
Which Jam to use
Originally, my recipe calls for Lingonberry jam (Cranberry jam) but it's not easy to get and I usually buy it at IKEA .. this said, I forgot to buy some last time. So, I used berry jam. The problem with berry jam is, that there are often seeds in it. So I heated it and then put it through a sieve to filter the seeds out. Worked perfectly.
You could as well use any other red jam and while other colors work, too, the red just looks best later, when the confectioner's sugar creates this beautiful contrast.
The Cookie Decoration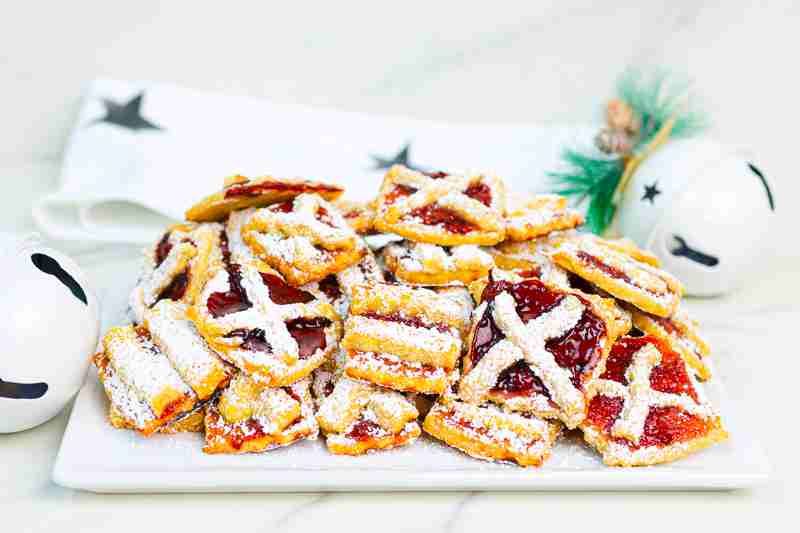 Some cut out dough shapes with hearts or squares in the center to place onto the base cookie. I made some stripes, which speeds things up a bit … it's Christmas season afterall and I have my hands full with preparations, gift shopping etc.
If you have plenty of time, just go for the complicated shapes, there are plenty of pictures for inspiration in the internet.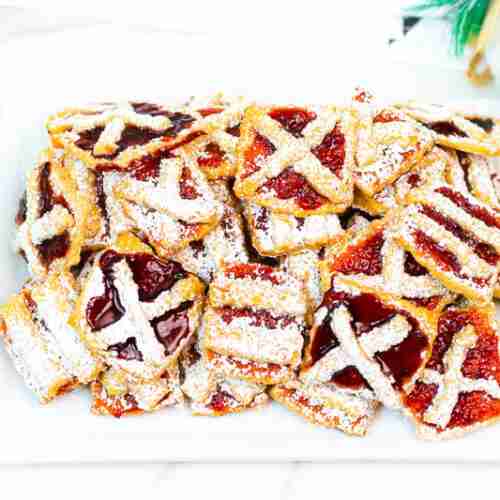 Linzer Cookies
Ingredients
Dough Ingredients
250

g

Flour

150

g

ground Almonds

100

g

Sugar

½

tsp

Cinnamon

1

pinch

Salt

1

Egg

200

g

Butter

cold
Decoration Ingredients
1

Egg Yolk

+ 1 Tbsp. Water

1

jar

Red Jam

4

tbsp

Confectioners Sugar
Instructions
Add all dough ingredients to a bowl and start mixing, using the kneadin attachment of your mixer.

250 g Flour,

150 g ground Almonds,

100 g Sugar,

½ tsp Cinnamon,

1 pinch Salt,

200 g Butter,

1 Egg

When the ingredients are combines well, remove the dough from the bowl and start mixing by hand until a smooth dough is created.

Wrap the dough and let it chill in the fridge for at least 3 hours or over night.

Remove the dough from the fridge and roll it out: ⅛ ich (4mm) thin.

Preheat the oven to 180°C / 350°F.

Use a knife or ravioli roller to cut out squares or use a square cookie cutter.

Put ⅔ of the squares onto a baking sheet, then cut the remaining squares into four stripes.

Put the jam on each cookie, then place two stripes on top of each jam-square.

Mix the egg yolk and water and brush the mix on the cookies.

Bake for about 15 minutes.

Let the cookies cool, then sprinkle with confectioner's sugar.

The confectioner's sugar at the areas with the jam will later disapear and the red jam will be in a beautiful contrast to the white areas of the cookie.

4 tbsp Confectioners Sugar
Nutrition
Calories:
63
kcal
Carbohydrates:
6
g
Protein:
1
g
Fat:
4
g
Saturated Fat:
2
g
Polyunsaturated Fat:
0.1
g
Monounsaturated Fat:
1
g
Trans Fat:
0.1
g
Cholesterol:
10
mg
Sodium:
22
mg
Potassium:
6
mg
Fiber:
0.4
g
Sugar:
2
g
Vitamin A:
88
IU
Vitamin C:
0.001
mg
Calcium:
7
mg
Iron:
0.3
mg