As a child I didn't like Königsberger Klopse because of the capers in the sauce and the meatballs. However, as an adult, I learned to really value them.
Capers or not Capers?
Sadly, my husband didn't make that transformation from his childhood and that's why I don't cook these meatballs in creamy caper sauce very often. Interesting that our kids are absolutely OK with capers, maybe that's because I introduced them as "baby pickles"? But my kids are weird eaters anyway: My son would love to eat fish every day, my daughter would always choose fruits over chocolate. Yeah, "mama sweet tooth" somehow managed to raise healthy eating kids!
Now, if you or someone in your family doesn't like capers (chances are probably high), just leave them out or do it the way I do it in my video: Make some meatballs without capers and also add them to the sauce later.
Mixed Meat
I had to ask my friends about mixed meat here in Amerika. In Germany, we mostly use a mix of ground beef and ground pork which we can buy ready mixed at the grocery store or at the butcher. It seems that at some places here there is an "Italian Mix" that seems to be the same but I haven't seen it here, yet. So if you want to do it absolutely authentic and not just use ground beef, ask your butcher to grind some pork shoulder or get a meat grinder and do it yourself.
I actually am happy to have the meat grinder attachment for my kitchen aid since I like ground chicken to make fresh and delicious seasoned patties for chicken burgers.
Bread in the Meatballs
You've seen me doing that before at the recipe for Frikadellen (German Meatballs): I soak some bread or roll from the day before in warm water and after 10-15 minutes I press the water out of that bread. I then add the mushy bread to my ground meat. If you wonder why I am doing that, the reason is that it gives the meatballs a lighter texture, it also adds some volume and helps to keep it all in shape.
The Creamy Sauce
The sauce is essentially a roux but it is made with white wine (or lemon juice if you want to avoid alcohol), which gives this meal its specific taste. I also add some milk but if you want to do a little extra, you can also use cream instead. I mean, what doesn't taste better with cream, right?
The meatballs are usually added to the sauce at the end but since we have this caper situation going on here, you can see me in the video, adding the sauce to the meatballs on the plate. Do as you please, there is no wrongdoing either way.
I hope you like this recipe and also the video. Please subscribe if you haven't already, I publish a new video every week. Also, please follow me on Facebook, Pinterest, and Instagram and sharing my recipes on your Pinterest collection is definitely encouraged ;-)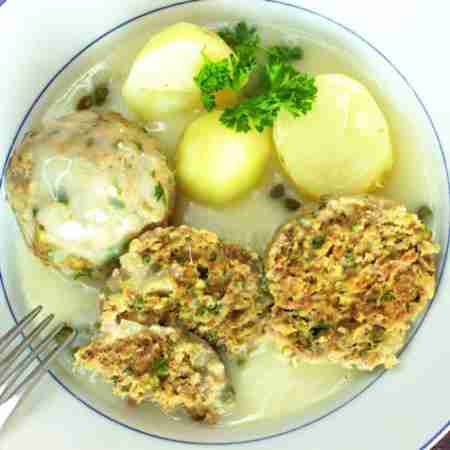 Königsberger Klopse: German Meatballs In Creamy Caper Sauce
Ingredients
For the Meatballs
250

g

ground beef,

250

g

ground Pork (meat from shoulder)

3

eggs

4

Tbsp

Capers, cut

3

handfull

Breadcrumbs or diced Bread

3

tsp.

mustard

1

cup

Parsley, cut

1

Tbsp.

salt

1

Onion, diced & browned in butter

4

leaves

Bay Leaves
For the Sauce
20

g

Butter

1 ½

Tbsp.

flour

150

ml

White Wine

150

ml

milk or cream

3

Tbsp.

capers

some

Cooking Water from the Meatballs

salt

white pepper
Instructions
For the Meatballs, mix all ingredients except the Bay Leaves in a Bowl.

Shape firm meatballs, about the size of a snowball.

Fill a large pot with water, add salt and the Bay Leaves and bring to a boil.

Reduce the heat, so the water just slightly boils and add the meatballs.

Let the meatballs sit in ther for about 20 minutes.

In the meantime make the sauce.

In a sauce pan melt the 20g of Butter.

Let the butter bubble but not get brown.

Sprinkle the flour onto the butter and stir.

Slowly add the wine and stir vigorously.

Add the milk or cream, continue stirring and bring to a boil.

Add some of the water from the meatball pot.

Season with salt and pepper.

Add the Capers and also the meatballs.

Serve with potatoes or rice.
Notes