I came across this recipe last week. Italian pizza is something I really miss so I had to try it and … man, this was good!
I like deep dish pizza, too, but to me, these two variations of pizza are sort of two different dishes, if you know what I mean. Italian pizza, however, is hard to get here in Houston. I try a lot of pizza dough recipes but this one is definitely one of my favorites now.
Flour is ground differently in Germany compared to here, so I had to make some adjustments to the water. Also, it's hard to get fresh yeast in Texas, don't know if other states are the same. You might have to use two packages of dry yeast instead of 42 g fresh yeast.
The topping of the pizza is up to you. I used the vegetables that I happened to have in the fridge: zucchini, tomatoes, bell pepper, onion, and garlic. I also cut some salami in smaller pieces and added fresh oregano.
I cooked the vegetables in a saucepan before I put them on the pizza. Everything was cut in cubes and I used the cooked sauce instead of pizza sauce, then I added the salami and finally shredded mozzarella.
Years ago I bought a pizza stone for our grill but it not only works on fire. I use it even more often in the oven. I put it into the oven long before the pizza to make sure it is really hot.
I bake the pizza on the stone and it makes a nice, crisp pizza crust.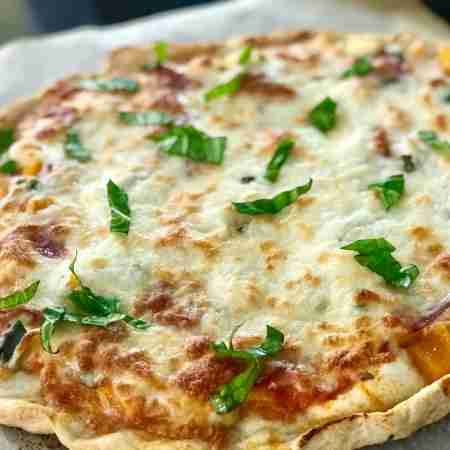 Traditional Italian Pizza with Salami
Ingredients
For the dough
400

g

bread flour

(3 cups)

42

g

fresh yeast (=2 packages dry yeast)

½

tsp

salt

1

pinch

sugar

150

ml

luke warm water, filtered

2

tbsp

olive oil
For my topping
1

large

bellpepper

3

ripe

tomatoes

1

large

zucchini

½

large

yellow onion

herbs like oregano

some

salt, pepper, sugar, paprika to taste

some

basil to decorate after baking

2

tbsp

olive oil, for sauce pan and pizza crust rim

some

garlic salt

12

slices

salami

2

small packages

shreddered mozzarella

(maybe 4 cups)
Instructions
Mix the flour and salt in a large bowl and create a dent in the middle.

Crumble the yeast into the dent and cover it with with 5 tbsps of the water. Add a pinch of sugar and cover it with some flour from the sides.

Let stand for 15 minutes to activate the yeast.

Now add the rest of the warm water and the 2 tbsp. olive oil.

Mix and knead well with a mixer, then knead by hand on the kitchen counter.

Shape a shpere and put the dough back into the bowl. Cover the bowl with cling wrap.

Let stand for 60 minutes. The dough is supposed to grow quite a bit.

Roll each half to a flat, round pizza. If the dough doesn't keep it's shape and shrinks every time you roll it, give it 10 minutes of rest and try again.

Let the dough rest for another 15 minutes before you add the topping. During that time preheat the oven to 460°F. If you use a pizza stone: Preheat the oven a lot earlier and let the stone become very hot.
The topping
Sauté for a while and let the tomatoes create a sauce around the other vegetables. If you don't have enough fluid in the saucepan, add some water.

Let simmer until the zucchini are slightly soft, then add the spices and oregano.

My personal touch: I fold the rim of the pizza, brush some olive oil on it and sprinkle garlic salt onto the rim!

Cut some salami slices into cubes and add to the topping.
Notes