We call this sauce "Hungarian Sauce" now but some of you might know it under the name Zigeuner Soße (translated: Gipsy Sauce). German restaurants served it with Schnitzel (Zigeuner Schnitzel) but it is also a great fit with other meats or with just a side like some rice, potatoes, and even spaghetti.
Video: How to make Hungarian Sauce
Why Did Germans Rename Zigeuner Sauce to Hungarian Sauce?
It is never too late to better yourself and Germans like to improve themselves in any aspect of life. We give and listen to critique a lot and we learn and then we make the necessary changes. Here, we realized that the word "Zigeuner" is historically used in a negative and racist way and therefore offensive to the people of Roma and Sinti. There is no good reason to call this sauce this way, either. With all the bell pepper in the recipe, the name Hungarian Sauce seems a much better fit … well, until we hear back about it from the people of Hungary.
The name change was initiated by a sauce brand that renamed its product and others followed.
The Recipe …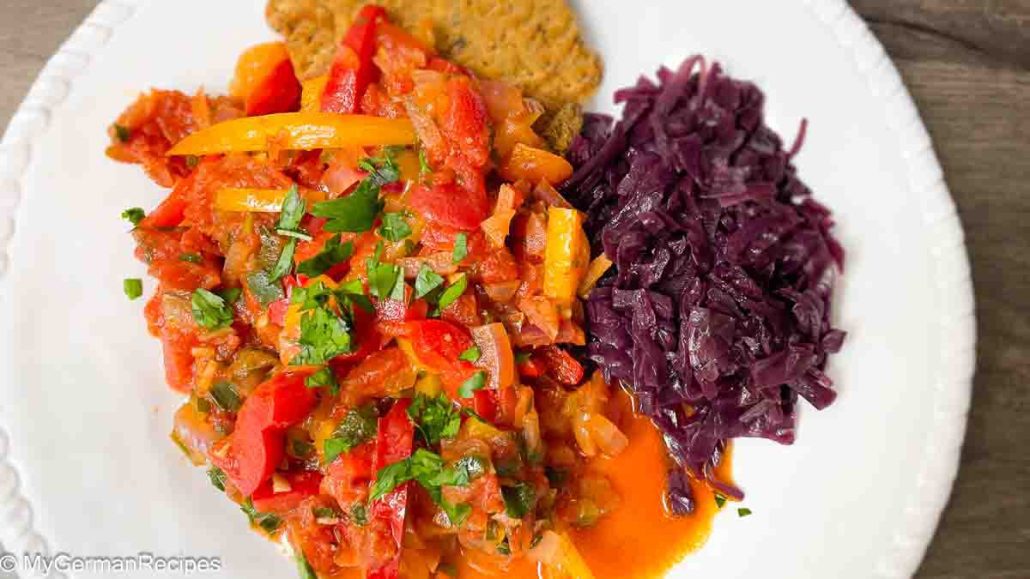 … is rather easy but the many different flavors from pickled ingredients, mustard, garlic, and of course the bell peppers, with a hint of sweetness but also some spiciness from hot paprika … this is a very unique sauce! Quite often the storebought version is enjoyed at BBQs or with meat Fondue.
The Cookpot I was using
I get a lot of collaboration requests for all kinds of products. Today, I was asked to use a chainsaw in my videos, that's quite a funny request and definitely automated. But every now and then I get a message that I find interesting and this was the case with the Audecook Multifunction Pot.
It's a frying pan, cook pot, oil fryer, and steamer in one product with an easy-to-clean ceramic coating. When I made this recipe video I tested it for the first time and since then I have used it several times and you will see it in other videos, too. I must honestly say that I am very happy with this pot and while it is already very practical at home, I can imagine it to be a great asset for RV camping or cooking in a hotel room.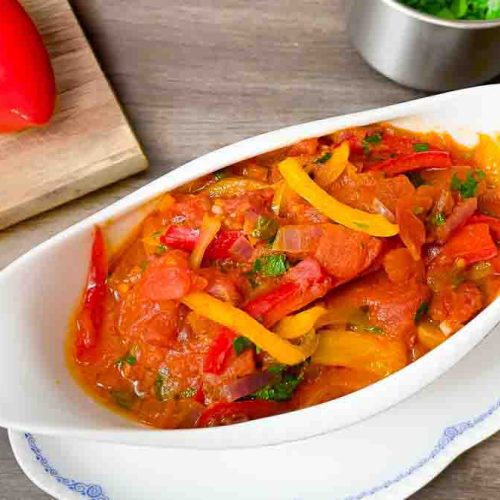 Hungarian Sauce (former Zigeuner Sauce)
Sauce with bold, vibrant flavors
Equipment
Ingredients
2

tbsp

Olive Oil

or other oil

½

Onion

red

1

clove

Garlic

2

Bell Peppers

red & yellow

1

tbsp

Tomato Paste

1

tsp

Mustard

1

tsp

Sugar

1

Pickle

large

400

g

canned, diced Tomatoes

15

Cocktail Onions

½

bunch

Italian Parsley

some

Salt & Pepper

some

ground Paprika

spicy or smoky or sweet or a mix of them
Instructions
Cut the

2 Bell Peppers

into small stripes.

Dice the

½ Onion

,

1 clove Garlic

,

15 Cocktail Onions

, and

1 Pickle

.

Heat the

2 tbsp Olive Oil

in a pan, then add the

½ Onion

,

1 clove Garlic

,

2 Bell Peppers

and fry for a couple of minutes.

Next, add the

1 Pickle

,

1 tbsp Tomato Paste

,

1 tsp Mustard

,

1 tsp Sugar

, fry for a minute ot two.

Put in the

400 g canned, diced Tomatoes

, reduce the heat and simmer until the bell peppers are soft.

Season with

some Salt & Pepper

and

some ground Paprika

to your taste of spicyness.

Chopp the

½ bunch Italian Parsley

and mix into the sauce before serving.
Notes
Tips and Tricks:
Customize the spice level to suit your taste buds.
Let the sauce simmer for an extra depth of flavor.
Store in an airtight container for a quick flavor boost anytime.
Nutrition
Serving:
1
serving
Calories:
173
kcal
Carbohydrates:
26
g
Protein:
4
g
Fat:
8
g
Saturated Fat:
1
g
Polyunsaturated Fat:
1
g
Monounsaturated Fat:
5
g
Sodium:
320
mg
Potassium:
706
mg
Fiber:
6
g
Sugar:
14
g
Vitamin A:
2772
IU
Vitamin C:
106
mg
Calcium:
89
mg
Iron:
2
mg