It is not coincident that I am already publishing my third version on how to make Quark. It just shows our German obsession with it … and its importance in the German cuisine. There is so much one can do with Quark!
What is Quark?
If you haven't seen my other blogposts and videos about quark, let me give you a quick introduction:
Quark is a sort of fresh cheese. It is milk, injected with "good" bacteria and curdled with the help of either rennet or citric acid. The process of curdling leads to the separation of the whey and the casein in the milk. The casein is the milk protein and what we call Quark. It has a creamy, soft consistency, much like Greek yogurt but denser. In fact, often people here use Greek yogurt in place of Quark but it doesn't always work out since yogurt is not the same as Quark and also still has the whey in it.
Other ways to make Quark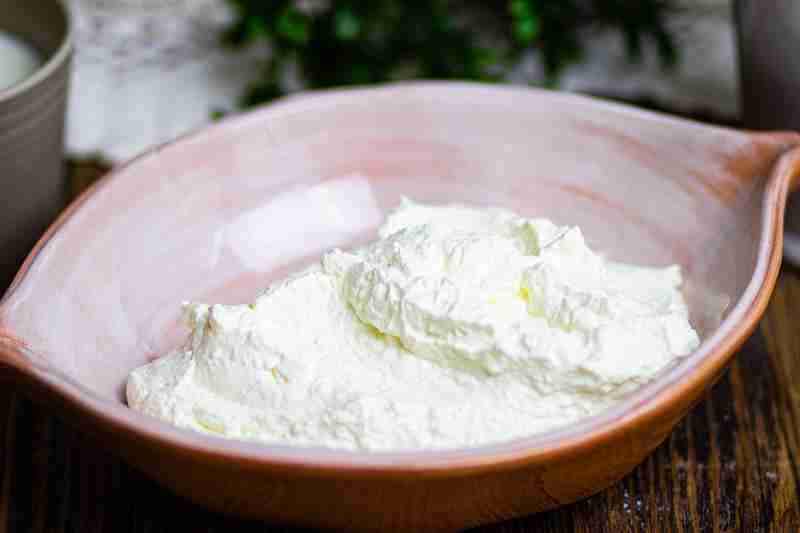 My precious recipes on how to make Quark were Making Quark from Buttermilk and Making Quark from Whole Milk with Kefir. Both methods have their upsides and downsides. While Quark from buttermilk is a quick way to make it, the taste of buttermilk is still present and not always suitable for a recipe. Also, it is very difficult to find REAL buttermilk in the US. Often the product does not have living buttermilk cultures but instead has additives that prevent this recipe from working.
The Quark from Kefir is an easy way to make it but it takes time and some people struggled with it because the temperature in their house was too cold and the kefir wouldn't thicken. It's also rather expensive with buying the kefir or kefir cultures.
Making Quark with Regular Milk
I am making Quark for years, using a machine that keeps the milk at the necessary constant temperature for an extended time. Since the machine is not available outside the EU, I needed to come up with an idea of how to achieve this in a different way.
I looked at yogurt makers but their temperature setting is too high and most of the time not adjustable. So, using a yogurt maker is NOT an option. I also looked at my slow cooker – too hot! Then I stumbled upon the method of using an insulated tumbler, which would be working great, if only they had a larger capacity since I want to use them with 1/2 gallon of milk or more.
So, my last resort was the oven! But the lowest oven settings are still way to high and I decided to heat the oven by just switching on the light bulb. And that seemed to be the solution!
But I was skeptical and measured the temperature in the oven with an oven thermometer … and after one and a half hours or so, the temperature was above 100°F, which again is too warm. Switching the light off at the right temperature helped. Since the oven is well insulated, it kept the temperature for long and my Quark turned out just perfect!
The Process of Making Quark
There are basically 4 steps on making Quark:

1. Heat the milk to 28°C / 82°F
2. Inject the culture and add the coagulant.
4. Leave it at the right temperature of 22°-30°C / 72°-86°F for 16 hours.
5. Drain the Quark.
Easy, don't you think? There is just ONE VERY IMPORTANT RULE:
DON'T MOVE THE QUARK WHILE FERMENTING!
Which Culture, Coagulant, and Milk to Use
The Culture
As for the culture, you will need a Mesophilic Culture (HERE at amazon). But here is also a little trick: If you make Quark a lot, keep some of the whey. You can use it to inject the next batch of Quark, since it contains the mesophilic culture. This way you can save money and don't need to use a bought culture every time. However, you should add the bought cultures every now and then and also don't use the whey method if if might have gone bad.
The Coagulant
You have the choice between using Rennet (HERE at amazon) and Citric Acid (HERE at amazon). If you use rennet, you will later have a sweet whey, that you can use for a lot of other things. Using citric acid will get you an acidity whey and the quark might also taste a little sourer. I personally prefer rennet and it is available as a vegetarian product (HERE at amazon).
The Milk
In my video, I am using whole milk but you can use milk with less fat like 2% or 1%. You can use this method also with buttermilk and in fact, if you want to have a vegan Quark, just use nutmilk like from almonds or cashew or use soy milk.
What to do With the Whey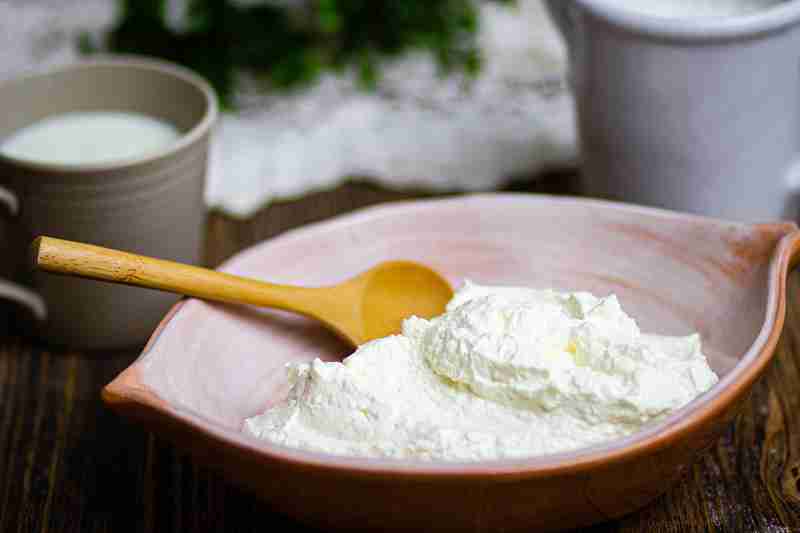 So, after draining the quark, you will end up with a lot of whey and you might wonder what to do with it.
Whey is full of vitamins, minerals, and protein, too precious to discard!
I like to put some whey into my bath because it's great for the skin. But taking a bath in Texas is only suitable on a cold winter day, so it's not a year round option. Most of the time I am using whey for baking bread. I just substitute it for the water in the recipe and the bread turns out wonderful and even healthier. I highly recommend you try this!
In Germany you can buy whey drinks that are made with fruit juice, often from lemons or oranges with a little sugar or sweetener. Mixing you whey with a juice or adding it to a smoothie is a great idea, too.
But there is a lot more you can do with whey like making soap or using it in the garden … and there is a website that has a lot of great ideas, so I will just link it HERE.
What to Do With Quark
Oh, where should I start? You can bake a German Cheesecake with it, use it in a Strudel (Quarkstrudel aka Topfenstrudel), make desserts, make Quarkkuchen, use it as a bread spread either under some jam or a slice of cheese, mix it with garlic and herbs and use it as a dip or bread spread, make quark-oil dough for pizza or quiche or bake quark rolls … there are so many possibilities and I will definitely make more recipes that require quark in the future.
My favorite way to eat quark is with fresh strawberries, some chocolate shavings, and a little vanilla sugar!
Pin How to Make Quark to Pinterest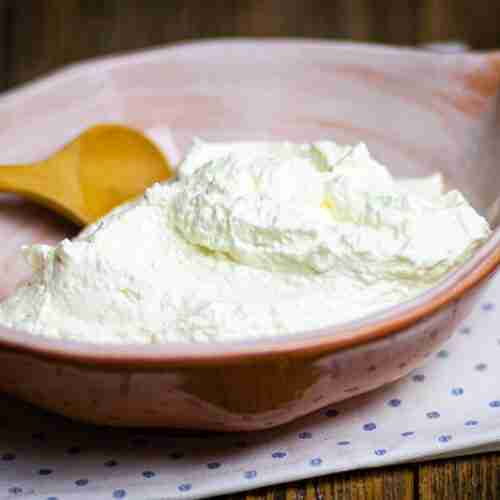 How to make Quark in the oven
Making Quark at home from scratch
Equipment
optional: oven thermometer
Ingredients
½

gallon

milk

any good quality cow milk or nut milk / soy milk

¼

tsp

mesophile culture

5

drops

rennet

deluted in a little water
Instructions
Switch on the lamp in your oven to get the oven to a temperature between 22°-30°C / 72°-86°F.

DO NOT USE THE OVEN TEMPERARURE SETTING, JUST USE THE LIGHT!

Make sure all tools are very clean and sterile.

Pour the milk in a pot an carefully heat it to 28°C / 82°F – this will only take a few minutes since it is a rather cold temperature.

Add the culture and stir the milk until diluted.

Add the rennet and stir for a brief moment, then bring the milk to a standstill.

Cover the pot with a lid and put it into the oven. Close the oven door. Ideally, control the oven temperature with an oven thermometer and switch the lamp off and on if needed to adjust the temperature.

DO NOT MOVE THE POT! DON'T OPEN THE LID! JUST LET IT FERMENT!

Leave in the oven for 16 hours, then take it out. The milk should have thickened.

Put a cheesecloth into a colander that is placed above a bowl.

Pour the content of the pot into the cheesecloth, letting the whey drain while the quark is in the cheesecloth. Let drain for about 5 hours and more. For better draining, check out the trick in the video.

Remove the quark from the cheesecloth and fill it into a container or jar. Keep in the fridge until you use it. If you worked edclean, it will be good for at least 5 days, often 7 days.
If you still feel like you'd rather have a Quark Machine …
Here is one that ships from Germany to the US. Use the "Frischkäse" setting for making quark. It will hold 1.2 l (= 1.2 quarts) milk.
You will need a power converter, too.