When Germans live abroad they have two big concerns: The first one is about getting good bread and the second is about finding Quark in a grocery. Quark is kind of the holy grail for Germans outside of Germany.
If they find it in a store they will immediately brag about it on facebook. Then they will have an inner celebration, faint a little about the high price and last decide that it's worth it to pay $5 for a tiny jar of Quark. Nonsense! Most people don't know how easy and cheap it is to make Quark at home. The only problem with this process is, that though it is not much work, it takes a little time.
There are different methods to make Quark and I have covered two more versions that you should definitely check out:
What is Quark anyway?
Though at a first glance it may look like yogurt, especially like greek yogurt, Quark is a different dairy product. It is a very fresh cheese and has a lot more health benefits than yogurt. 100g Quark has about 14 g of protein, this is twice as much as greek yogurt has! It also has very few lactose but a lot of vitamin K, which is important to keep calcium out of your vessels and in your bones.
When making quark, the casein proteins leak out of the milk and that's what we collect in the cheesecloth, while the whey is collected in the bowl below it.
How to make Quark from buttermilk
About this recipe
This recipe is the easiest and fastest way to make quark. It is made with buttermilk and I mainly use this quark for baking. Made with buttermilk, it has a fine buttermilk taste and I am not a big fan of that, but many people like it. However, if I want to eat my quark with fruits or herbs etc. I prefer it from whole milk.
Important: Make sure that your buttermilk really is buttermilk! Some products contain fillers and are not really buttermilk so they might not work.
Now, I usually have a quark maker in my kitchen, which makes it even more convenient for me. Right now I am in Los Angeles in a small apartment without a quark maker. I live in LA from time to time just for a couple of months. I have "an apartment in the box" meaning that I have essential things in 3 big plastic boxes which I store in a friend's garage. When I move into an apartment, I unpack my stuff and have a kitchen equipped by Dollar Tree, towels, blankets, and a few other things. So even with a kitchen that has only some essentials, I am able to make quark and I am going to prove it in my video!
There many many uses for Quark
I could probably make an entire blog about Quark and what you can do with it.
Some uses are:
in cheesecake
Quark-cakes (no-bake cakes)
desert creams (so many variations!!!)
doughnut like baking goods
making spätzle (a different recipe than mine here)
for a special pizza or cake dough instead of a yeast dough
like butter on bread with some honey drizzled on top or with some jam
with fresh fruits
… and the list could go on and on
Did you know that it can also be used for medical purposes? Every midwife and nurse knows, that a mastitis can be fixed easily with a quark wrap. Also, a sore throat or coughing gets better soon, with a quark wrap.
About the whey
Oh, and when you make the Quark you also get a lot of whey. You can use it in your fruit shake (very healthy with lots of B-Vitamines) or make soap from it. Some people take a bath in it (great for the skin) or – which I do mostly – use it instead of water when baking bread. But be aware that whey starts to break down soon and you should always only use it very fresh unless you make soap from it.
Fun fact
I am a little allergic to some fruits like cherries, peaches etc.. My lips and throat become really itchy and swell a little when I eat those fruits fresh. Not so if I cut them and put them in a bowl of Quark!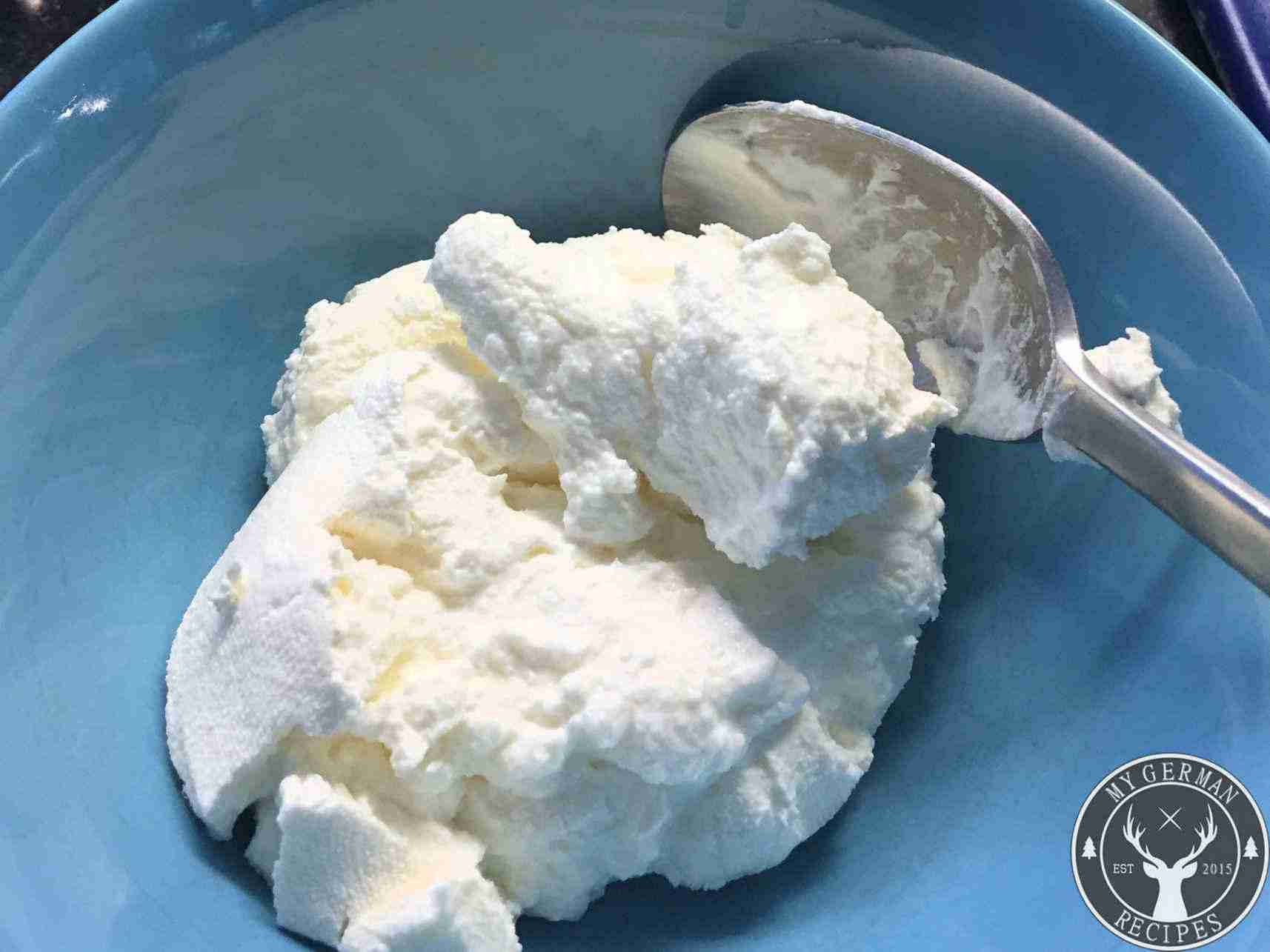 How to make Quark
Ingredients
1

gallon

buttermilk

1

teaspoon

citirc acid
Instructions
Pour the buttermilk into the saucepan.

Heat while sometimes stirring until it reaches about 120F - if you don't have a thermometer just wait until it's so hot you don't want to dip your finger into it any longer.

Turn off the heat and add one teaspoon of citric acid (or lemon juice or some rennit). Stir carefully!

Let stand for about 20 minutes.

Put a cheescloth into the collander and the collander on top of a bowl. Pour the broken apart buttermilk into the cheesecloth.

Wait about 5 to 10 minutes until most of the whey is separated, then either press the cheesecloth to remove more whey from the Quark or just put everything in the fridge. After about 2 hours or after a night, the Quark is ready to use.