The perfect Schnitzel has a gap of air between the breading and the meat, it is also crisp on the outside and soft & juicy on the inside. Here is how you can achieve this …
Chose Your Meat
For a "Wiener Schnitzel" (Vienna Schnitzel) you use veal but in Germany we mostly use pork or sometimes chicken. I think each of them tastes good! So what ever choice you make here, it will be fine. I usually buy thick cut pork chops and make sure the slices aren't too large since they will increase in size when pounding.
Chose your Breadcrumbs
In Germany we use plain breadcrumbs and if possible we make our own from some leftover dinner rolls. But here in the US there are also breadcrumbs with herbs or with lemon zest or even with garlic available. If that is to your taste, you can use these, too. I've tried it and it is delicious but my kids prefer the plain breadcrumbs.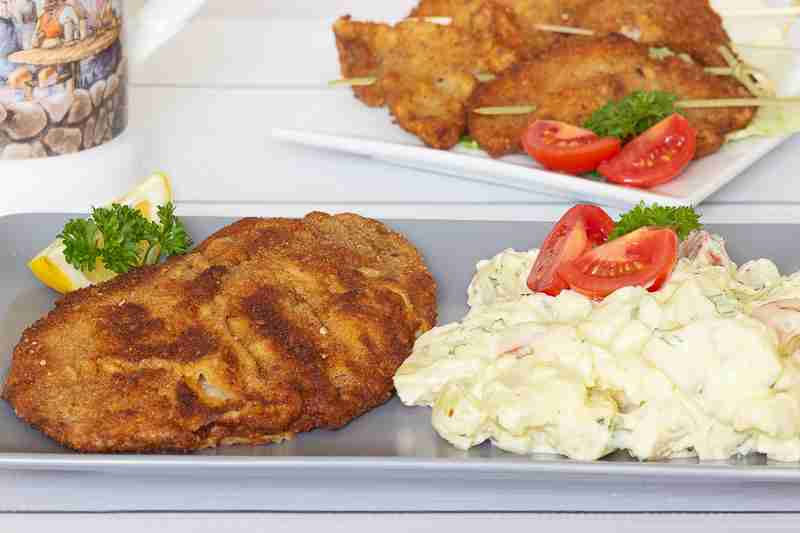 Oil or Ghee?
There is sometimes controversy about what fat to use for a perfect Schnitzel. Some insist that it is only done right with ghee but I have seen famous cooks using oil as I am doing so I think there is nothing wrong with frying it in oil. I am using avocado oil since it is a healthier choice than ghee.
How to bread the Schnitzel
Before breading, you need to pound your meat so it is flat and very thin. This is important so the meat will be cooked fast. Otherwise the breading would get burn before the meat is done.
The pounded Schnitzel then is sprayed or brushed with a little bit of water and seasoned with salt and pepper.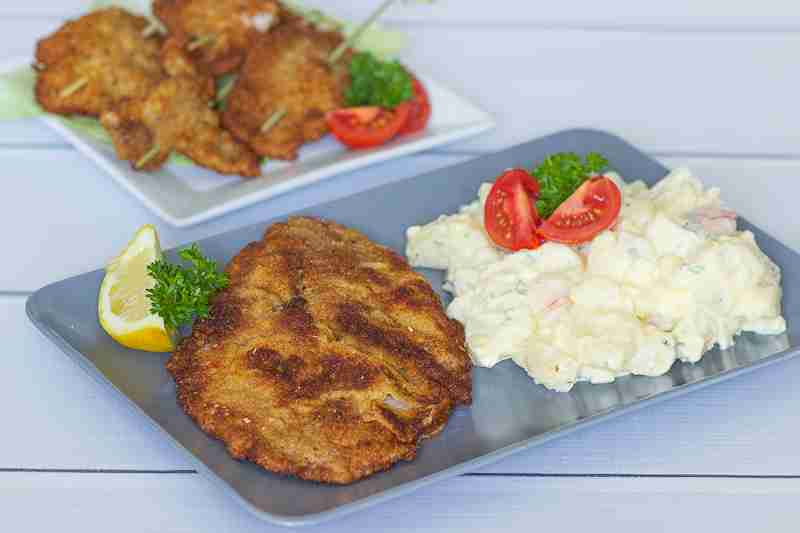 Then it is put into flour and covered with flour on both sides. Next, it goes into the whisked eggs, again, both sides are covered and last the meat is put into the bread crumbs with both sides until it is completely covered with bread crumbs. Some people commented on my previous video that they like to double bread. In that case, just put the Schnitzel into the egg wash again and then once more into the breadcrumbs.
Schnitzel Frying Technique
In order to get the best result, the oil needs to be hot when you add the Schnitzel to the pan. then constantly move the pan or the oil so that the meat will always be in contact with the oil.
How to Serve Schnitzel
In the past, it was served with capers but since the mid-20th century, we serve Schnitzel with a lemon wedge. As a side, in restaurants we usually have potato salad or fries and some salad. I especially like the combination with the potato salad. Eating Schnitzel at home, it is mostly combined with potatoes and vegetables.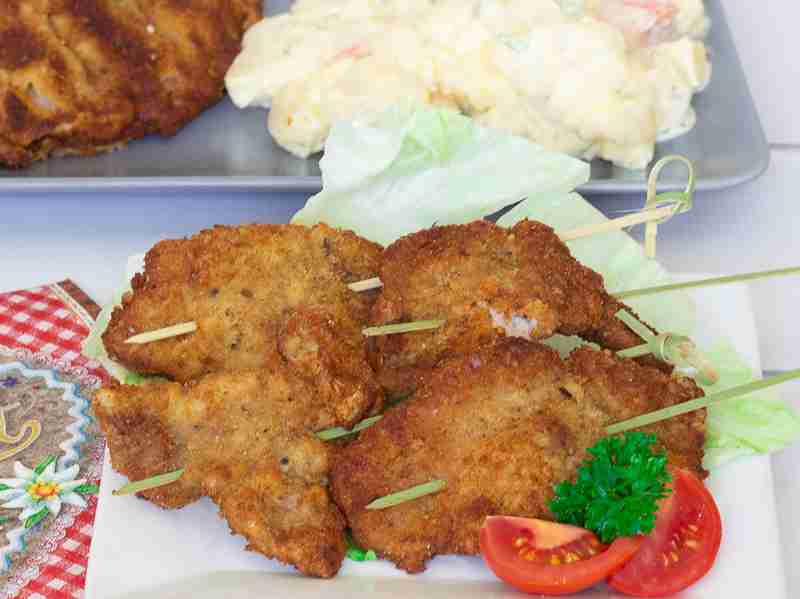 If you are having a party, little Schnitzel-Pops will be very appreciated by your guests. Just cut your pounded meat into smaller pieces before breading and later serve them on a stick.
A Sauce with Schnitzel?
Schnitzel is great on its own and in my personal opinion doesn't need a sauce – not even ketchup. I don't like it when the crisp breading gets soggy from the sauce. But a lot of people like to eat it with a Hunter Sauce (Jägersoße – recipe here).
Pin to Pinterest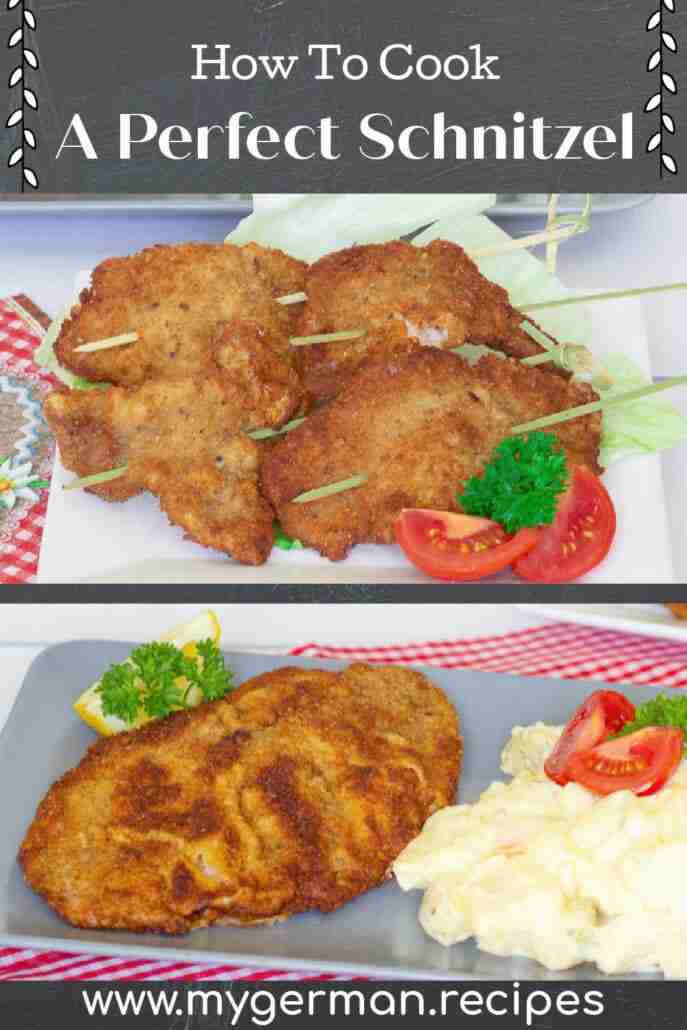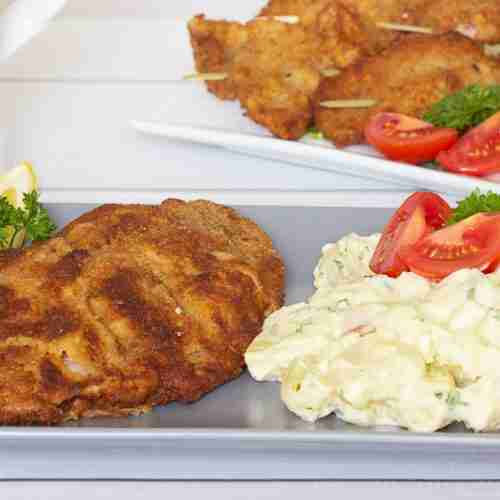 The perfect Schnitzel Recipe
Ingredients
4

slices

pork or veal or chicken

thick cut

some

flour

2-3

eggs

100

g

bread crumbs

more or less

some

extra water / waterspray

some

salt

some

pepper

1

tbsp

water

plenty

oil or ghee
Instructions
Prepare the Breading
Put the flour on a large plate or in a large, flat container.

Whisk the eggs with some water and place the eggwash in a shallow container or plate.

Put the breadcrumbs into a large, shallow container or on a plate.
Prepare the Meat
Wash and dry the meat and place a slice on a large cutting board.

With a meat pounder, pound the meat on both sides until it is thin and tenderized.

Spray or brush some water onto the meat slices, just enough to make some salt and pepper stick. Season with salt and pepper.
Breading
Dust the meat with flour.

Put the slices into the egg wash.

Next, put them into the bread crumbs, making sure each slice is completely covered with bread crumbs on both sides.
Sauté
In a large frying pan, heat enough oil to have the schnitzel float a little.

It's best to sauté only one slice at a time: Put the meat into the hot oil and start moving the pan so the meat keeps floating in the oil. When the bottom side has a nice golden color (after about 1 minute), turn the slice and fry the other side. Meanwhile, use a spoon to pour hot oil over the top side.

When both sides are golden-brown, remove the schnitzel from the pan and let it rest for a moment on some paper towel to remove excess oil.

Repeat with all slices, keep the cooked Schnitzel warm in the oven at low temperature and serve as soon as possible.

Serve with a wedge of lemon.