Homemade Toast bread doesn't contain chemicals and is very easy and fast to make. Important is, that the moisture in the dough is kept in the bread while it is baking.
Toast Bread is probably known all over the world and I believe it is mostly consumed in England. However, we Germans like it too!
This recipe is from a bakery and it has a fantastic taste. Still, some might be disappointed because it is not as fluffy as their store-bought version. If you want it to have more fluff, add more yeast to the recipe but be aware, that the yeast taste will be stronger then. Most bakeries and especially industrial bakeries add some chemicals to get those airy, fluffy texture. I don't want that in my bread so I am quite happy with what I get from this recipe.
How to bake Toast Bread Video
Keeping the Moisture in the Bread
You can buy a special Toast Bread Baking Pan but my little trick in the video works just as fine, even though it is not as elegant. The point of having a lid on the bread pan for Toast bread is, that the moisture of the dough should stay in the bread.
Also, after baking and cooling completely, I put my toast bread into a plastic bag over night, so the crust is soft in the morning.
Whether you eat your toast bread just as is or put it into the toaster, is totally up to you. I like both and decide case to case.
The Baking Temperature & Time
The recipe comes with the baking instructions in the video and here below. However, I often find the oven too hot and the baking time too long, so I am adjusting this to lower temperature and less time. I am not sure if that is a thing of my oven or in general a problem with the recipe. I am afraid you will have to find out yourself.
I hope you like this bread – enjoy!
Pin Toast Bread Recipe to Pinterest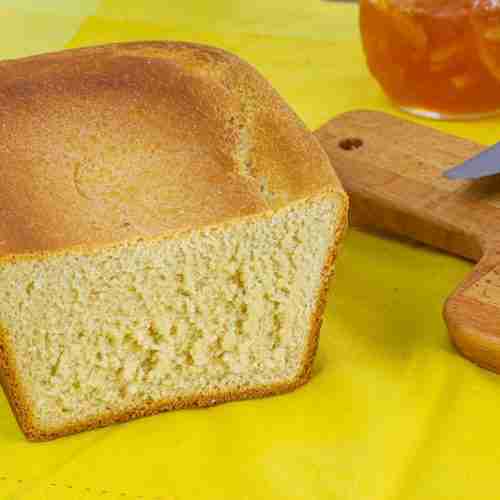 How to bake Toast Bread
Recipe for 1 to 2 bread loafs – depending on the pan size.
Ingredients
500

g

flour

40

g

butter, soft

1

package

dry yeast

(7 g)

1

egg yolk

15

g

barley malt

½

Tbsp.

honey

½

Tbsp.

vinegar

10

g

salt

300

ml

milk, luke warm
Instructions
Mix the ingredients in a bowl and knead for 10 minutes until the dough is smoot and elastic.

Cut in two halves (unless you are using one baking pan) and flatten a little with you hands.

Fold one edge to the center of the dough, then turn the dough 90 degrees and repeat. Fold the dough until you have circled 2 to 3 times, then let rest for some minutes.

Now shape the dough into a roll and place it into the baking pan.

Cover and let rest and rise for 1 hour. The dough should double its size during that time.

Preheat the oven to 480°F / 250°C.

Put the pan into the oven and cover with a lid (see video).

Bake for 10 minutes, then reduce the heat to 410°F / 210°C.

Baking time depends very much on your oven and baking pan (size, material). Check the bread after 25 minutes, add more time or remove from oven if ready.