If you're a fan of culinary experimentation and enjoy a refreshing glass of beer, then you're in for a treat. We're diving into the world of homemade beer jelly, a delightful condiment that combines the flavors of your favorite brew with the sweet allure of jelly. This creative and easy-to-follow recipe will elevate your dining experience and impress your guests. So, grab your apron, your favorite beer, and let's embark on this flavorful journey.
Video: How to Make Beer Jelly
Why make it?
Beer Jelly is not uncommon in Germany. You might not find it on the shelves of the grocery, but deli shops and breweries offer a wide variety of these treats. How about creating homemade beer jelly as a thoughtful gift for beer enthusiasts? With a pretty label and maybe some crackers or cheese, this would be an interesting culinary surprise. As it happens, I have already created a nice Beer Jelly Label that you can (if you want) personalize with the text field that I added. Just open THIS LINK in Adobe or another pdf reader, in the document click below the "Beer Jelly", fill in your text, or leave it empty and print it.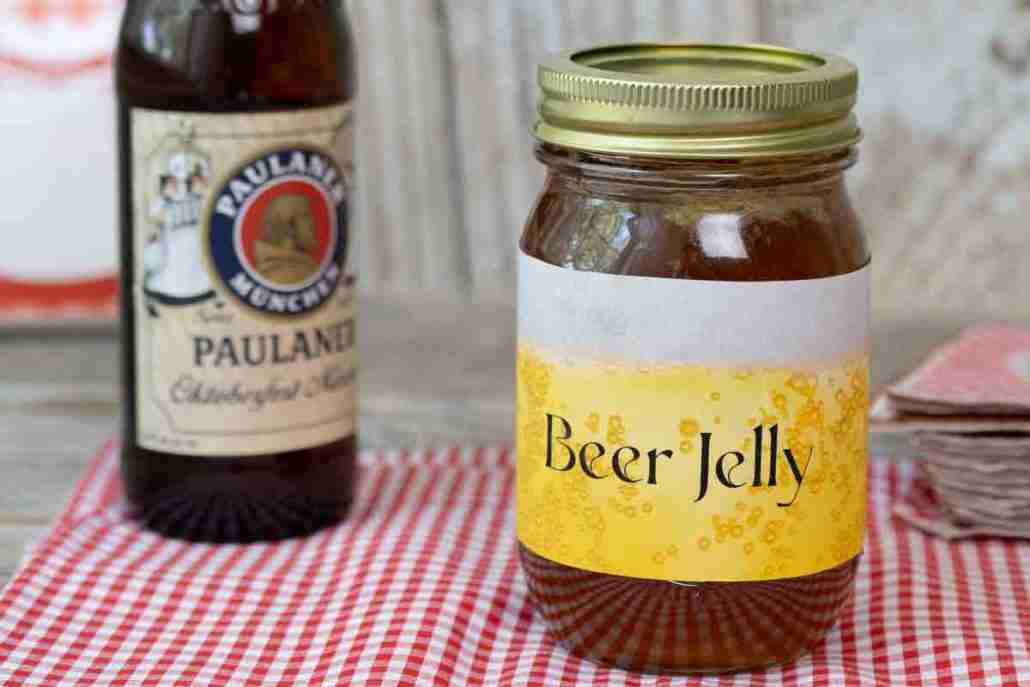 Enjoy Your Beer Jelly
Now that you've created your very own "craft" jelly, it's time to savor its unique flavor. This is a versatile condiment that pairs wonderfully with various foods. Here are a few delicious serving ideas:
Cheese and Charcuterie Board: Spread your beer jelly on crackers or baguette slices and enjoy it alongside a selection of cheeses and cured meats. It especially tastes great on some Bree!
Glaze for Meats: Use beer jelly as a glaze for grilled chicken, pork chops, or even as a finishing touch on a juicy burger.
Sandwiches: Elevate your sandwiches by adding a dollop of beer jelly. It pairs exceptionally well with roast beef or turkey.
Desserts: Get creative and use beer jelly as a sweet topping for ice cream or as a filling for pastries. I personally like it with a German pancake!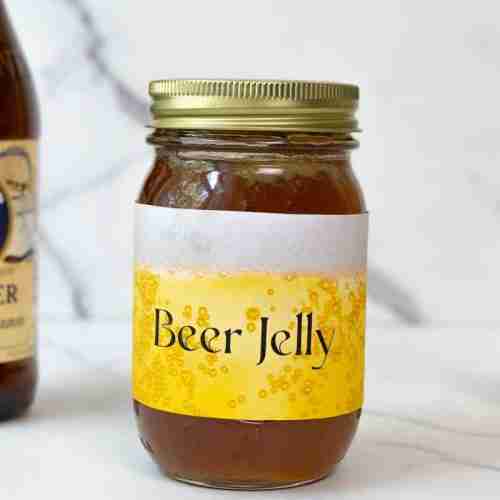 Homemade Beer Jelly
Equipment
Instructions
Put a small plate into the freezer.

Pour the sugar into a large, high (!) pot and add the beer.

Add the pectin, the cinnamon, and the vanilla paste.

If you instead use a vanilla bean, cut it open lengthwise and scrape the vanilla from the center. Add the vanilla and the bean to the pot. Later, remove the bean before filling the jars.

1 pckg Pektin,

¼ tsp Cinnamon,

1 tsp Vanilla Paste

Put the pot on the stove and bring to a boil while continuously stirring. The beer will create a lot of foam and rise very high, don't let it boil over.

Boil for 4 minutes, then remove from the stove.

Let the mixture calm down, so the foam decreases. Then take a teaspoon of the jelly and put it on the plate that you had in the freezer. After about a minute, tilt the plate and see if the liquid has jelled or is still runny.

If it has jelled, it is ready to go into the jars.

If it has not jelled, add some citric acid to the pot, bring it to a boil again for a short time, and repeat the steps above.

Before you fill the jars, they must be sterilized with boiling water. Then fill the jelly in until almost to the brim, leaving as little space as possible. Add the lids and turn the jars upside down to cool.

Print the labels (link in the blog text) and decorate the jars with them.
Nutrition
Serving:
1
Jar
Calories:
1431
kcal
Carbohydrates:
344
g
Protein:
2
g
Fat:
1
g
Sodium:
17
mg
Potassium:
99
mg
Fiber:
0.1
g
Sugar:
333
g
Vitamin A:
0.5
IU
Vitamin C:
0.01
mg
Calcium:
18
mg
Iron:
0.2
mg