Heidesand is a kind of German shortbread, made with browned butter and that is what gives it its unique and wonderful taste!
Usually, I prefer cookies with royal icing or with chocolate or anything else interesting. Bare cookies are not so much my thing with this exception: Heidesand cookies! They have a distinguished taste that beats every other cookie. The browned butter in this recipe adds so much interest and flavor, I believe it is very special and just tastes as Fall feels.
I believe these cookies are mostly a recipe from the north of Germany. Especially in an area called "Friesland" we enjoy a good cup of tea with these cookies in the afternoon. Some rock candy in the tea and a bit of rum (to fight the cold weather, of cause) and everyone is happy.
Friesland is the area at the coast in the north-west of Germany where the harsh weather of the Northern Sea brings a lot of winds and rain or even storms. I love that area for its wild landscape and the people who barely speak a word but are fun once they open their mouth to say something. I believe there is some British influence to that. They also speak in a different dialect which has a lot in common with English and Dutch.
How to bake it
In the video, I show you every step of the way and I want to make sure you are sticking to the thickness of the cookies. They really should be that thick, like a little over 1/4 inch or 1 cm. If you make them too thin, they will not taste as supposed.
Pin the Heidesand Recipe to Pinterest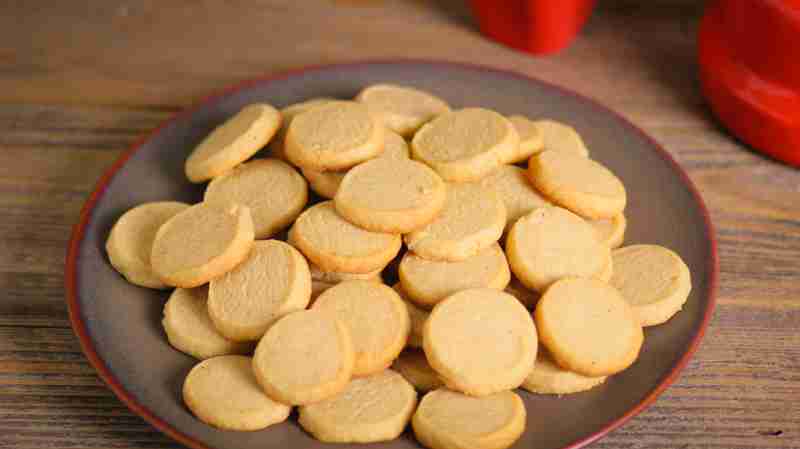 Heidesand
Ingredients
250

g

Butter

200

g

Sugar

1

pinch

Salt

2-3

Tbsp.

Milk

375

g

Flour (all purpose)

1

tsp.

Baking Powder
Instructions
In a saucepan, melt the butter and let it cook on medium temperature until it browned. Don't mind some black dot's in it.

Remove the butter from the heat and let it cool: First at room temperature, then in the fridge until it is solid/creamy again.

Put the cooled butter into a bowl and mix it until it is creamy and fluffy. Takes about ½ minute.

Mix the flour with the baking powder.

Slowly add the sugar, vanilla sugar, salt, milk and flour while mixing

Mix it well but not too long.

Take the dough out of the bowl and continue kneading with your hands.

Shape two long strings from the dough, each with a diameter of about 2 inches or 5 cm.

Let these strings rest in the refrigerator until they have hardened (30+ minutes).

Preheat the oven to 180°C / 350°F.

Now line a baking sheet with parchment paper or a silicone sheet.

Cut the dough strings into slices or ¼ inch or 1 cm and place each slice onto the baking sheet.

Bake in the oven for about 10 to 15 minutes – more or less time needed, depending on the size and thickness of your cookies.

Remove the cookies from the oven when they are almost but not yet completely done.

Let the cookies cook a little on the baking sheet before you remove them.

Eat them right away or store them airtight.