OK, here is my funny – and sort of embarrassing story about Grünkohl:

A German friend and I were wondering what "Kale" might be but couldn't find a translation for it. So we assumed it is a kind of vegetable that we don't know in Europe. For a while, I stayed away from it but after trying it in a salad, I decided that I like it. Reading about its health benefits made me even feel pretty good about it. So time went by and each Fall I felt a little sad because one of my favorite German Fall and Winter dishes "Grünkohl" was not available here in the US. Almost six years have passed and SURPRISE "google translate" now has a translation for Kale:
Grünkohl! Can you imagine how stupid I feel? I had eaten it all the time without knowing what it is. Well, to my excuse why I didn't recognize this food I can tell you that in Germany I always bought kale in a processed frozen package or in a can, so I never saw the fresh harvested plant. Just to be sure that Kale and Grünkohl are the same things, I looked up pictures of both on the internet and YES it really is the same food!
Video: How to cook German Kale Stew
Coming Saturday
Grünkohl / Kale in Germany
Starting in November Germans start to complain (complaining is something deep in our nature) that it hasn't frozen, yet, and that therefore the kale won't taste. First I thought: "Well, then put it in the freezer" but later I found out that Kale gets a slightly sweet taste if it got some frost before being harvested.
I don't know if the Kale that I bought here had gotten any freezing temperatures but it tasted quite good and that's all that matters to me.
To make this dish from scratch, you can buy the stalks and wash and clean and cut the leaves from it – but why bother if one can buy the triple-washed, ready to eat packages? How convenient – I LOVE it!
I bought a large package of about 600 g, though my recipe calls for 1000 g (1kg) but it was enough for of us. I will, however, write down the recipe for 1 kg since most families eat more than we do.
Kale in my childhood
When I was a kid, I would not have appreciated this dish … if … it wouldn't come with the sugar. It was the only dish (except for pancakes) that I was allowed to eat with sugar, since it is supposed to be eaten with a little bit of it – but you don't have to, though. Unfortunately (for me) my mom was totally against sugar and any other sweets and that's why Grünkohl was a favorite dish of mine even in my childhood. My kids enjoyed the caramelized potatoes but preferred the Grünkohl without additional sugar – they like hearty!
I also don't put sugar on my Grünkohl anymore, I just like it the way it is. The sausage gives it so much additional taste, nothing else needed! But the fried potatoes (aka Bratkartoffeln) I caramelize, which is also authentic for this meal. One can either just boil small round potatoes and then caramelize them with sugar in a pan or one boils large potatoes, cuts them into slices, fries them in some butter and then caramelize. I will explain the last option – it's the way my family cooked it.
One quick paragraph about the sausages that need to be added to the kale. In Germany we use sausages that are called "Rauchenden", they are basically smoked sausages with a height percentage of fat. Of cause, I couldn't get this exact same sausage here and I found myself in front of the sausage selection at our grocery, guessing which might be similar. I guessed well and the choice I made turned out to be very much like those from Germany with the exception that these were a spicier but this didn't matter, it still tasted great!
Pin Kale recipe to Pinterest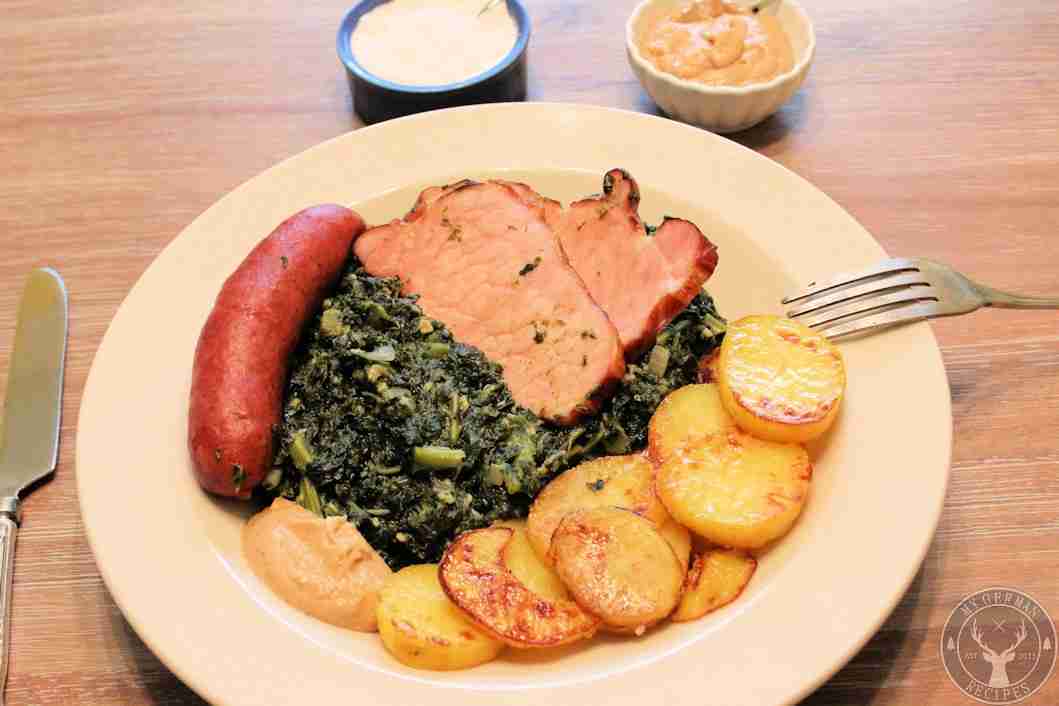 Grünkohl - Kale
This is a dish for late Fall and Winter - enjoy!
Ingredients
Grünkohl
1

kg

kale, ready to use,

(= 1000 g)

2

small onions

3

Tbsp

vegetable oil

or any other oil

1

Tbsp

lard

(I often catch the lard from frying bacon and keep it in the fridge)

375

ml

vegetable broth

2

tsp

mustard

(just a regular mustard, nothing fancy)

4-6

slices

smoked pork chops / loin

(if possible: with bones)

2-4

smoked saussage

some

sugar

some

quick oats

(optional)

some

salt

some

pepper
Caramelized Potatoes
8

medium size

potatoes

2

tsp

vegetable broth

2

tsp

Butter

1-2

Tbsp

sugar
Instructions
Fill a large pot with water and add some salt to it, then bring to a boil.

Meanwhile fill another large pot with cold water - no salt - and also prepare a colander with a bowl under it.

In several portions: Put some of the kale into the boiling water and let it boil for about 2 to 3 minutes.

Then immediately remove the kale with a ladle and put it into the cold water.

Then again use the ladle to move the kale to the colander. Repeat until the entire kale has been cooked, cooled and drained.

Since the kale in the package came in too large leaves, I put the kale onto a cutting board and cut it into smaller pieces - I cut it actually quite small in both directions.

In a large pot heat the vegetable oil.

Peel and cut the onion into cubes and add to the hot oil.

Covered with a lid, bring to a boil and then boil lightly for about 30 minutes.

In a pan heat some (not too much!) oil.

Add the potato slices to the pan and let fry on one side at medium heat. Do not turn before one side is nice brown and crisp.

Meanwhile add the sausages to the kale, close the lid and let cook another 15 minutes. After the first 5 minutes open the lid and poke into the sausages, so some of the fat (and taste) can give it's taste to the kale.

Turn the potatoes and let fry from this side until brown and crisp.

Remove the pork chops and sausage from the kale and add salt, pepper, sugar and maybe some mustard to the kale until it tastes as desired. I actually had to spice only a very little bit to get the taste right.

Add the pork and sausage back to the kale and finish the potatoes so everything is ready to be served.

In the pan with the potatoes add some butter, let it melt. Now add some sugar and stir everything constantly. Let the sugar and butter caramelize the potatoes.
Notes
This meal tastes even better the next day! You can prepare the kale and freeze it without the meat, too.