Grilled Feta Tomato Ships are very well known as a recipe in Germany. People just give it different names since it doesn't have an official name. I decided on this recipe name because the aluminum trays remind me of ships and also my family has some seamanship ties.
Grilled Feta
If you google "Feta und Tomate" you will find a lot of pictures of the recipe I am introducing here. Many people in Germany know it and grill it either as a side dish to their meat or as a vegetarian grilling alternative. Also, since the KETO Diet becomes more and more popular, this has become a popular keto diet recipe for weight loss!
The feta cheese in America is very firm and it mostly keeps its shape during grilling. This shouldn't let you think that it doesn't get hot, it just doesn't really melt. But once you put your fork into it, you will notice that it has become soft.
Feta in Germany
In Germany, we have a lot of feta distributors at the farmer's markets. Vendors from Turkey and Greece sell the best feta and their varieties are amazing! They have soft, medium, creamy and firm feta, Feta with herbs in it or with spices,… They also have feta spreads that are out of this world and a total must at every party and grilling event! Yeah, that is something I really miss and I couldn't make it myself here. But I might start to make my own feta someday and try again … once I find time for it!
Spice as you like!
In my recipe, I use some homemade pesto. My basil plant needs regular pruning to keep it from blooming otherwise that would ruin the taste of the leaves. So, I had to do something with all the basil. I made some vegan pesto (without parmesan cheese in it) with it which turned out very delicious. But if you don't have pesto at hand, you can just use some herbs to give this recipe the right kick!
Whether it is oregano or Italian herbs, rosemary, … either dried or fresh from the garden … use your imagination and be creative! Sprinkle it over the feta and tomato and drizzle some oil on top. You can also use a brush for the oil as I do it in the video.
How I came across this recipe
When I first made Feta Tomato Ships, we were in the middle of the "Mad Cow Disease" crisis in Germany. My family went all vegetarian for several years. But nothing could keep us from firing up the grill and enjoy the taste of smokey food. Grilled Feta with Tomato was frequently enjoyed recipe. We only went back to eat meat when we moved to Texas. I still find this recipe very filling and satisfying and since we have lately drastically reduced our meat consumption, we now cook this recipe more often.
The making of the aluminum ships is shown in the video. I don't really like using aluminum because it is so bad for the environment to produce it, but haven't come to a better solution, yet. I'll work on it, promise!
Pin "Grilled Feta & Tomatoes" to Pinterest: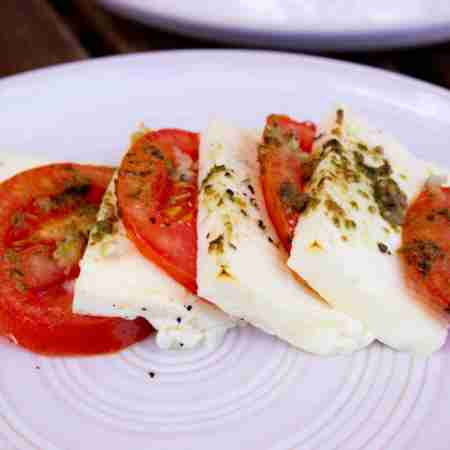 Grilled Feta Tomato Ships
Vegetarian dish or side for grilling
Equipment
You will also need some aluminum foil.
Ingredients
1

package

Feta Cheese

1-2

Tomatoes

2

cloves

Garlic

2

tsp.

Pesto or some herbs you like

3

Tbsp.

Olive Oil

salt and pepper to taste
Instructions
Cut the Feta Cheese and the Tomatoes into slices of about the same thickness.

Use some aluminum foil to create the "ships" (see video for instructions)

Put the Feta and Tomato slices alternating into the aluminum ships.

Season with salt and pepper.

Grate or press the garlic and sprinkle over the Tomatoes and Feta.

Mix the Oil with the Pesto or spices and either drizzle or brush on top of the Feta and Tomatoes.

Put on the grill for about 20 minutes.