Glühwein is the name for our German mulled wine that one can buy at the Christmas market to stay warm. There are hundreds of different recipes but this one is my favorite and many people agree that it is the best.
Video: How to make Glühwein
Which Wine is best for Glühwein / Mulled Wine?
In general, all wines that are dry or semi-dry are suitable for Glühwein. What really matters is, that your wine has a certain quality. That doesn't mean that it has to be overly expensive but it should at least have a glass bottle and preferably a real cork.
It is usually advised to use a wine with not more than 12.5% if you want to add some alcohol with higher percentage like rum later. I am not using such and that is why I have used a wine with 13.5% in my video.
Sweet wines are too difficult to adjust with the amount of sugar for the recipe, for that reason they are usually not used in Glühwein. A fruity taste though is great with my recipe.
The wine should be low on tannins and not ripened in an oak barrel (Barrique). A lower acid is also better for the taste.
Here are some wines that have the desired characteristics and are often used in a German mulled wine:
Dornfelder
Pinot Noir
Trollinger
Regent
Valpolicella
Bardolino
Lemberger
Merlot
Montepulciano
Zweigelt
Intermingle
The wine I used in the video is a wine from Aldi. Now, you might wonder why I would buy a wine from a discounter after suggesting to use wine of good quality. Well, Aldi is a German company and has a very good reputation for really good wines at a reasonable price. The Intermingle is such good wine. Unfortunately, they don't always carry it and when they have it, I buy several bottles. The price is somewhere around $8/bottle here in Texas. So, I have this wine on my shelf and though it is my favorite wine, it is not the ideal wine for Glühwein since it is rather young and has "firm tannins" which means it has a lot of tannins. I use it anyway, probably because I am not a wine expert and my tongue is not trained enough to be bothered by that.
The Intermingle is a mix of Zinfandel, Merlot, and Cabernet Sauvignon. It is described as "bold, smooth, and fruity" and I can second that. On the part of fruitiness, it is a great fit with the Glühwein recipe.
What Spices for Glühwein / Mulled Wine?
There are some standard spieces that we always put into Glühwein like Star Anise, Cloves, and Cinnamon. Other spices that can go into a German mulled wine are:
Vanilla Bean
Ginger
Cardamom
Nutmeg or Macis
Coriander Seeds
Anise
Red Peppercorns
long pepper (pipli)
Allspice
Juniper Berries
Bay Leaf
Fennel Seeds
Some people put the spices into a teabag to make it easier to take them out later. There is also a spice mix sold in Germany in sachels as if it was tea: Glühfix and Glühwein Gewürz – while the second one of these two in my opinion is the better one.
The Fruits
Some Orange and Lemon Flavor is the quite obvious secret of the fruity, fresh taste of our Gühwein. Always use organic fruits because you throw them in with their skin on it and you don't want pesticides in your mulled wine!
In order to get as much of their fruity taste, it is best if you can boil your liquid for a while. Since it is not advisable to boil alcohol, my recipe comes up with a pretty neat workaround: I use grape juice as a base liquid, where I mix in all my ingredients and can boil it all together BEFORE I add the wine. That way I get all the great tastes of everything without losing the alcohol. Clever, huh?
And if you want an alcohol free mulled "wine" then you just stick to that without the wine or otherwise, if you want more alcohol, you simply add some rum or cognac, brandy, vodka, korn, … additional to the wine. I don't do that though. Technically adding those turns the Glühwein into what is called "Punsch" (punch).
The fruits are removed bevor serving but it can be nice to decorate the drink with a slice of orange and a cinnamon stick.
The Sugar
In my recipe, I am using regular white sugar. You can also use brown sugar. If you feel like you want to add some more sweetness to your mulled wine, adding some honey is a great idea to give it a smooth sweetness.
The Right Temperature for Glühwein / Mulled Wine
Alcohol evaporates at 78°C / 172°F and therefore it is a good idea to keep the temperature below that. I recommend a temperature slightly below 70°C / 158°F which is a good temperature to drink the mulled wine (careful though, that's still hot!).
How to Glühwein on the Christmas Market
When you go to a German Christmas Market and want to get a good mug of Glühwein without the headache afterward, here is my advice:
Look for a wine in a good red color! If the color of the mulled wine is more like a rusty or brown color, it usually means that it has been kept warm for a longer period of time in an open pot and has oxidized – don't drink that! There are usually several places to get Glühwein on a market, just look for a better one.
Effects of Glühwein
I don't need to tell you how alcohol affects the body and mind, right? There is something though, that sets mulled wines aside from a glass of wine or other alcoholic drinks that are served cold. Since the wine is hot, it is absorbed by the body much faster. Blood circulation increases. Additionally, the sugar content also increases the absorption of the alcohol so you pretty soon feel the effects of that drink. Bottom line: You get more and faster drunk from mulled wine than from the same amount of wine just from the bottle.
To milden the effect of that, I would advise you to drink plenty of water and have a good meal before you go to the Christmas market or make a Glühwein at home. And though I might sound like your mom, the nurse in me needs to say it: Please don't drink and drive! It's not just your life at risk …
Pin The German Glühwein Recipe to Pinterest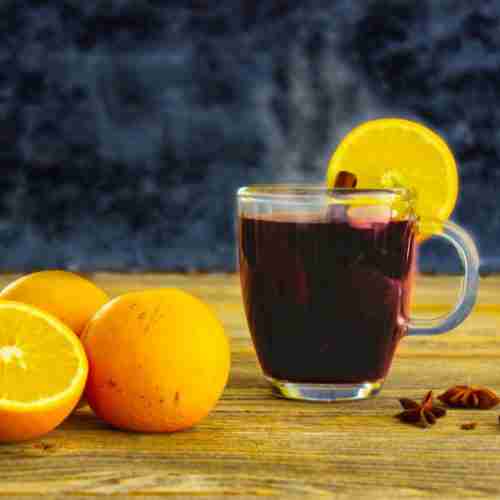 Glühwein – German Mulled Wine
Ingredients
1

bottle

Red Wine (700 ml to 1 liter)

1

Orange, organic

1

Lemon, organic

100

g

Sugar

500

ml

Grape Juice

5

Cloves, whole

1

Bay Leaf

1

Star Anise

10

Juniper Berries

1

stick

Cinnamon
Instructions
Pour the sugar into a large pot and heat it until the sugar melts.

Let the sugar caramelize until it is medium brown.

Add the grape juice – careful it will steam and be loud for a moment.

Stir for a minute to make sure the caramelized sugar dissolves in the juice.

Cut the orange and lemon into ⅛ and add all into the pot.

Let this boil slightly for about 15 minutes, then reduce the heat.

Add the wine, make sure the temperature of the Glühwein doesn't exceed 70°C / 158°F.

Remove the fruits and spices.

Serve hot in a mug, maybe add some honey and stir with a stick of cinnamon.