There are basically no limits to soup variations but a German Vegetable Soup comes with a basic recipe that then can be expanded by whatever you want to float in your soup. It's so delicious and like so often, the secret is in two ingredients.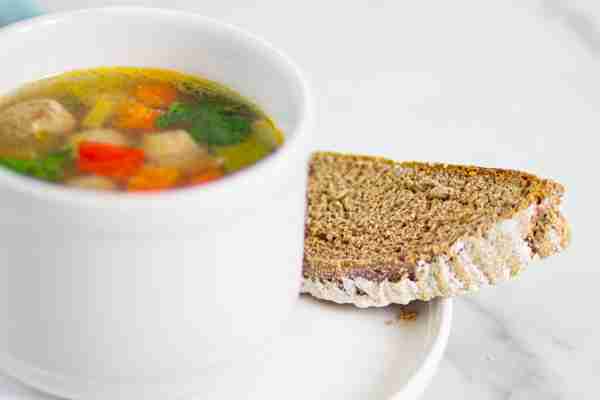 There are two things that give the soup its wonderful flavor: The first ingredient is the root celery. You have to use it wisely though, otherwise, it will take over the entire soup's flavor. So, I usually use 1/4 of the root celery for a liter (4 cups) of vegetable soup, which feeds four.
The second is what you add to the soup as a meat addition. This is often meatballs or slices of sausages – Vienna sausages to be precise. I can't buy those sausages here and one would have to slice and use Franks instead.
There are other things you can add to the soup instead of meat, I'll get to that a little later in this post.
Watch Video: German Vegetable Soup
The Basic Soup Ingredients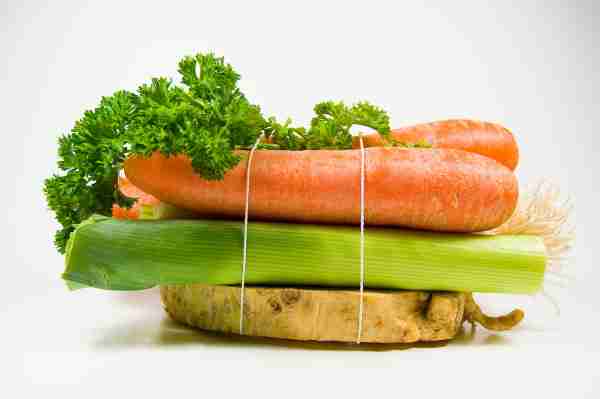 There is something called "Suppengrün" that you can buy in German groceries. Suppengrün can be translated to "Soup Greens" and is a bundle of vegetables, tied together. It contains of 1/4 of a celery root, 1-2 large carrots, some Italian parsley, a parsley root, and a leek stalk or a large onion. Except for the parsley root, I can get all these ingredients here in Texas.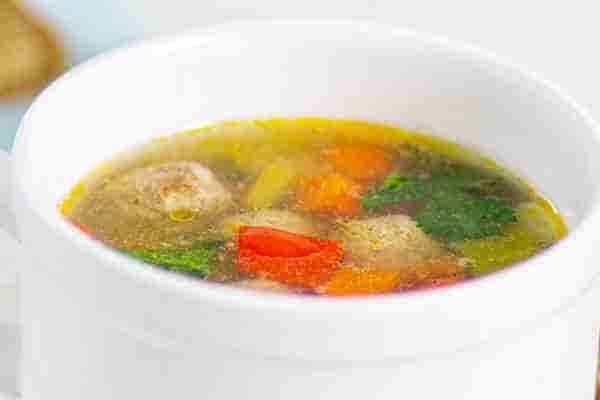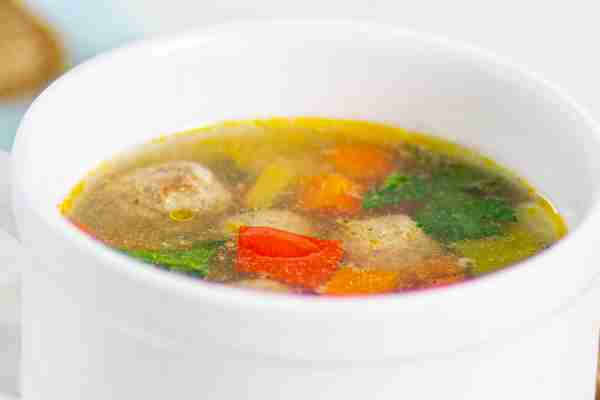 This is what makes the basic soup but you can then go from there and add other vegetables. Depending on the season this could be:
Brussel Sprouts, Collard Greens, Turnips, Corn, Fennel, Beans, Peas, Snow Peas, Bok Choi, Paprika, Squash, Green Beans, Zucchini, Brokkoli, Cauliflower, Sweet Potatoes …
Make It More Filling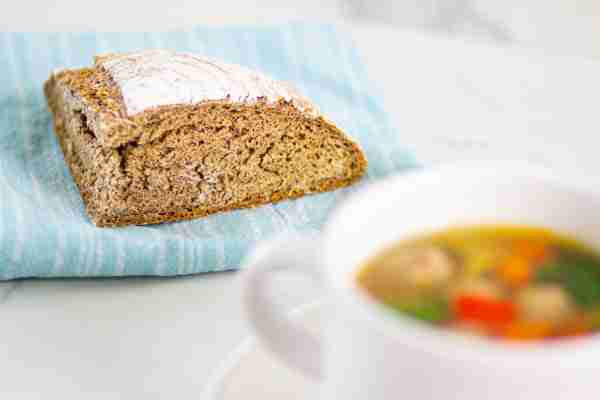 A vegetable soup will not make you full for longer and that is why we often add some cubed potatoes to the soup. Another solution is, to cook some rice and serve it with the soup. The most common solution in Germany is … you might guess it … adding a thick slice of bread next to the bowl of soup. We then sometimes dip the bread into the soup or just take a bite every now and then.
We also like to throw leftovers into the vegetable soup:
Spätzle, some spaghetti (cut into shorter length) or other pasta, and: Pancakes! Yes, pancakes!! We roll them, then slice them very thinly and put that into the soup which is then called "Flädlesuppe".
Add Meat Or Not
As mentioned before, we often add some meatballs or sausage slices to the soup while cooking, which increases the flavor even more. But there are vegetarian alternatives to it: Melboller! These are Danish flour-based little dumplings. In Germany, I bought them frozen in a bag but you can make them at home and I will add the recipe below the Vegetable Soup recipe. For Vegans, just stick to the vegetable part and leave it to that without adding meat or dumplings and thelike. But add all the vegetables you love in your soup!
To make the soup a chicken soup, just use some cooked chicken meat (maybe from the rotissery chicken leftover from the day before)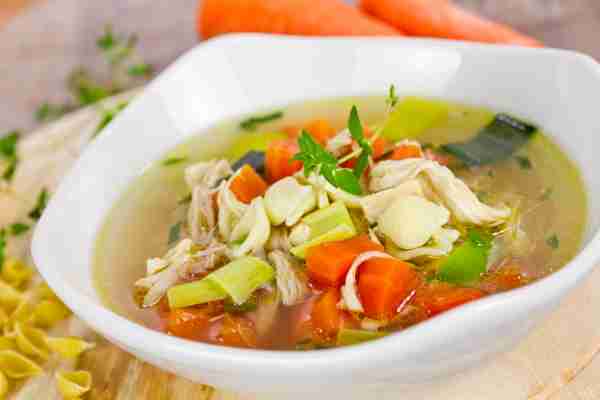 An alternative to that would be "Eierstich". Google translated it to Egg Custard but I don't think that's the same thing and someone on the internet referred to it as German Egg Croutons. It kind of fits. It is basically eggs whisked with milk and cream and then put into a container that is placed into boiling water. Once the mix has been set, you cut it into cubes and add it to the soup before serving. I will put the recipe below the Vegetable Soup recipe, too!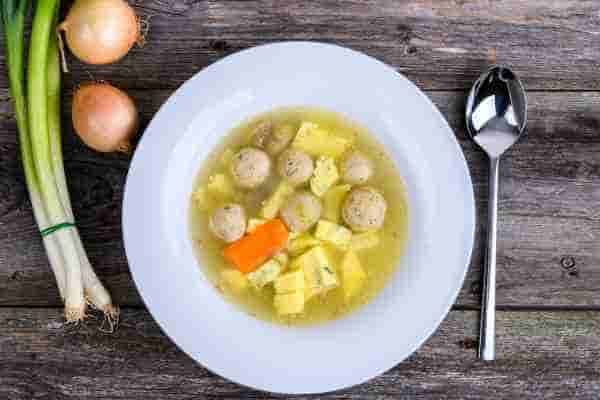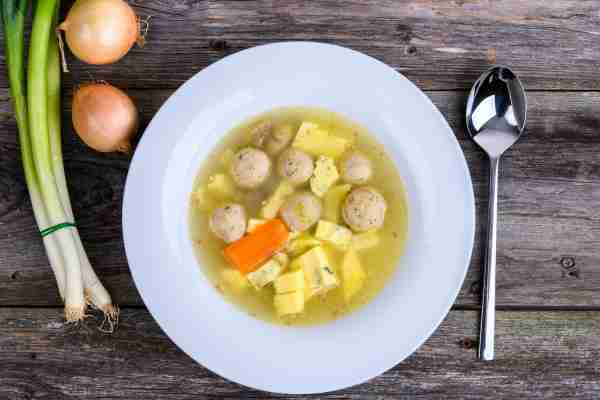 Make German Vegetable Soup Ingredients Ahead!
For a very quick weekday dinner, I recommend preparing the soup vegetables (washing, cutting into cubes) and freezing them in a bag. Whenever you want to make the soup, just bring some light broth or even just water to a boil, throw in the vegetables and boil until soft. You can also prepare the meatballs and freeze them or just slice some franks and throw them in with the veggies. It's so easy!
Parsley or Cilantro?
For the people who like cilantro: You can use that instead of the parsley … but make sure everyone who will be served this dish agrees with it.
Pin German Vegetable Soup to Pinterest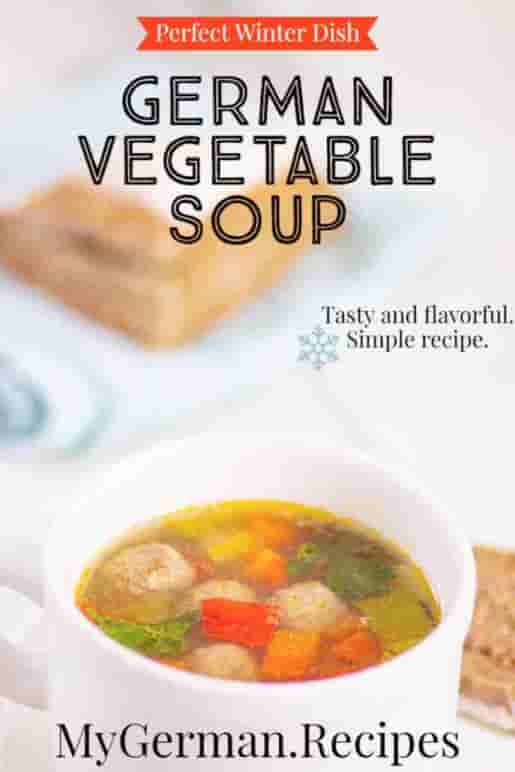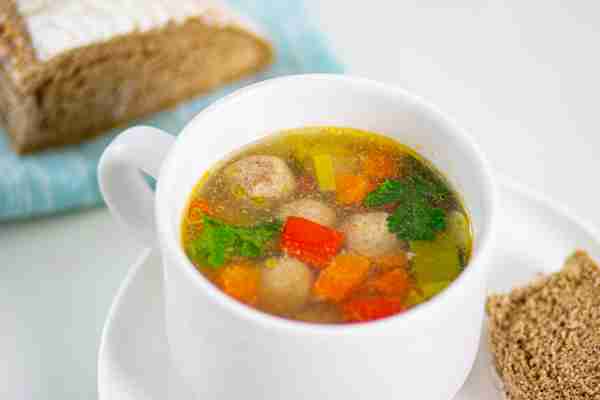 German Vegetable Soup with Meatballs
Ingredients
For the Soup
¼

Cerlery Root

1-2

large

Carrots

1

stalk

Leek

or a large onion

1

bundle

Italian Parsley

or some cilantro

1

bell pepper or additional vegetables as described in the blog post

optional

1

liter

light Broth (= watered down)

or water
For the Meatballs
450

g

ground Beef

1

Egg

some

Pepper

some

Salt

some

Onion powder

some

Garlic powder

some

Italian Herbs

dried

some

Paprika

some

Bread Crumbs, plain
Instructions
Wash all the vegetables, then cut the carrots, celery root and other vegetables into cubes, the leek into slices. Also roughly chop the Italian Parsley.

1/4 Cerlery Root,

1-2 large Carrots,

1 stalk Leek,

1 bundle Italian Parsley,

1 bell pepper or additional vegetables as described in the blog post

Bring a large pot with the broth to a boil.

1 liter light Broth (= watered down)

Add the vegetables to the boiling broth, close the lid and let bail while preparing the meatballs.

Put all ingredients for the meatballs into a bowl and mix everything with a fork. Make sure there is enough salt in the mix!

Shape little (or larger) meatballs and add them to the soup, let boil for 12 minutes or more if you use larger meatballs.

450 g ground Beef,

1 Egg,

some Pepper,

some Salt,

some Onion powder,

some Garlic powder,

some Italian Herbs,

some Paprika,

some Bread Crumbs, plain

Season with some salt and pepper if needed, optional add paprika or Tabasco sauce to the soup until you have the desired taste.

Serve with a slice of bread or the suggestions from the blog post.
Additions for the Soup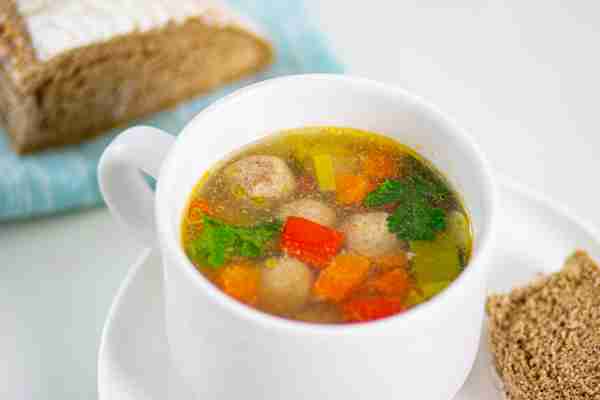 Danish Flour Dumplings
Ingredients
25

g

Butter

200

ml

Water

125

g

Flour

All Purpose

3

Eggs

1

tsp

Salt

1

pinch

White Pepper, ground

1

pinch

Nutmeg, ground
Instructions
In a pot, bring the water with the butter to a boil.

25 g Butter,

200 ml Water

Remove the pot from the stove and in a quick movement, put all the flour into the liquid and stir for about 5 minutes until a smooth mass is created.

Let cool for about 20-30 minutes.

Add the Salt, Pepper, and Nutmeg, also the eggs, then use an electric mixer to mix everything.

3 Eggs,

1 tsp Salt,

1 pinch White Pepper, ground,

1 pinch Nutmeg, ground

Let rest for another 10 minutes.

Fill a wide pot with water, add some salt so it is slightly salted. Heat the water to almost boiling but keep it below boiling point.

Shape little dumplings, about the size of 1 cm (½ inch).

Put the dumplings into the water and let them float for 10 minutes.

Prepare a bowl with cold water. Once the dumplings are done, put them into the cold water and let cool.

Either add to a soup or freeze:

Put the dumplings on a tray and don't let them touch each other. Put in the freezer and once they are frozen, place them into a jar or bag and keep in the freezer until needed.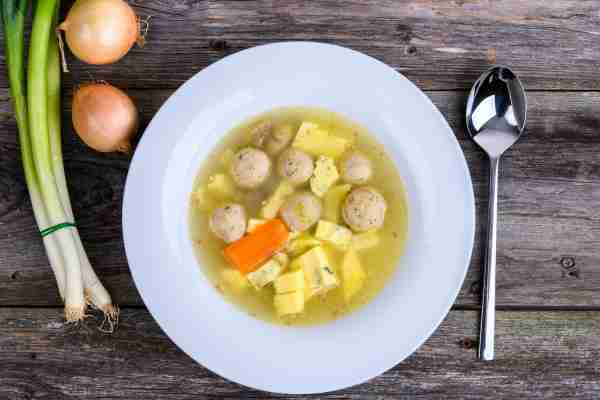 Eierstich – German Egg Croutons
Equipment
1 heat resistant mold
i.e. small glass bowl or ceramic container
Ingredients
2

Eggs

80

ml

cold Milk

20

ml

Heavy Cream

some

Salt and Nutmeg

some

Butter

for the mold
Instructions
Whisk the eggs with the milk, cream, salt, and nutmeg.

2 Eggs,

80 ml cold Milk,

20 ml Heavy Cream,

some Salt and Nutmeg

Brush the mold with the butter.

Pour the mixture into the mold, i.e. a glass bowl. Cover with a lid or a small plate.

In a pot or pan, bring water to a boil, reduce the heat so it barely boils, then place the mold into the water.

Let the container sit in the slightly boiling water for 30 minutes, then carefully remove it and let cool.

Remove the egg-mass from the mold and cut into cubes or rectangles. Add to a soup or put into an airtight container and freeze. Use frozen Eierstich by putting it directly into a boiling soup without thawing.
Summary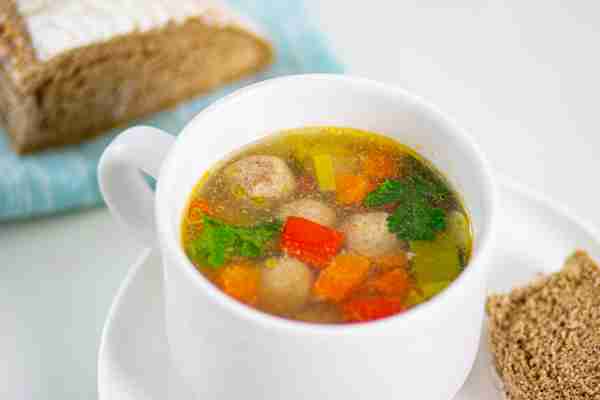 Recipe Name
Author Name
Published On
Preparation Time
Cook Time
Total Time