This authentic German rye bread is made with sourdough and has many names: Some call it Mischbrot (mixed bread), some call it Graubrot (grey bread) and others call it Roggenbrot (rye bread), … 
It is a mix of wheat and rye flour and has a rather malty taste compared to a white bread.
Because of that, it fits best with some cold cuts or cheese but it is also delicious with honey, jam or Nutella.
How to bake German Rye Bread
After watching the video you probably want to bake authentic German rye bread right away but unless you are the proud owner of a sourdough in your fridge, you will first have to make your own sourdough – which takes 3 days. Then you need another 24 hours for the pre-dough (or start-dough) until you can finally (") bake your bread. But don't worry: Once you have a sourdough, you can bake your bread almost right away. You just need to find your rhythm when to set up your pre-dough and then bake bread the next day.
How to make a Sourdough Step by Step
Day 1
In a medium sized bowl mix 50 g of wheat flour with 50 ml of luke warm water.
Stir.
Cover with cling wrap and set at a warm place (i.e. window sill).
Day 2
Take the dough from the day before and add another 50 g of flour and 50 ml lukewarm water.
Stir.
Cover with cling wrap and but back to the warm place.
Day 3
This time you add 100 g of flour and 100 ml lukewarm water.
Stir.
Cover with cling wrap and again set it at a warm place.
Day 4
Your sourdough is ready to use.
Give the sourdough in a jar and close it with a lid.
Place it in the fridge until you want to use it.
How to use sourdough
This part has confused me for a long time until I figured it out, so let me describe it very precisely so you get it the first time:
When you want to bake with your sourdough, using a scale, you add 70g of it to a pre-dough or the bread dough (depending on the bread recipe).
Put the jar with the remaining sourdough back into the fridge.
The pre-dough stands at a warm place for 24 hours.
After the 24 hours, using a scale,  you take 70 g of that pre-dough and add it to the jar with your sourdough.
Put the jar with the sourdough back into the fridge until you need it again.
The remaining pre-dough is used to bake the bread.
So basically you borrow some of the sourdough to start a chemical reaction in the pre-dough which turns that batch into a sourdough and then you return some of that sourdough to your original sourdough. And everytime you do this, the sourdough in your jar will increase in taste and this will increase the taste of your bread. So don't throw away your sourdough and make a new one just because it's so much fun. Value your sourdough like a treasure and give it lots of love.
The Rye Bread
To bake a rye bread you will always also need wheat flour. The reason for this is, that the rye flour doesn't contain enough gluten to make the dough stick together. Rye has been a main source of food in Europe for hundreds if not thousands of years. It is very resistant to cold weather. However, in the time that is called "the little ice age" the cold weather gave a fungus the best conditions to grow on the grains. This fungus was very unhealthy for the people but still better than starving. However, the side-effects of eating contaminated rye where like losing vision, hallucinations, violence, …
Today you don't have to worry about that black fungus anymore. German rye bread is very healthy and contains a lot of magnesium, B-vitamins, zinc, iodine, and fluorine. It's iodine even beats the amount that is in dairy or meat, the fluorine is almost as much as radish and more than double of what asparagus and three times of what chard contains.
But that's not all: The sourdough in your rye bread helps your body to take in all the healthy components and increases your bone density – which is very important for women before, during and after menopause – by increasing your calcium intake. Do I have to write more to convince you that this bread is all you need for a happy, healthy life? Ok, here is one more thing you will like: German rye bread is great for a weight loss diet! It keeps you full for a long time, doesn't put your blood sugar in a roller coaster and if you pair it with the right toppings like i.e. Quark (with herbs, salt, pepper and maybe garlic – mmmmmh!) it will help you to reach your goal quite fast! Try it: Have this bread for breakfast and dinner and see how your weight changes.
This rye bread recipe
This German rye bread recipe needs two days, let me break it down into easy steps for you: While on the first day you only mix 3 ingredients with a spoon and then set it aside – so not a lot of work. The second day you mix the remaining ingredients and add the mixture from the previous day. Then you let it rise and finally bake it. Not that difficult, right?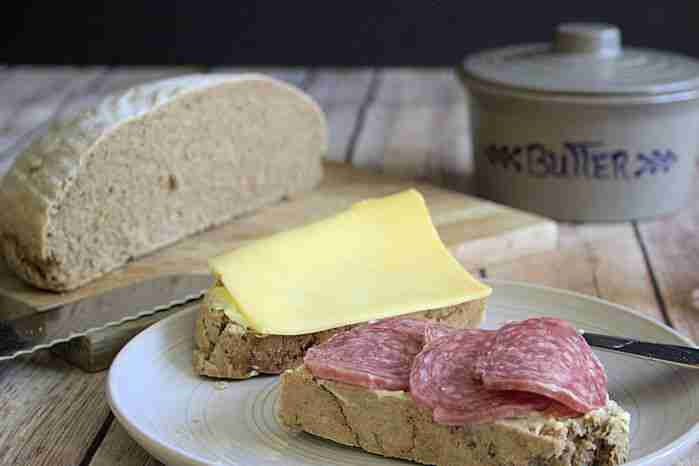 German Rye Bread with Sourdough: Mischbrot
Ingredients
For the Pre-Dough
265

g

rye flour

280

ml

lukewarm water

70

g

sour dough starter

(see recipe/ instructions in the text section)
For the bread dough
260

g

rye flour

240

g

wheat flour

(all purpose or bread flour)

230

ml

luke warm water

10

g

salt

½

pouch

dry yeast (= 7g)

½

tsp.

bread spice

, optional
Instructions
German Rye Bread Pre-Dough
In a bowl mix 260 g of rye flour with 280 ml luke warm water.

Add 70 g of your sourdough (see instructions for sourdough in the text area above)

Stir, cover with cling wrap and set at a warm place for 24 hours.
Making the German Rye Bread Dough
From the Pre-Dough take 70 g off and add it to your jar with the sourdough. Put that jar back into the fridge.

In a large bowl mix 260 g rye flour and 240 g wheat flour.

Add 10 g salt and the bread spice (optional).

Crumble the yeast into the luke warm water and let stand for a few minutes.

Add the water-yeast mix to the bowl and knead until you have a dough.

Now add the pre-dough to the bowl and mix both doughs together.

Put some flour on your countertop and put the dough on top of it.

Start kneading by folding the dough from the sides to the center.

Cover the surface of a proofing basket or a baking pan with flour and add the dough (smooth side down) to it.

Cover with a dish towel and let stand for 60+ minutes - until it has increased it's size a lot.

Preheat the oven to 465°F with the baking sheet inside.

Remove the hot baking sheet from the oven.

Add water to a caserol and place it on a lower rack in your oven.

Put the bread (withour the proofing basket!) onto the hot baking sheet and place it in the oven.

After 10 minutes reduce the oven temperature to 390°F and bake for another 40 minutes.

About 10 minutes before the baking time is over, check if the bread is turning too dark. If so, cover it with aluminum foil for the last 10 miuntes.

Let the finished bread cool, eat it warm with butter and later with whatever you like.
Notes