Rum Balls, called Rumkugeln in German, come in two variations. The smaller ones wich are like rum truffles, known everywhere in Germany and the large ones, known in the North. Rumkugeln are a very delicious treat and once you had one, you always want more!
My mum could never resist those large rum balls from the bakery and that's no surprise. While being so large that one can barely handle to eat it all, they are the perfect mix of sweet, chocolate, and alcohol. The same applies to the smaller version. They are just sooooo gooood!!!
How to make Rum Truffles & Rum Balls Video
Two Kinds of Rum Balls
The small version is like rum truffles. They are mostly made with butter, sugar, chocolate, and rum. The larger rum balls are quite different. Besides having the size of a snowball, they are usually made from leftover cake. Now, you probably know cake pops and might think "I know that!" but still there is a difference. The large version from the bakery is made with cake – usually leftover cake.
The Cake for large Rum Balls
You can either wait until you have a leftover chocolate cake or simply bake one. I actually used a cake mix. Then, if possible, let the cake be one or two days old so it will better soak in the liquid. If you can't wait, cut the cake into slices and let those dry out for some hours.
Cooling Times
Both versions have cooling times. Please stick to those times so the mass can settle. I actually also keep the finished rum balls in the fridge since I like them cool.
The Booze
As mentioned in the recipe details, the rum should have 40%, that's when it tastes best. If you can't get a 40% rum, use what you can get or what you usually have.
Which Chocolate to use
Use a good brand of chocolate to have the balls taste best! Also, don't use the chocolate bark stuff that they sell here in the US, that is not really chocolate. I like to use chocolate from Lindt for this recipe.
Word of Warning
There are four tablespoons of rum in each of both recipes. That sounds like "not much". That said, please keep in mind that even a small amount of alcohol can have effects on your body. It might influence your judgment or ability to drive etc.. Also, don't let these delicious sweets get into your kid's mouth! Though my mom gave me a bite of it, I recommend not doing so. After all, you might not want to share it anyway!
Pin Rum Truffles to Pinterest
Rum Balls – small
These rum balls are like rum truffles.
Ingredients
100

g

Butter

unsalted, soft

100

g

Confectioners Sugar

200

g

Milkchocolate

choose good brand

100

g

dark Chocolate

choose good brand

4

tbsp.

Rum

40% or some Rum Extract

1

package

Chocolate Sprinkles
Instructions
Whipp the butter until fluffy.

Sift the confectioners sugar and add it to the butter and mix.

Put both chocolates into a bowl, set the bowl on top of a saucepan with very hot water (without bowl touching the water) and let it melt.

Let the molten chocolate cool to room temperature.

Add the chocolate to the butter and mix well.

Put it into the fridge for 1 to 2 hours.

Use a small spoon to scoop portions and shape balls of the size of a hazlenut.

Roll each ball in the chocolate sprinkles, then put back into the fridge for another hour.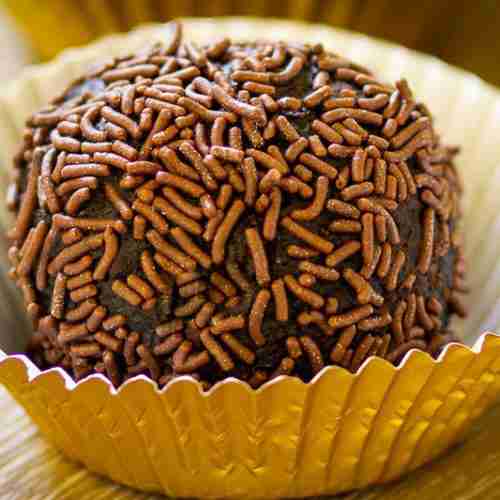 Bakery Rum Balls
These rum balls have the size of a snowball
Ingredients
400

g

Chocolate Cake

not fresh

4

tbsp.

Rum

40%, or some Rum Extract

2

tbsp.

Orange Juice

100

g

Chocolate

chose a good brand

100

g

Chocolate Sprinkles
Instructions
Crumble the Cake into a bowl.

Add the Rum and Orange Juice, mix well and let sit for ½ hour or overnight.

Melt the chocolate in a bowl, placed above a saucepan with hot water, without the bowl touching the water.

Add the molten chocolate to the cake-rum mass and mix well.

Shape snowball sized balls and roll them in the chocolate sprinkles until completely covered.

Let cool in the fridge for another 2 hours.