A typical German main dish has the components: Meat, potatoes (carbs), and a vegetable side. Red Cabbage is a frequent side for a Sunday roast but if you think of it as a sour, crunchy thing from a store-bought jar, then you've never had authentic German red cabbage, made from scratch!
There are mostly two versions of RED CABBAGE that we cook in Germany … with countless personal variations of course! On version is more on the hearty side with more spices and with onions, while the other version is more on the sweet and fruity side with wine and sugar.
Here in this blog post, I will provide both versions so you can decide which one suits your dish or taste better.
My family and I like both versions but really love the sweeter version. I'll definitely teach my kids how to cook it since they love it so much.
Version 1
Version 2
When to eat Red Cabbage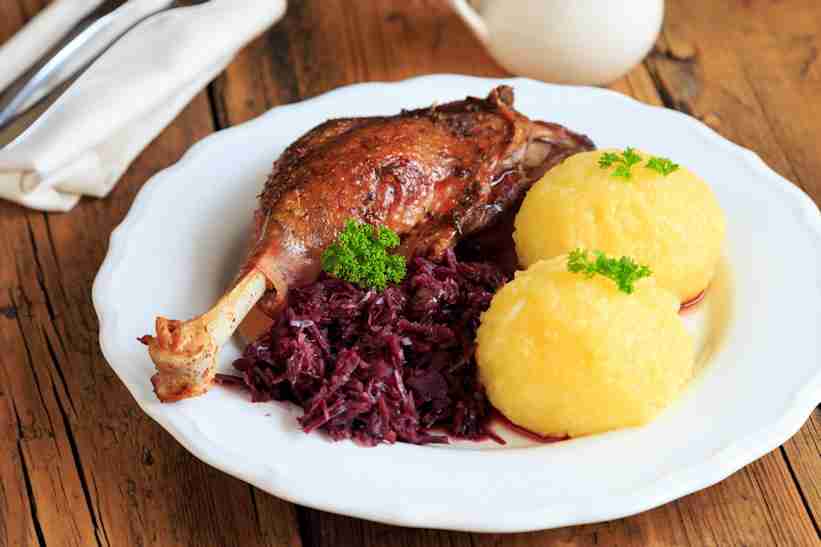 The best pairing is with a roast like sour beef or poultry like a goose or duck. I am sure it will go very well with a turkey, too, thinking of Thanksgiving! You can have it with potatoes but it tastes best if you have dumplings or even croquettes with it!
Since it takes some time to cook, it is a good idea to cook a large batch of it on a rainy weekend. Then you just freeze it and let it appear magically on a lucky day with a delicious (feast) meal.
My TiP: When freezing red cabbage I put it in Ziploc bags and make them really flat, so it can thaw in almost no time.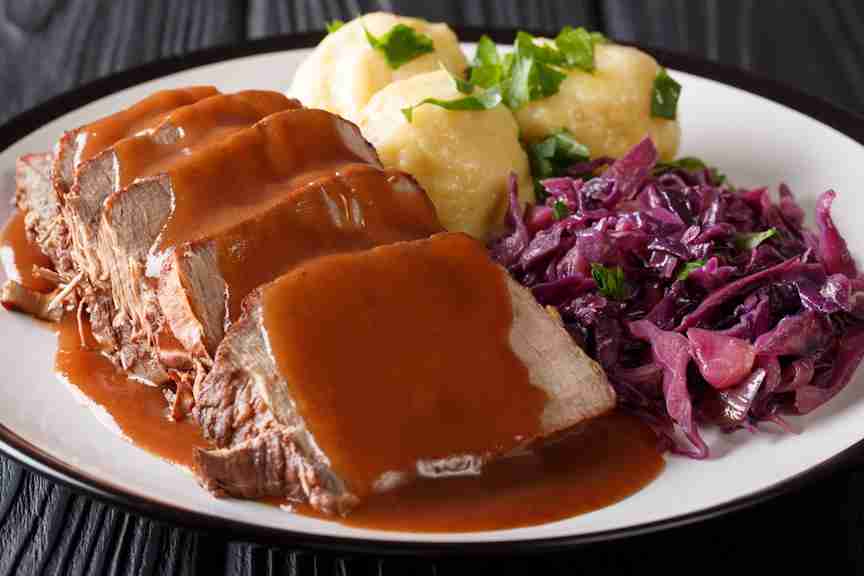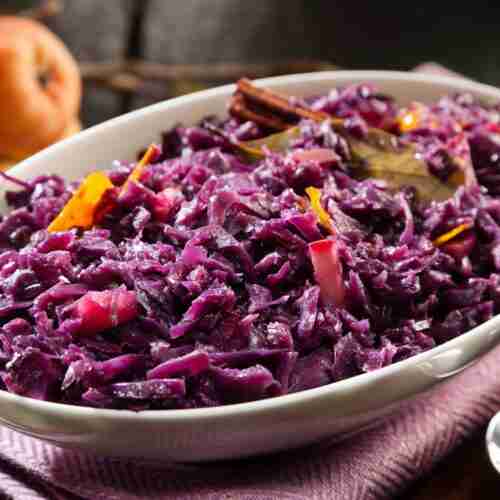 Authentic German Red Cabbage Version 1, hearty
This is the version with onions and more spices
Ingredients
1

kg

Red Cabbage

2

Apples

tart

1

Onion

large

5

tbsp

Oil

i.e. Avocado Oil, or some lard

1

Bay Leaf

3

Cloves

3

Juniper Berries

some

Sugar

some

Salt

some

Pepper

2

Cinnamon Sticks

2

tbsp

Red Wine Vinegar

3

tbsp

Black Currant Jelly

or jam

125

ml

Water
Instructions
Remove the outer leaves of the cabbage, cut the cabbage into quarters, then remove the stem and chop the cabbage thinly.

Peel and dice the apples and the onion.

In a large pot, heat the oil, then first braise the onions for a few minutes, then add the cabbage and apples.

1 kg Red Cabbage,

1 Onion,

5 tbsp Oil,

2 Apples

Stir and add all remaining ingredients but be shy with the sugar.

1 Bay Leaf,

3 Cloves,

3 Juniper Berries,

5 Allspice Berries,

some Salt,

some Pepper,

2 Cinnamon Sticks,

2 tbsp Red Wine Vinegar,

3 tbsp Black Currant Jelly,

125 ml Water,

some Sugar

Let cook on low heat for 45 minutes, while checking in between if there is still enough liquid on the bottom to avoid burning.

After the cooking time, add salt, sugar, and pepper as needed to get the desired taste.

Remove the berries, leaf, and cinnamon sticks, then serve or freeze for a later meal.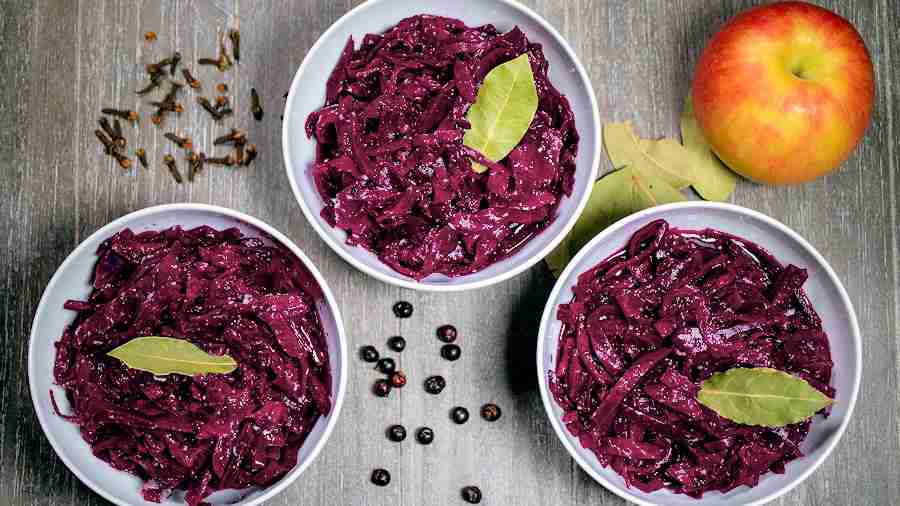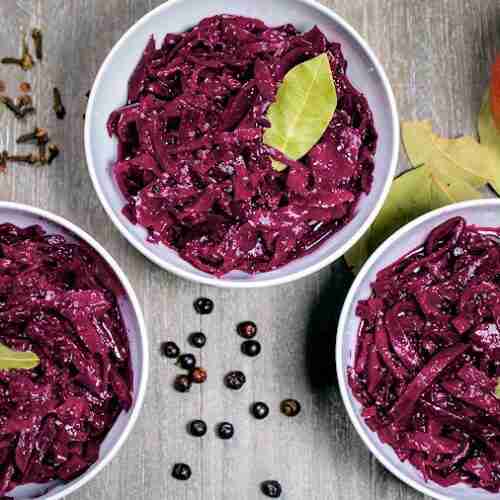 Authentic German Red Cabbage – Rotkohl
This side dish has a slightly sweet taste.
Ingredients
1

Red Cabbage, fresh

1

large

Apple

(sour and juicy)

2

Tbsp.

lard

or cooking oil

250

ml

Red Wine

(i.e. Intermingle from Aldi)

3-5

Tbsp.

Red Wine Vinegar

1

Bay Leaf

1

stick

Cinnamon

3-4

Tbsp.

Black Currant Jam

some

Apple Sauce

optional

some

Salt, black Pepper

some

Sugar

brown or white

1

Tbsp.

Corn Starch

(if needed)
Instructions
Start with removing the stem from the cabbage and cut it in quarters. Remove all the hard parts from the cabbage.

Now, cut each quarter Cabbage into thin slices.

Prepare the Apple: Peel it, cut it into small cubes.

Heat a pot and add the lard.

Add the Red Cabbage and fry it 4-5 minutes, stirring constantly.

Now add the Wine and stir well.

Add about 3 Tbsp. Red Wine Vinegar, 2 Tbsp. Sugar and 1 tsp. Salt – stir.

3-5 Tbsp. Red Wine Vinegar,

some Sugar,

some Salt, black Pepper

Next, add the Bay Leaf and the Cinnamon stick, stir.

Cover with lid and let cook for 30 minutes. Take a peek occationally to check the fluid and stir.

After 30 minutes, open the lid and add the Apple.

Add the Black Currant jam, bay leaf, apple sauce (optional), and stir.

1 Bay Leaf,

3-4 Tbsp. Black Currant Jam,

some Apple Sauce

Cover with lid again and cook for another 30 minutes – check liquid and stir every now and then.

Now open the lid, if there is a lot of liquid, you can mix the Corn Starch with some cold water and add it to the cabbage, for thickening.

Check the taste, add sugar, salt and black pepper if needed.

some Salt, black Pepper,

some Sugar

Enjoy – Guten Appetit!