There is nothing like the scent of fresh German pancakes in the kitchen! Here is how countless German moms made them… not even using a recipe but I have one I can share with you.
A very un-German recipe
Recently someone asked me for a recipe to make German pancakes … in a Geman online community. Every answer to that question was like "I do not have a recipe, I just mix the ingredients without measurement but by feeling". This seems to be very uncommon for Germans since we are so obsessed with precise measurements, right? Well, German pancakes seem to be an exception. They are made by feeling and therefore all pancakes are kind of different. So no child has ever watched their mother measuring flour or milk in order to make pancakes and once one moves out, one has to figures it out by themselves. What you need to know is this: There can be too much flour in the dough but probably not too much milk, and it doesn't work without eggs!
However, don't worry, I will not leave you to the science without proper advice about how much of what you need!
I have a cookbook and I am not afraid to use it – with measurements! I tried it out and it works!
How to make German Pancakes
Making pancakes fluffy and light
Now I will also reveal my secret pancake ingredient: baking soda! OK, that is not surprising to you, since everyone here has baking soda in the pantry. In Germany, most people don't even know what the package of baking soda looks like and where they can find it at the grocery … and what is baking soda anyway?
Yet soda is in my pancakes since so many years that it goes even back to my time in Germany. It makes the pancakes really fluffy and easier to digest. Otherwise, you can feel really heavy after eating a pancake, trust me!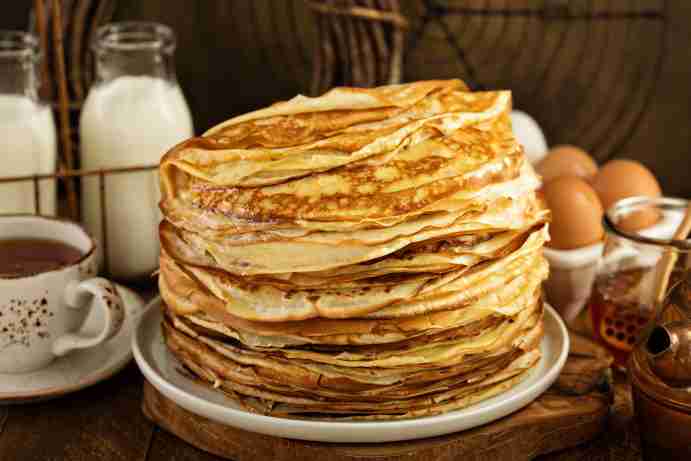 Instead of baking soda, Germans mostly use a little beer or just sparkling water in their pancake dough. Works too, so if you have already a bottle of beer open … at noon … in the kitchen … I am not judging … ;-)
Some people like their pancakes thick, some like them very thin and others like them in between. I suggest you try different styles and come to your own conclusion. We love them thin but sometimes we add apple slices or sugar plums to the pan or banana slices – in that case we need to make them a little thicker.
When to eat German Pancakes
Pancakes are not a breakfast in my country. They are a lunch and therefore a complete (sweet) meal at lunch.
Story Time: The Big Fat Pancake
In my family I have made it a tradition to tell the story of the very big, fat pancakes (no offense) to my little ones while I bake them – and they can never hear enough of that story, because – just like my pancakes – I vary the story every time.
In a nutshell the story is about a pancake, baked by three women. It jumps out of the pan, through the window and runs right into the woods. There he meets different animals like a bear, a wolf, a fox … and they all say "Come here, big fat pancake, I want to eat you" but the pancake answers: " Oh no, I have already run from three women, the bear and the wolf … and I will run from you, too!". And this way the story goes on until the pancake meets some really hungry kids (who happen to have the same names as my kids) who are lost in the woods and he feels so sorry for them, that he decides to sacrifice himself. End of story – Bon appetite!Here is a different version of the story. I found it on youtube:
Here is another version of "The Runaway Pancake".
Pancake fillings
Syrup is not the common topping on German pancakes, neither is butter. We spread jam on the pancake or a mix of sugar and cinnamon. Some people like it with Nutella. We then roll the pancake and eat it like a wrap.
My personal favorite is the mix of cinnamon and sugar and some apple sauce as a side.
In summer it is a special treat to have a scoop of vanilla ice cream on top of your pancake and add some chocolate sauce.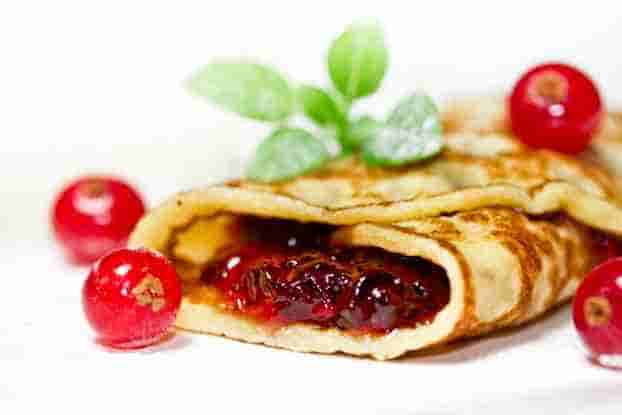 You can also put cooked asparagus and a white sauce on it and fold it in half and eat it. Some like to fill it with mushrooms and bacon … there are endless possibilities!
I share a recipe made with pancakes, salmon, cream cheese, and arugula someday soon …
A pancake specialty is the "Palatschinken" that my Grandmother did: She fille the pancakes with a sweetened Quark and raisins, then rolled them and put them into a casserole. Next it goes into the oven for a bit and the result is delicious like cheesecake! I will post the complete recipe some day soon.
Use butter, not oil
One important thing though: When you fry the pancakes do not use oil! Instead, use butter. It makes a huge difference in the taste and also butter doesn't get as hot as oil does, so there is less of a danger to burn them.
Leftover pancakes
You might think there is no such thing as leftover pancakes but a smart German mother will always bake more than needed and let the leftover cool on a plate. Then she will cut them into smaller pieces and feed them as a snack – dipped in sugar and cinnamon. Or you can also cut them in stripes and add them to a vegetable fond and tada, there is your "Flädle-Suppe", another German treat.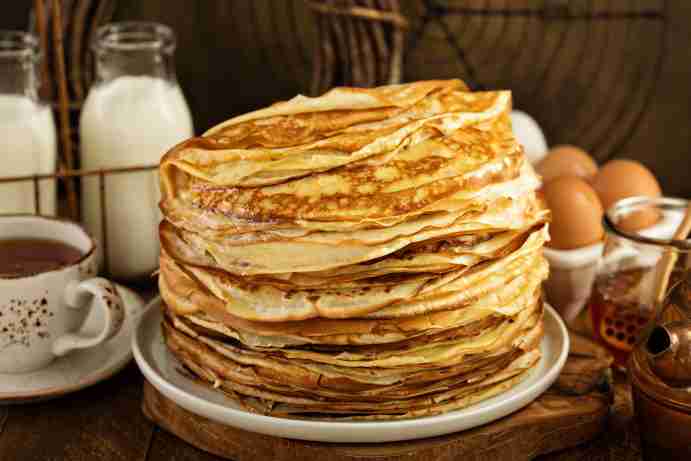 German Pancakes – Pfannkuchen
if you have, bake two or more at a time in different pans. Serve as soon as ready or collect them on a plate and use a second plate as a lid to keep them warm.
Ingredients
250

g

flour

all purpose

4

eggs

1

dash

salt

375

ml

milk

125

ml

water

½

tsp

baking soda

½

stick

Butter

to fry
Instructions
Mix the eggs and milk in a mixer.

slowly add the flour, make sure you don't have lumps.

Add the salt.

Add the water.

Add the soda.

Your dough should be somewhat liquid.

Heat a pan (or more than one if you have) to medium hot and melt some butter in it.
Notes
In my cookbook, they ask for one tbsp. of sugar added to the dough but in my opinion, it doesn't belong there and it tastes better if the pancake is slightly salty. But feel free to try it with that tablespoon if you feel different about it.
Nutrition
Calories:
257
kcal
Carbohydrates:
30
g
Protein:
9
g
Fat:
11
g
Saturated Fat:
6
g
Polyunsaturated Fat:
1
g
Monounsaturated Fat:
3
g
Trans Fat:
1
g
Cholesterol:
116
mg
Sodium:
202
mg
Potassium:
146
mg
Fiber:
1
g
Sugar:
3
g
Vitamin A:
424
IU
Calcium:
82
mg
Iron:
2
mg
Summary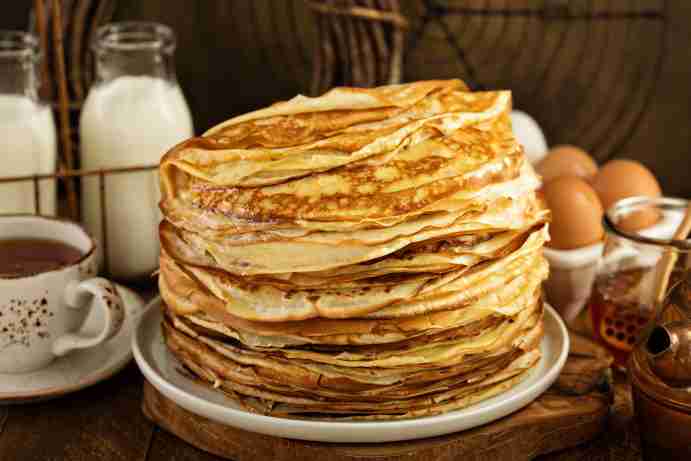 Recipe Name
Author Name
Published On
Preparation Time
Cook Time
Total Time
Average Rating





Based on 1 Review(s)