We Germans are not known to have a lot of humor but I think this cake actually is funny … and delicious! Mole Cake is a rather new recipe in Germany but I can't tell who invented it. Roughly 25 years ago, it became available as a box cake and soon after it was a favorite at birthday parties.
Video: How to Bake a Mole Cake
Mole Cake – so unique!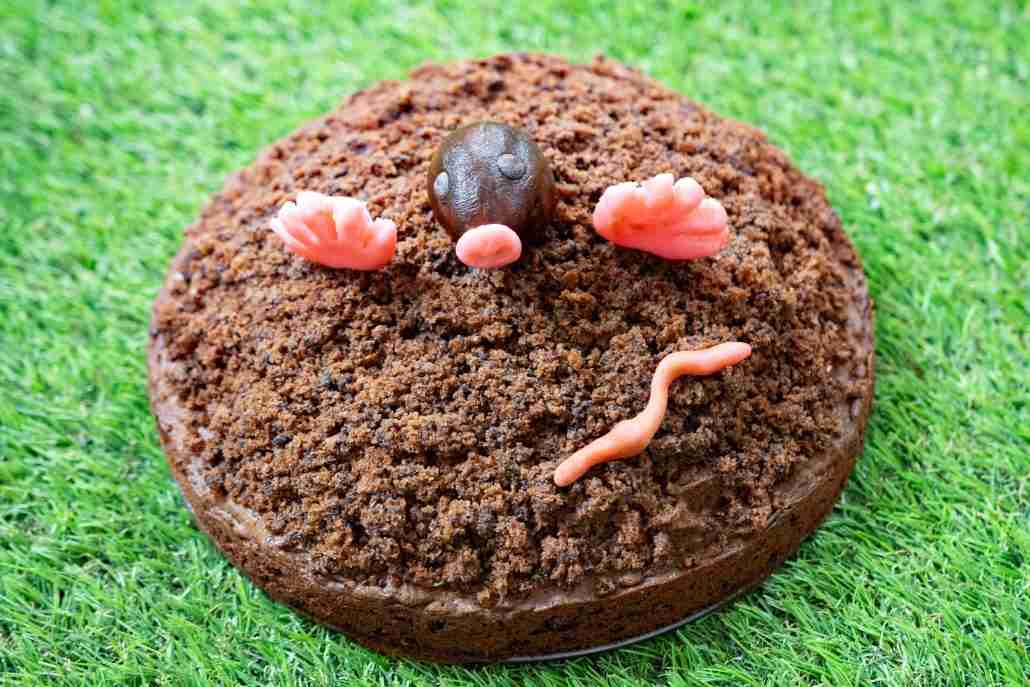 You'll never get rid of a mole mound this fast ever again!
The wonderful combination of a nice moist chocolate cake with cream and bananas is a culinary match made in heaven. The base is the baked chocolate cake but you have to dig in and carve it out a bit. Then you cover the bottom with bananas. On top of that, you create a mound with whipped cream. This is then covered with the cake crumbles from the carving. For a little extra, you can make a cute mole that sits on top of it all. Almost too pretty to eat but too good to resist!
Variations of this Recipe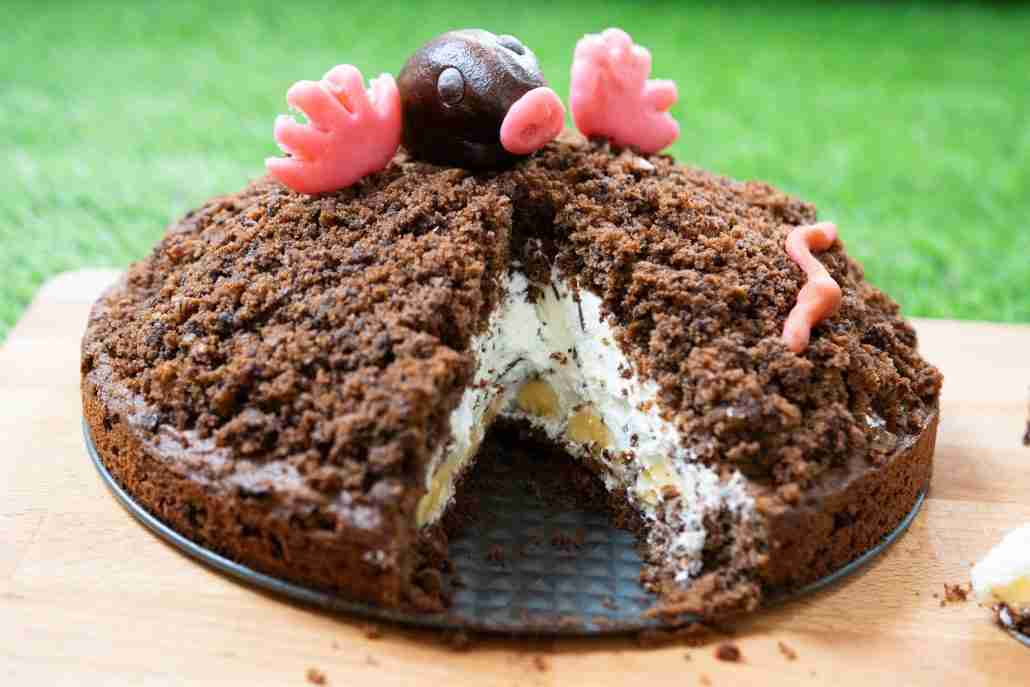 Like always, there are different variations to make this. I stuck to what I believe is the original. It's simple and easy to make. But some people don't like bananas and opt for strawberries or cherries. That has of course a lot more color but I miss the sweeness of the bananas in that version. One would have to add a bit more sugar to the whipping cream without the bananas.
Talking about whipping cream: Some use a mix of Quark and Whipping Cream. That reduces the amount of fat in the recipe.
Recipe: How to make Quark.
A Twist For Halloween
While this cake is absolutely cute, you can easily turn it into a spooky Halloween Party Cake. Just use a rectangular baking pan, omit the mole and instead use decorated cookies as gravestones… there you have a creepy graveyard. But for the passionate golfer, the original mole cake will do for Halloween, too 😉.
Bananas – wash your hands?
I still watch German TV sometimes, mostly documentaries because they are really well-made and informative. A few weeks ago, I came across a documentary that was reverse following the path of bananas to Central & South America. The products were sold as "organic" and also as produced with fair labor conditions. As it turned out, the work conditions were absolutely not what they were supposed to be and even the organic bananas were heavily treated with pesticides that are considered to be toxic and are not permitted in Europe and many other countries of the world. Those pesticides are still on the fruits when we buy them so I think it's not a bad idea to wash our hands after touching them. It will not wash off my feelings of guilt, though. Bananas are ridiculously cheap and I would be absolutely willing to pay more for the workers to be paid and treated fairly. A whole bunch of bananas costs less than 1 cucumber, it makes no sense.
Mole Cake
Equipment
Ingredients
For the Cake
125

g

Butter

soft

120

g

Sugar

3

Eggs

150

g

Flour

3

tbsp

Cocoa Powder

unsweetened

3

tsp

Baking Powder

50

g

Chocolate Sprinkles

5

Tbsp

Milk

1

pinch

Salt
For the Filling
4

Bananas

550

g

Whipping Cream

3

packages

Stabilizer

3

tsp

Vanilla Sugar

or a bit of Vanilla Extract

50

g

Chocolate Sprinkles
For the Mole
50

g

Marzipan

some

Pink Food Color

some

Brown Food Color
Instructions
Baking the Cake
Preheat the oven to 350°F / 180°C and grease a 9 inch baking pan with butter or oil.

Mix the

125 g Butter

with the sugar

120 g Sugar

until the sugar is almost dissolved.

Mix in

3 Eggs

, one at a time. Then slowly add the

5 Tbsp Milk

.

In a different bowl, mix the

150 g Flour

,

3 tbsp Cocoa Powder

,

3 tsp Baking Powder

, and

1 pinch Salt

.

Add the dry mixture to the wet mixture and stir in with the

50 g Chocolate Sprinkles

.

Bake for about 25 – 30 minutes, then let cool completely.
Filling the Cake
Once the cake as completely cooled, take a spoon and carve it out, leaving about 1 cm / ½ inch of a rim and also enough cake on the bottom. Keep the carved out cake for later!

Cut the

4 Bananas

lengthwise in halves and cover the bottom of the cake with them. You might need only 3 bananas.

In a large bowl, whipp the

550 g Whipping Cream

, add the

3 packages Stabilizer

once it starts to get firm, also the

3 tsp Vanilla Sugar

.

Once the whipping cream has a consistency that can be compared to skyr, use a spatular to mix in the

50 g Chocolate Sprinkles

.

Cover the bananas with the cream and create a mound. Use the carved-out cake crumbles to cover the mound.
Create a Mole
Use about ⅔ of the

50 g Marzipan

for the body. Dye it with

some Brown Food Color

.

Dye the remaining marzipan with

some Pink Food Color

for the snout and the hands. Follow the video in the blog post or do your own creation.
Notes
Make your own:
Whipping Cream Stabilizer: 50 g confectioners sugar + 1 g cornstarch. Use 1 tsp on 250 ml / 1 cup.
Nutrition
Calories:
648
kcal
Carbohydrates:
63
g
Protein:
8
g
Fat:
42
g
Saturated Fat:
26
g
Polyunsaturated Fat:
2
g
Monounsaturated Fat:
11
g
Trans Fat:
1
g
Cholesterol:
174
mg
Sodium:
316
mg
Potassium:
383
mg
Fiber:
3
g
Sugar:
40
g
Vitamin A:
1544
IU
Vitamin C:
6
mg
Calcium:
170
mg
Iron:
2
mg