These are so delicious and if you never had German Kaiser Rolls, let me tell you: The stuff you get at the grocery in the US is a tasteless sponge, compared to this! (No offense, though).
Video
Kaiser Rolls are called Kaiser Semmeln or Kaiser Brötchen in Germany. Kaiser means Emperor but I am not sure why they are called this. My assumption is that the pattern on the top of the rolls is compared to the crown of an emperor but this is just a wild guess from me. Their taste is definitely royal!
The Shape of Kaiser Rolls
The shaping that I show and describe in the video is the traditional way that it is done in German bakeries. I have seen people doing it differently or using a kaiser roll stamp. Though these methods might result in more even patterns and results, I am convinced that they will taste differently. Often, when baking bread, the way the dough is shaped before baking makes a difference in texture during the baking and therefore also affects the taste. But you can do it with a stamp if you must, I am sure they will still taste good with this kaiser roll recipe.
The Malt
As I mentioned in my other recipe & video for German Rolls, the malt is important for two things: The taste if the kaiser rolls and the color. The more malt you are using, the darker will be the color of your rolls. This recipe is using 10g of barley malt and gives the rolls a very nice, reddish-brown color. In my opinion, it is also one of the things missing in the rolls here in America. I got my malt at amazon here.
Best Practice to Prepare ahead
Like most baking goods, these rolls are best enjoyed very fresh. You should just let them cool after baking and once they are cold, eat them right away. The time from starting the dough to the finished kaiser rolls takes about two hours. So if you want to eat them for breakfast (which is the German way), you can prepare them the day (or a week or so) before and then instead of baking them, you freeze them. The next morning you preheat the oven and put them frozen into the oven and bake them. The baking time will take somewhat longer, just stick around and watch them turning brown once they are ready.
Best Practice to Eat German Kaiser Rolls
We love these rolls for breakfast. Depending on the individual taste or region, we eat them with something sweet like jam or honey or we put some cold cuts or a slice of cheese on it. Very common is the Leberkäs Semmeln in Bavaria. The recipe for Leberkäs is here if you want to try it.
My absolute favorite way to eat Kaiser Rolls is, however, the way I could get them at the bakery on my way to school. I think no German student my generation would disagree here. What I am talking about is called a Schaumkuss-Brötchen. It is a Kaiser Semmel with poppy seeds on top, cut open and with a thick layer of cold butter on both halves. Then we take a "Schaumkuss" and put it between the buns and squish it. Now it is ready to eat. I guess younger generations have replaced it with Avocado Toast.
A different recipe from my grandparent's generation is called "Rundstück warm". It is a dinner, where you have a really soft cooked pork roast with gravy. Instead of pairing it with potatoes, you pour the gravy on one half of a kaiser roll and top it with a slice of that roast. You then eat it with a fork and knife. It used to be a great way to feed a crowd at a family party – at least in the region of Hamburg. I don't think people do it very often anymore.
Reheat a Kaiser Roll
As mentioned before, they are best when they are really fresh. Kaiser rolls are still good after some hours but will become slightly chewy. The next day they appear a little dry and if you still want to eat them as rolls (instead of turning them into dumplings / Semmelknödel), you do this:
Preheat the oven to 180°C / 350°F.
Let each roll get quickly wet on the outside under the running water from the faucet.
Put the rolls on an oven rack and bake just for a few minutes. Tap on them with your fingers to see if they are crisp.
Take them out and eat the way you like them.
Some people simply reheat them in or over a toaster but that also makes them a little dry.
Pin Kaiser Rolls to Pinterest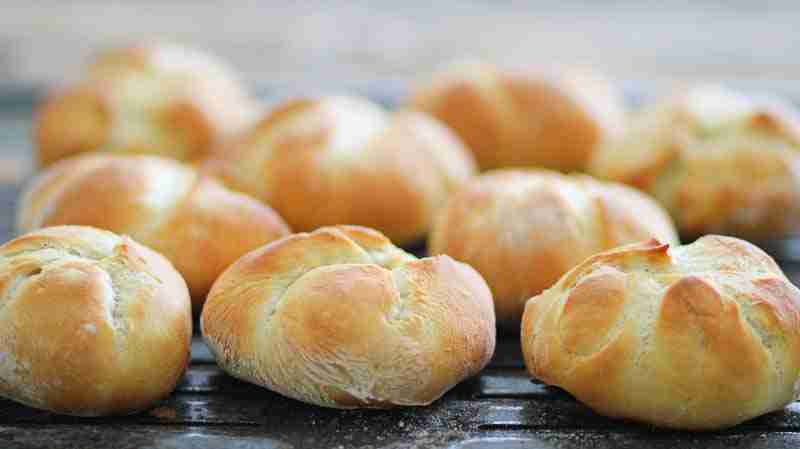 German Kaiser Rolls
The traditional recipe, handcrafted, made from scratch
Ingredients
400

g

flour, organic all purpose

10

g

barley malt

8

g

salt

5

g

sugar

15

g

soft butter

7

g

dry yeast

usually 1 pouch

50

ml

milk

190

ml

water at 22°C / 74°F

about room temperature

some

dusting flour made from 50% flour + 50% corn starch
Instructions
Put the flour, sugar, salt, butter, malt, milk, yeast and water into a large mixing bowl.

Mix on the slowest speed for 3 minutes, then increase the speed and knead for 9 to 10 minutes.

After the kneading, leave the dough in the bowl but dust it with some dusting flour and then cover the bowl with a clean kitchen towel and let rest for 20 minutes.

Divide the dough into 9 portions of about 75g each.

Shape each dough portion into a sphere, using the method shown in the video. This is important to create tension in the dough.

Dust each sphere in dusting flour and cover them with a towel or linen.

Use your palm to flatten each sphere, then use the method shown in the video to shape the dough into kaiser rolls.

Put the kaiser rolls "face down" onto a linen or kitchen towel and cover them with a towel or linen.

Preheat the oven to 220°C / 428°F (convection oven) or 230°C / 445°F (traditional oven).

Place the rolls face up onto a baking sheet.

Use a spray bottle with water to spray all rolls until they are very wet on the outside. Optional sprinkle sesame or poppy seeds on top of the rolls.

Place the baking sheet with the rolls on the middle rack of the oven. Then create some steam by either spraying water to the walls of the oven or by using a baking pan with hot rocks on the bottom of the oven and pouring 50 ml of water in the stones.

Bake for 20 to 25 minutes but open the oven 2 minutes before they are done to release the steam.

Let the kaiser rolls cool completely, then eat them fresh.