I guess there is no German who doesn't know the German Hazelnut Cake! It is famously sold as a cake mix in Germany and it comes with a delicious hazelnut glaze. And that's where for many people the struggle begins: Nobody knows how to make that hazelnut glaze from scratch! I searched the German internet communities and the question comes up quite often but no one has an answer. So I had to figure it out by myself and I think I did a good job of recreating that delicious hazelnut glaze.
The second struggle is, that I can't find hazelnuts everywhere here in Texas. My grocery doesn't carry it and I have to either drive all the way into Houston to the Central Market or got to Whole Foods (which is crazy expensive in my personal opinion). Hazelnuts don't come cheap anyway. This is a little bit of a problem since a lot of German cakes and baking goods contain hazelnuts. I could switch to almonds since they are cheaper (why?) but the taste would be very different.
German Hazelnut Cake Secrets
For the cake, you need the hazelnuts to be ground very fine – like hazelnut flour. You don't want to have any chunks in the cake. With the hazelnuts, the cake gets very moist. Depending on how you prefer your cake, you could substitute the butter with oil to get a moist cake. If you prefer your cake light and fluffy you can separate the egg whites from the yolks. Whip the whites until they are stiff. Carefully fold them into the dough after you have added the dry ingredients. Also, it is always important that you stir your cake as little and short as possible after the flour has been added to the dough. If you stir the dough too much it will let the gluten come out of the flour and this will make your cake dry. It's different if you bake bread: For bread, you would choose flour with lots of gluten and knead it a long time.
The recipe for the vanilla sugar is here: vanilla sugar
Hazelnut Cake – Video Instruction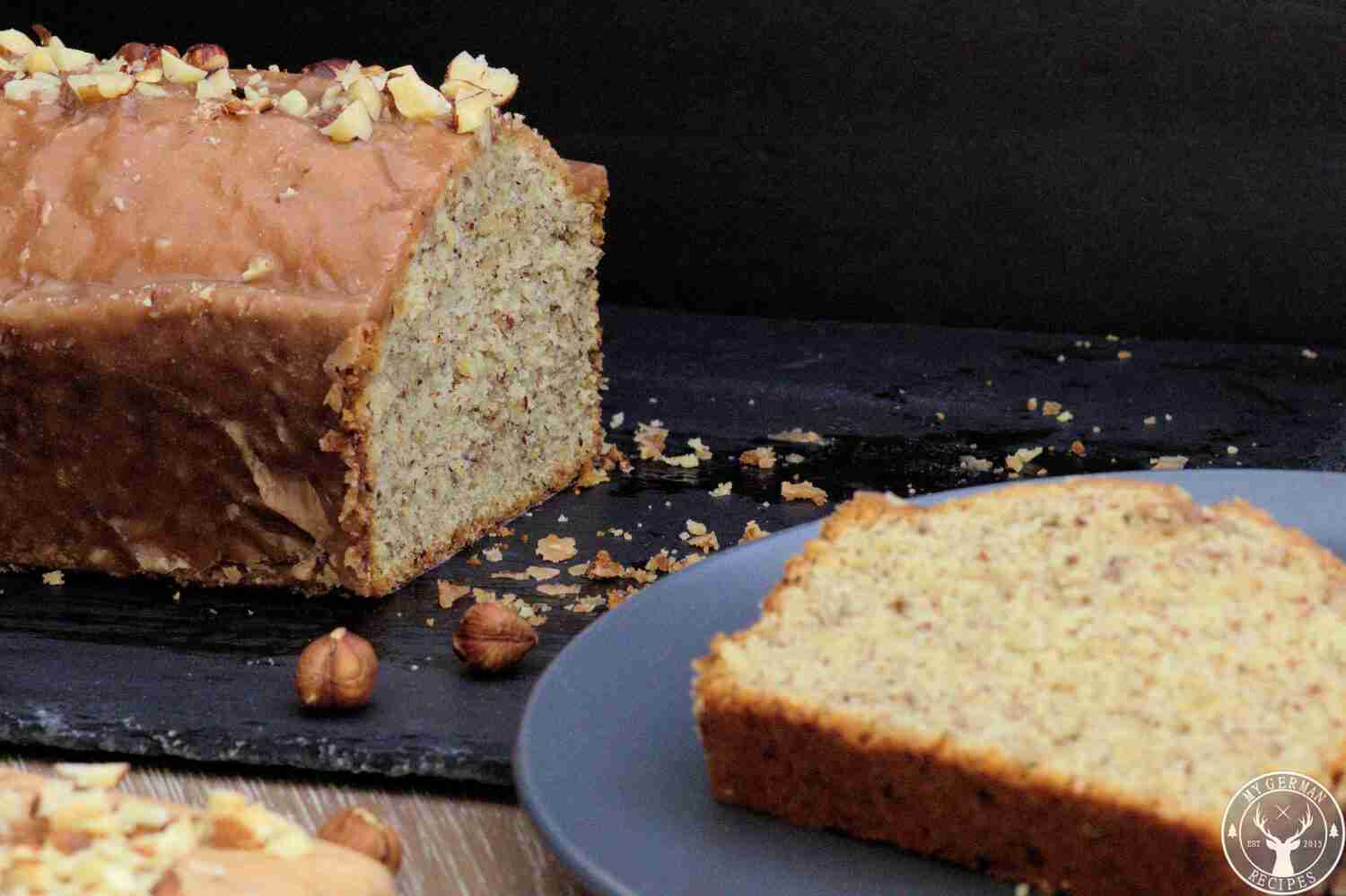 German Hazelnut Cake
Cake with hazelnut flour and a hazelnut glaze.
Ingredients
Hazelnut Cake
250

g

butter, soft and unsalted

(2 buttersticks + 1Tbsp.)

200

g

sugar

(1 cup + 1 Tbsp)

2

tsp.

vanilla sugar

4

count

eggs

250

g

flour

(2 cup + 1 Tbsp.)

2

tsp.

baking powder

250

g

hazelnut flour

(3 1/2 cups)

125

ml

milk

(½ cup + 1 Tbsp)

1

dash

salt

1

lemon

the zest if it
Hazelnut Glaze
150

g

coconut oil

(1/2 cup)

1

small pouch

Justin's Hazelnut Butter

6

Tbsp.

milk

8 -10

Tbsp.

powdered sugar (confectioniers sugar)
Instructions
Preheat the oven to 350F.

Wisk the butter with the sugar and vanilla sugar until the sugar has mostly dissolved and the butter has a lighter color than before.

Add the egg yolk (or the whole egg if you decided not to separate them) one by one and stir inbetween for about 1 minute.

In a separate bowl, measure the flour and add the baking powder and a dash of salt. Mix well.

Add 1/3 of the flour, stir just enough so the flour doesn't dust any more, than add another third of the flour and repeat until all the flour is in the dough.

Add some hazelnut flour to the dough, alternate with some of the milk until both ingredients are mixt into the dough, also add the lemon zest - remember though to stir as little as possible. Just enough to have the ingredients mixed!

If you separated your eggs, use a second bowl and whisk the egg whites until they are very stiff. Add them carefully to the dough and fold under the dough with a spoon.

Bake for about 60 minutes, test with a wooden skrewer.
Hazelnut Glaze
Slowly warm the coconut oil in a saucepan - don't let it get hot though.

Add the pouch hazelnut butter and the milk, stir until it has combined with the oil.

Slowly add one tablespoon of powdered sugar after another, stirring constantly. Don't worry about lumps, just keep stirring and they will disappear.

While still stirring, let it get even more warm. The glaze will become more and more firm. When it is spreadable, put it aside and let cool a little. Occationally stir to avoid sugar cristals on the top.

When your cake has completely cooled, spread the glaze all around the cake and let dry.
Notes
I used a 12" long  x 4 3/4 wide baking pan. It would be better to have a shorter pan, like 9" or 10" long to have a nice height.
In Germany cake is often served with some fresh whipped cream!
If you don't want to do the hazelnut glaze, chocolate glaze will do, too. Many people don't use glaze at all but put some powdered sugar on top instead. But be aware that the glaze keeps a cake fresh and moist longer.