There is not kids party without our German Chocolate Kisses! Whether it's a birthday, Fastnacht, or a summer party: These sweet treats are a given. They come in different sizes and colors but they all have the wonderful fluffy, airy texture in common.
Chocolate Kisses (Schokoküsse)
Get the wafers here: https://amzn.to/2XZlDG5
Growing up in Germany, I've never been to a birthday party without chocolate kisses. Kids stuff them into their mouths, leaving some sticky residue around the lips and some chocolate on their fingers. There is always room for a chocolate kiss in the stomach!

But not just at parties, also in our daily lives we eat them: between the halves of a fresh German roll, in a torte (cake) and even in desserts!
Famous Brands
There is one brand in particular that has conditioned a generation to their product with advertisement. The brand is called Dickmann's and the ad was, to let people eat one of the chocolate kisses and afterward with a full mouth say nothing else than "Mann sind die Dickmann" ("man, they are Dickmann!"). Nobody can eat a chocolare kiss without at least thinking (and often saying) this sentence!
They offer their choco kisses in two sizes, the regular size and the mini Dickmann's which fit into the mouth in just one bite. Also, there is dark chocolate, milk chocolate and white chocolate to choose from.
Their competitor Grabow offers chocolate kisses with some coconut sprinkles on the chocolate, which is delicious, too. Some independent places, that sell them fresh in their shop, add different flavors and toppings like sprinkles etc..
How I Eat Them
My favorite way to eat them – if not on a fresh roll – is biting off the top, licking the remaining cream all the way down to the waffle, eating the remaining chocolate cover, and then eating the waffle.
It's hard to tell if the cream or the waffle are the best part, I think the combination of both, the sweet filling and the rather neutral waffle make it perfect.

Barbara
Why would you make this?
If you haven't had this in your childhood and are not from Germany, you might ask yourself if it's worth making this. Let me just tell you this: The German expats facebook groups frequently have threads where people try to figure out how to get some packages of this treat on a plane and safe to their destination in the US. It is impossible though, just so you know. They are too delicate!
There are some online shops here in the US where you can order them. They will most likely have a broken chocolate cover and due to a long journey, the cream will be no longer fluffy but gooey instead. Chocolate kisses must be fresh!
So, why not making them for next Halloween or so?
The Gelatine
I am actually a little embarrassed because I made a mistake in the video: I forgot to soak and delude the gelatin! Usually, I avoid the use of gelatin and I haven't used it in probably more than a year. It's an old habit from the time in Germany when the mad cow disease scared us quite a bit. We went mostly vegan during that time for years and then later only bought organic meat products from a farm close to our neighborhood. So, I am not a routine gelatin user and here you have the proof. I was actually wondering, why the filling of the chocolate kisses fell apart after a day and then I realized my mistake. Don't repeat it!
The Name Change
The name of the chocolate kisses has changed over time. They used to have a racist name in my childhood and then people decided to give them a new, better name "Schokokuss" or "Schaumkuss". Some people are having a hard time to get used to change but I ask everyone politely not to use the previous name in comments. Thank you.
How to Store
As mentioned before: Eat them fresh, that's when they are best. Don't store them longer than two days since this is made from raw egg whites after all.
Make sure that you use pasteurized eggs to avoid salmonella. Read more about that HERE.
Pin to Pinterest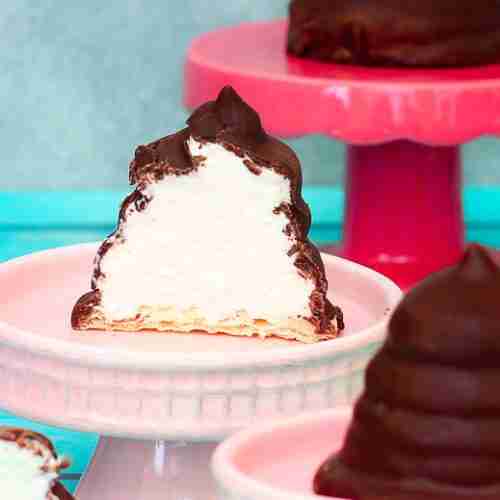 German Chocolate Kisses
Equipment
circular shaped cookie cutter
Ingredients
1

Waffer Sheet

2

egg white

120

g

sugar

50

ml

water

200

g

chocolate

milk chocolate, or dark chocolate, or white chocolate

1

tsp

powdered gelatine

or 2 sheets of gelatine
Instructions
Place the chocolate in a bowl that fits on top of a pot with a little water and heat it, s o the chocolate melts. Don't let the bowl toucht the water in the pot.

While the chocolate is melting, use a different pot to make a sugar sirup: Add the water and sugar and bring it to a boil. Let it boil until the liquid thickens into syrup.

Prepare the gelatine according to the package instructions.

Set the syrup aside and beat the egg white until they are really stiff and foamy. Slowly add the syrup and then the gelatine while mixing and then continue to mix until it has cooled somewhat.

While the foam mix cools, cut out some round shapes of the wafer sheet.

Fill the cooled eggwhite mix into a piping bag and either use a large, round piping tip or cut a wide opening.

Carefully set the tip towards the center of the wafer and release enough of the mix to create a nice dome.

Put the foam kisses into the fridge.

Let the molten chocolate cool while the kisses are in the fridge.

Reheat the water under the chocolate to warm it up again.

Get the foam kisses out of the fridge and set them on a tray with a cooling rack on top. Now cover the foam kisses with chocolate and voilá there you have chocolate kisses! Let the chocolate set (put them into the fridge again) and eat fresh!