Caramel Apple Cake (or pie) brings all the wonderful flavors of Fall together. It makes a great appearance at the Thanksgiving table, too. The cookie-like crust compliments the delicious caramel apple filling and the walnuts add a bit of texture and slight bitterness that underscores the taste of the apples.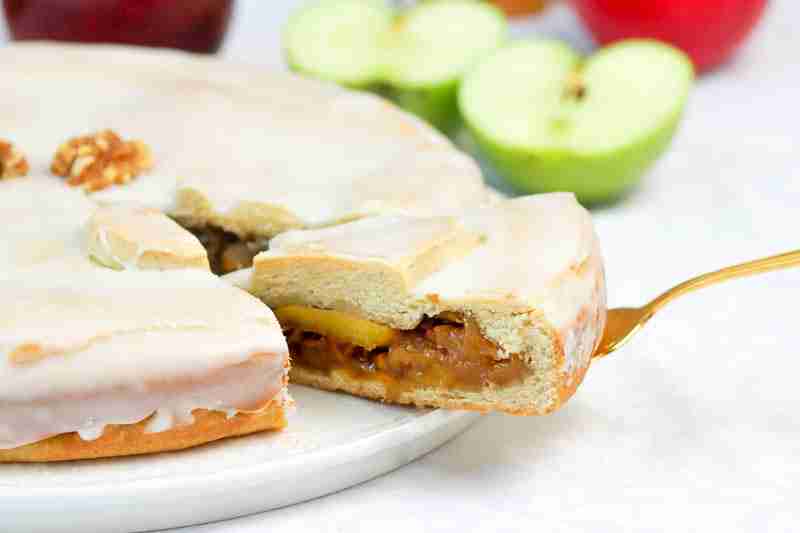 When it comes to Fall carnivals in Germany, there is always a stand where you can buy caramelized apples. It's kind of a MUST to get one. Especially in the region south of Hamburg, there is an area where traditionally apples are grown in fruit orchards. That area is called "Das Alte Land" (The Old Land) and it has plenty of charm with the landscape and beautiful traditional buildings. Definitely worth visiting and also close to the area of the "Heide" that I talked about in the Heidesand Cookies recipe.
My oldest daughter, who lives in Hamburg, just called me with some questions about apple cake because she went picking apples last weekend and now has buckets full of apples in her apartment. I'm a bit jealous, knowing how good those apples taste!
Some pictures of THE OLD LAND: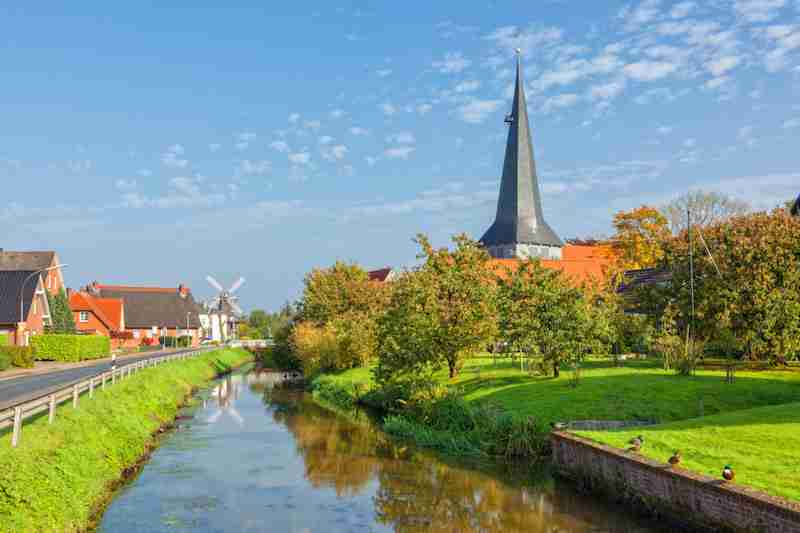 Video: How to bake German Caramel Apple Cake
A Very Special Dough
This recipe has a very special dough that is made from two different doughs: Yeast dough and shortcrust. it is called "Hefemürbeteig" in Germany but I couldn't find a translation to English so I will go with shortcrust yeast dough.
The result of this dough is so delicious and has a light texture while at the same time tasting like a fluffy cookie. Indescribable and very addictive!
Since one of the doughs is a yeast dough, you should keep in mind that it needs to proof for about 1 hour, plan accordingly.
When you make the cake, you can let the dough rise a bit in the baking pan before adding the filling. It makes the crust a bit fluffier. But I am inpatient, I usually skip this and it's not really necessary.
The Apples for the Cake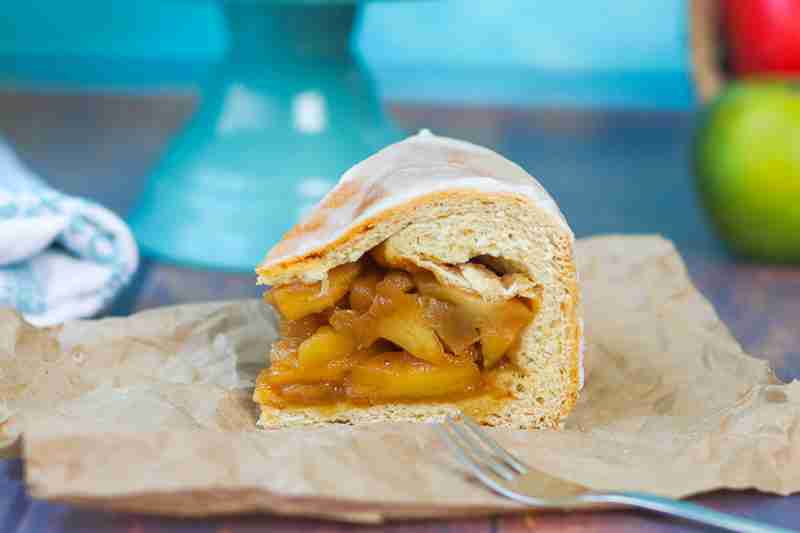 I went with Granny Smith apples, which are quite tart and complement the taste of the crust. However, they look a little greyish after baking which is not so pretty on the pictures but the taste of the cake will totally make up for this!
You can use any other cake that you like but I recommend using apples that have a good amount of juice so the apples have enough liquid to cook in when you prepare the filling.
The Glaze on the Cake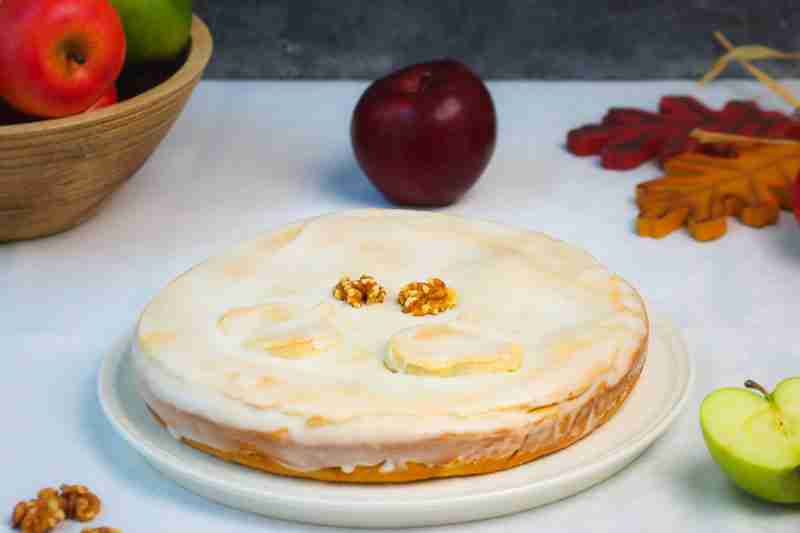 Since there is not much sugar in the dough, the glaze is not too much to add to the cake. It's basically the cherry on top. Making a glaze from just confectioners sugar and lemon juice is very common in Germany and there is almost no cake that we wouldn't cover with it (unless we use chocolate). That glaze is also often used on birthday cakes to make the decorations (sweets like M&M's) stick. We don't use frostings like Americans and our birthday cakes tend to be homemade, humble, and a bit playful/childish.
The Baking Pan Size
The original recipe calls for a 26 cm baking pan. That is a bit more than 10 inches. However, the cake ends up being rather flat, and usually, this cake is much higher in Germany. Especially for the pictures in this post, I felt it looked a bit sad. So, after making the video, I decided to bake again and use a smaller baking pan so I can show you a somewhat more authentic result, as I know it from our German bakeries. I used a 7-inch baking pan and this time I ditched the walnuts to please my daughter who doesn't like nuts at all.
In German bakeries, you will also often find this as a rectangle slice from a sheet cake.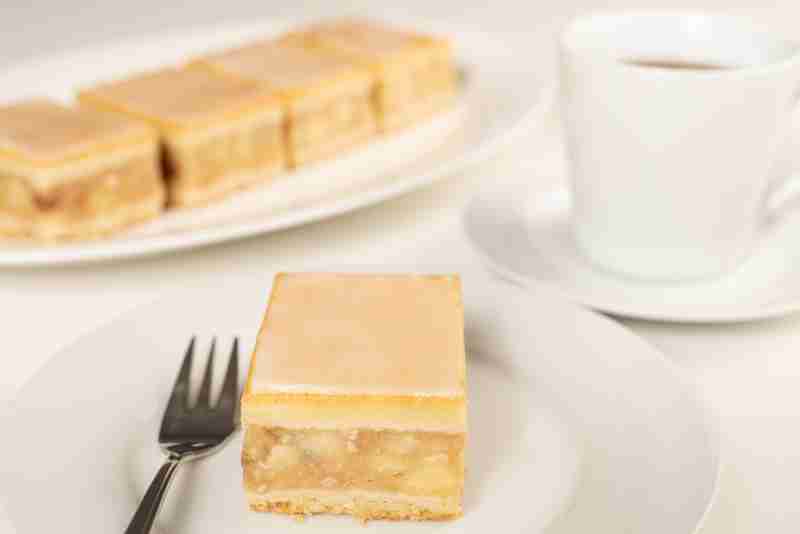 Please Pin Caramel Apple Cake to Pinterest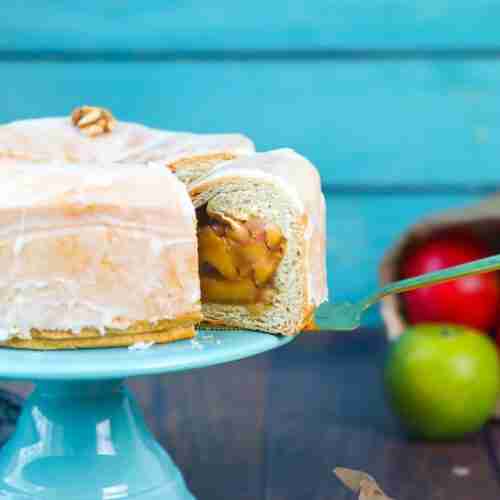 German Caramel Apple Cake (Pie)
Equipment
1
baking pan
9 or 10 inch or smaller for a higher cake
Ingredients
Yeast Dough
250

g

Flour

7

g

Yeast

125

ml

Milk, lukewarm

25

g

Sugar

½

tsp

vanilla paste

1

Egg

50

g

Butter

optional

1

pinch

Salt
Apple Filling
2

kg

Apples

i.e. Cox Orange, Granny Smith …

1

Lemon

the juice of it

100

g

Walnuts

175

g

Sugar

50

g

Butter
Glaze
100

g

Confectioners Sugar

1-2

tbsp

Lemon Juice
Instructions
Make the Yeast Dough
Put the flour, sugar, vanilla sugar, and milk into a bowl, sprinkle the yeast on top and wait a few minutes. Then start mixing the dough at slow and add the egg and (optional) butter. Also add the pinch of salt.

250 g Flour,

7 g Yeast,

125 ml Milk, lukewarm,

25 g Sugar,

½ tsp vanilla paste,

1 Egg,

50 g Butter,

1 pinch Salt

Mix quickly, the cover, and set aside to proof for about 40 – 60 minutes or until the dough has almost doubled in size.
Make the Short Dough
Put all ingredients for the pastry dough into a bowl and mix until everything is combined. Use your hands to press and shape the dough into a sphere.

Put into the fridge for at least 20 minutes.

150 g Flour,

75 g Butter,

40 g Sugar,

½ tsp Vanilla Paste,

1 pinch Salt
Prepare the Filling
Remove the skin and core from the apples. Cut into thinner wedges and mix with some lemon juice to keep them from getting brown.

Pour the sugar into a pan and heat until the sugar is melting and becomes liquid.

Add the apple wedges and the walnuts to the pan and cook for 5 minutes.
Assemble The Cake
Preheat the oven to 175°C / 350°F (regular oven) or 150°C / 300°F (convection oven).

Use the yeast dough and the short dough and mix them together to become one dough. You might have to knead by hand at the end to combine it better and become smooth.

Use ⅔ of that dough and roll it out about 11 inch (for a 9-10 inch baking pan).

Put the rolled dough into a greased baking pan, making sure the rim is evenly covered with dough.

Put the filling into the pan and flip the sides over (onto the filling) where it is higher than the filling.

Then roll out the remaining ⅓ of the dough at the size of your cake (just a bit larger) and cover the cake.

Use some leftover dough for decoration.

Bake for about 45 minutes to 1 hour, then take it out of the oven and let cool completely.
Glazing the Cake
Mix the confectioners sugar with the lemon juice, pour it over the cake, and using a pastry brush, even out the glaze. Let it dry.

100 g Confectioners Sugar,

1-2 tbsp Lemon Juice
Notes
Freezing this Cake
I was freezing half of this cake and it freezes and thaws well, however, the filling becomes a bit watery and is losing its caramel properties after thawing. I recommend enjoying this cake without freezing and it will be good in the fridge for several days.