German Candy is delicious and I miss it quite a lot! Care packages from Germany are expensive and often take weeks to get to Texas, so I found ways to make them myself. Here is my favorite treat: Nippon.
When my daughter in Germany sends us a package, there are mostly sweets in it. Everyone in this family has one or two sweets that we miss and she sends them once a year. For the rest of the year, we need to find our own solution and so far we have managed.
Nippon has always been one of my favorite sweets in Germany and once you bite into one of them, you just can't stop and need another one and another one and so on.
Since it has only two ingredients, it is easy to make but the taste is not 100 percent the same because the chocolate tastes different. So far I haven't found a chocolate that has the same taste as the original Nippon from Germany. However, I have come pretty close with the milk chocolate from Aldi, another option might be the Ritter chocolate (also a German brand).
For the other ingredient, which is puffed rice, I use plain rice puffs that I order at amazon. They have no sugar or anything added to them. If you want, you can try to do this with cocoa rice puffs, it might work, too. Important is, that the puffs stay crisp!
Pin German Candy Nippon to Pinterest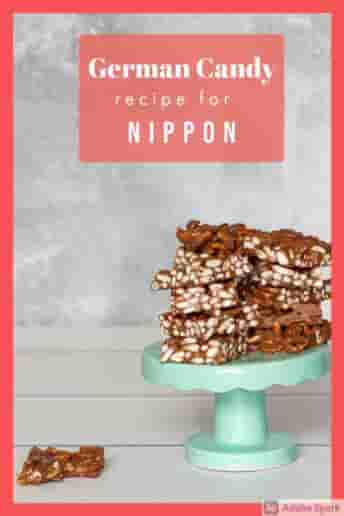 German Candy "Nippon"
Crisp German Chocolate Sweets
Instructions
Melt the chocolate in a metal bowl over hot water.

Add as much puffed rice as needed to cover the rice generously.

Put a baking frame on some parchment or wax paper.

Pour the rice-chocolate mix into the frame and even it out. The rice should be about 1 to 1.5 cm high (½ to ¾ inch).

Put it into the fridge and let set until solid.

Cut into four large or several smaller sqares and enjoy.