Our German Cabbage Salad is probably the equivalent of the American Cole Slaw. It is served as a side dish or in sandwiches, and also valued as a party salad at gatherings.
While the American Cole Slaw has a rather sweet taste and contains carrots, the German Kraut Salad is more on the sour side.
A little joke that my daughter came up with:

What is an angry German? … A sour kraut!
Video How to Make German Cabbage Salad
Our kraut salad often comes as a side salad with the main dish in restaurants. It is mostly combined with meat dishes.
The great thing about cabbage salad is, that cabbage contains a lot of vitamins and minerals like Vitamin K and C, Foliate, Manganese, Vitamin B6, Calcium, Potassium … and is also high in fiber. It has anti-inflammatory properties, and might even lower your cholesterin. So, there are a lot of good reasons to eat cabbage and eating it raw instead of cooked, makes it even more nutritious and healthy.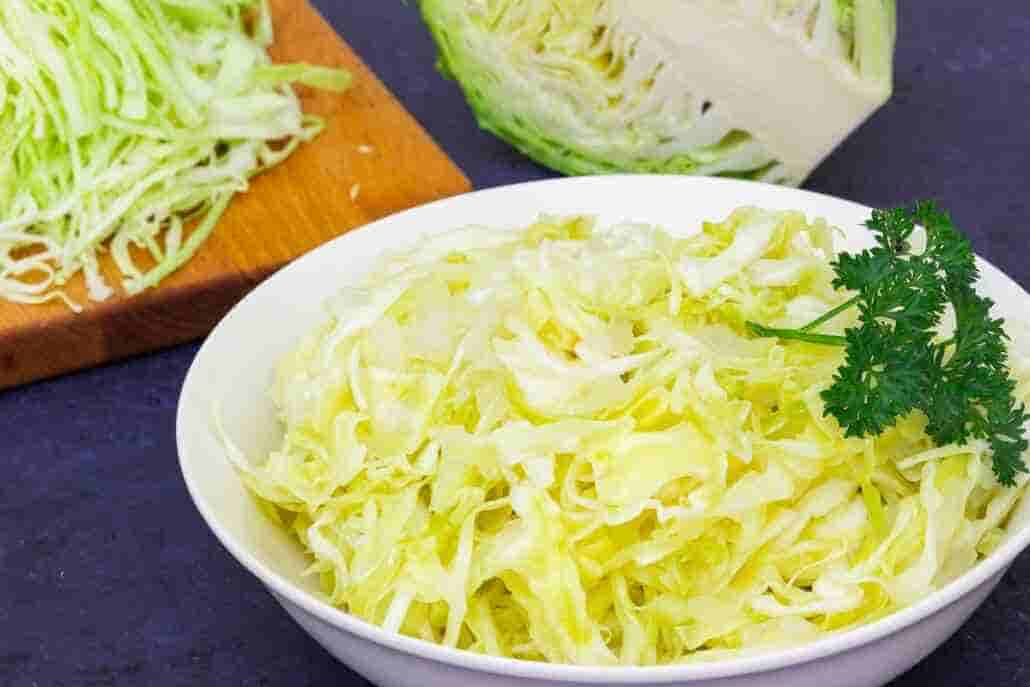 Other Cabbage Salads
While I praise the German Kraut Salad, I have to admit, that I personally like Greek Cabbage Salad the most. It is made with olive oil and some other spices and tastes wonderful with Gyros and in a Döner. Quite often you might find a Greek version on the farmers market in Germany.
Make it Ahead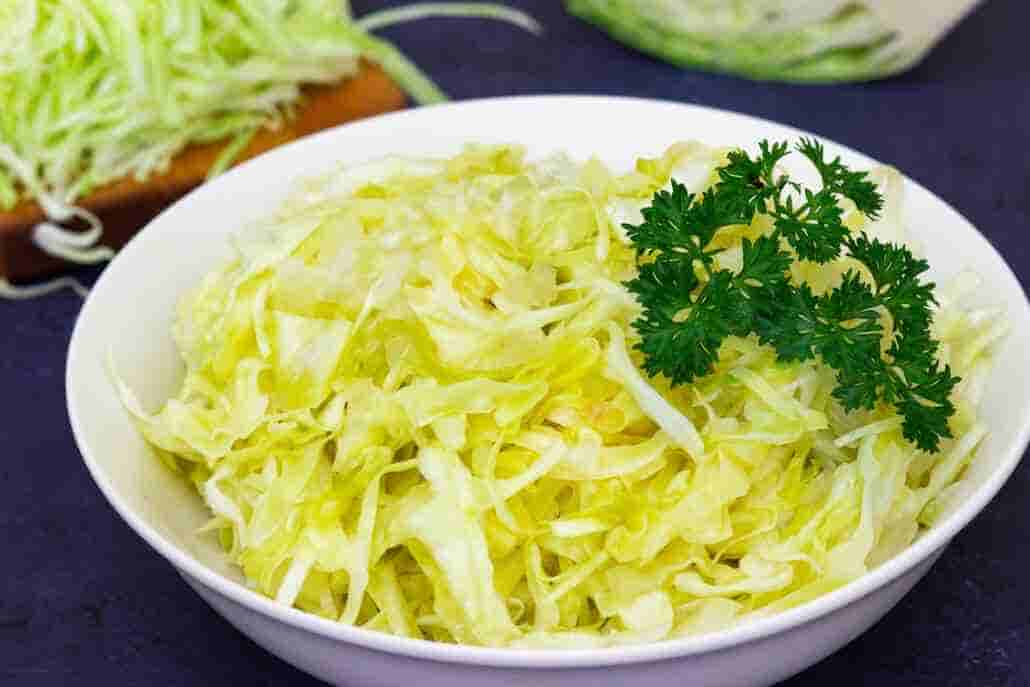 You will need to make the cabbage salad a day ahead of the day that you are planning to serve it. For the cabbage strips to become soft and tasty, it needs to soak in the fridge overnight and I think it tastes even better after two days. To make sure that the cabbages is in the vinaigrette (if one can call it that), you place a plate that is slightly smaller than the bowl on top to weigh down the cabbage strips.
Pin German Cabbage Salad to Pinterest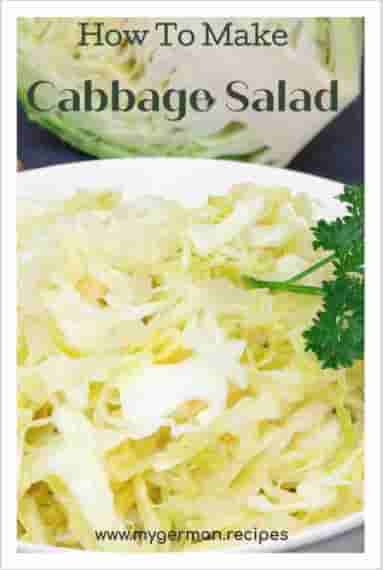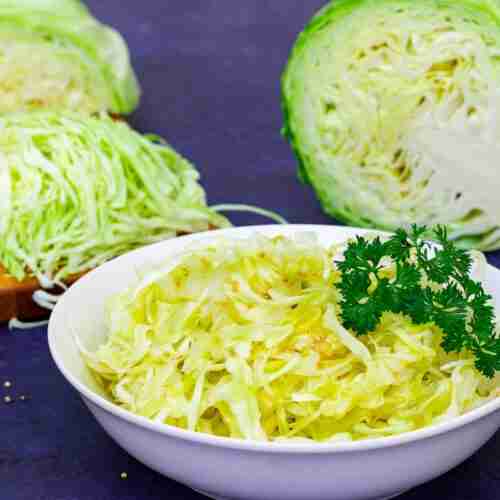 Cabbage Salad – Kraut Salad
Ingredients
1

Cabbage

small

1

Onion

large

125

ml

Oil

i.e. sunflower oil

250

ml

Apple Cider Vinegar

100

g

Sugar

6

g

Salt

1

tsp

Mustard
Instructions
Cut the cabbage into quarters, remove the stem, and then cut into very thin stripes.

Dice the onion very small.

In a saucepan, combine the onions, vinegar, oil, salt, and sugar.

125 ml Oil,

250 ml Apple Cider Vinegar,

100 g Sugar,

6 g Salt

Bring to a boil and take of the stove.

Add the mustard to the saucepan, stir, and then pour over the cabbage strips.

Cover the bowl with a plate, weighing the cabbage down, and let soak in the fridge overnight.

Remove from the fridge about 20 minutes before serving, taste if more salt or other spices are needed. Decorate with some parsley or chives or some tomato sllices for a little color.