Cake and coffee is for Germans like Toast and Tea for the English. It is a kind of a meal in between lunch and dinner and some people take it very seriously to have this every day. But most people have coffee and cake only when friends are coming over. No matter how casual the visit is, there should always be a cake or at least cookies on the table if someone comes to your house.
Germans always have some cake in the freezer for a spontaneous visit like a play date. The mothers will sit, chat and eat cake, while the kids are having fun. Every now and then they will drop by at their moms lap and take a bite from her cake. Most cakes come with whipped cream – fresh, with some vanilla sugar (I will introduce that later) or maybe even a little bit more sugar.
Oh, and we sit on chairs at a table or on a sofa … I tried to make Americans doing that but without any success! People here seem to prefer leaning at the wall or standing at the kitchen island or wandering around while eating – which spoils the German "Gemütlichkeit" … but I don't mind, I follow them. I think it's called adaption ;-)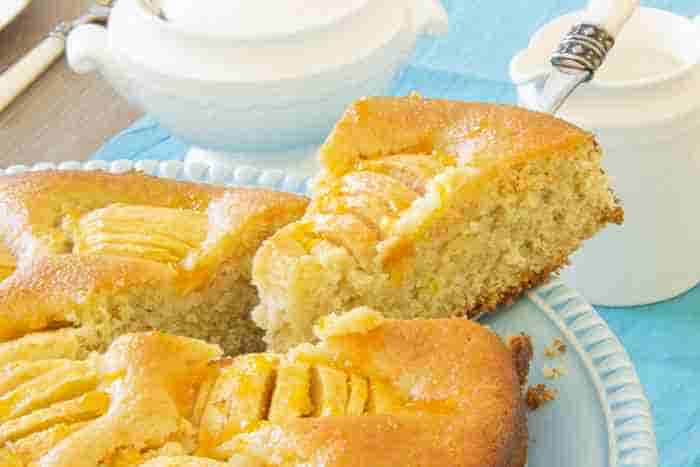 Of course we all know that eating cake is not the best nutrition but most cakes have at least fruits in or on it and sometimes we use whole wheat flour … or maybe it's just me doing this … not sure.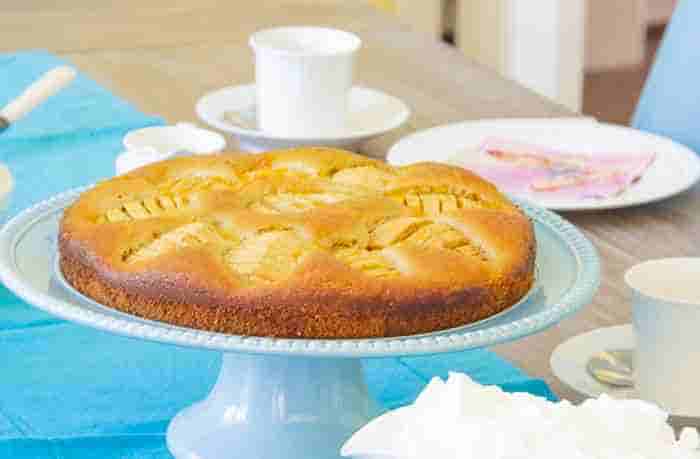 This German Apple Cake however has been a great success at my kids German preschool and to my surprise it even happened, that a mother came over to ask me for the recipe, because her son wouldn't stop talking about this cake. I believe it was the 30% whole wheat flour in it, that made the difference. It gives the cake a rich and slightly nut like flavor. But I don't use 100% whole wheat flour – I mean: Who's kid would ever want to eat that? It's more like replacing about 30% of the regular white flour with it and that does the trick. Just keep in mind that the recipe then needs more fluid since whole wheat absorbs more moister.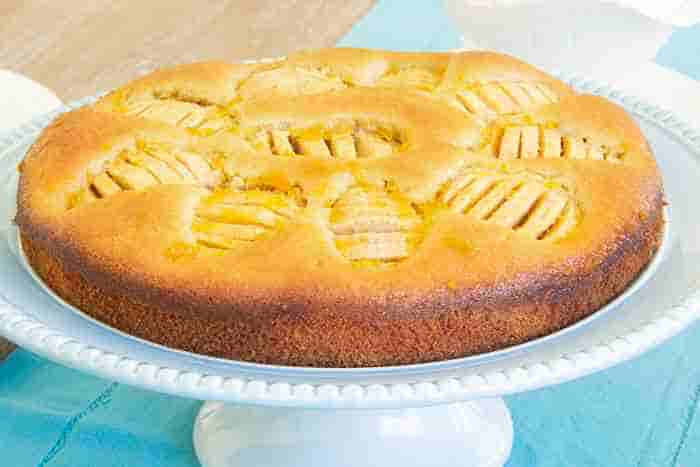 One more thing:
Americans are used to a lot more sugar – at least here in Texas. Saying this, you might want to add more sugar to the recipe. I'll stick to the original in the ingredient list and you decide yourself if you need more.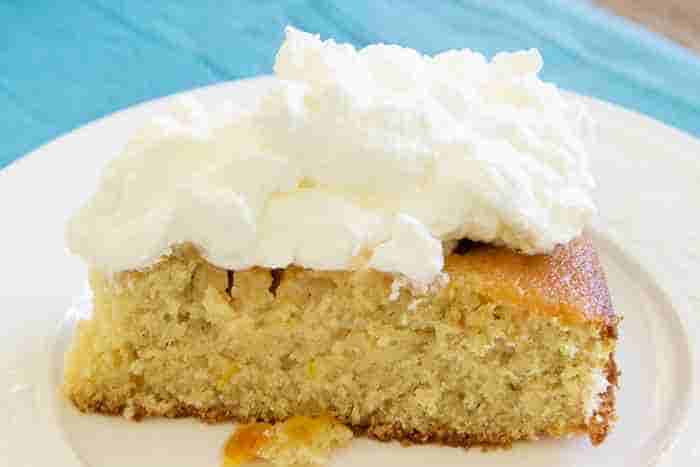 German Apple Cake – Apfelkuchen (version 1)
A slice of this German Apple Cake … warm … with some fresh, cold whipped cream! So good!
Ingredients
125

g

Butter

125

g

sugar

1

tsp

vanilla extract

or vanilla sugar

½

tsp

lemon extract

or real lemon juice

3

eggs

at room temperatur

200

g

flour

or 70 g whole wheat flour and 130 g all purpose flour

2

tsp

baking powder

2

tbsp

milk

750

g

apples

2

tbsp

apricot jam

1

tbsp

water
Instructions
Mix the butter and the sugar until the sugar is almost dissolved.

Measure the milk and be aware that you will need a little more milk if you use some whole wheat flour in this recipe.

Carefully spoon the flour into the butter/egg bowl while still mixing on a slow speed, alternate with some milk.

Remove the apple seeds and everything around them.

Cut slots in the round side of the apples.

Fill the dough into a round baking pan (prepare with butter and/or parchment paper) and level it out.

Arrange the apple halves on top of the dough, round side up, and press them half way into the dough.

Heat some apricot jam in the microwave for a few seconds – until fluid – and add the water to the jam. Stir.

With a baking brush spread the jam onto the apples.
Notes
Don't forget to enjoy the cake with some fresh vanilla whipped cream! It tastes best when the cake is still warm – perfect for fall and winter.