My Fruit Bar Snacks are based on the German treat called Fruchtschnitte or Obstschnitte. You can create countless variations of it, starting with my base recipe.
The "Fruchtschnitte" (Fruitslice) that I know from my childhood has always been one of my favorite snacks and my kids grew up with it, too. They are healthy, don't contain additional sugar, fill, and don't melt in the heat of summer. This makes it a great snack for the lunch box at school or in summer camps. Especially in situations where you need some energy, these little slices boost your energy in no time.
From Recipe to From the Sleve
I would suggest that you start using my recipe to make your first fruit slices. Once you have that down, start to experiment with ingredients. Switch them out and eventually just throw in any suitable fruits and ingredients that you like. I have never had a batch that we wouldn't like, although I make them different every time. One ingredient that I use on almost all of my fruit slices is the freeze-dried strawberries. They will always make this taste great!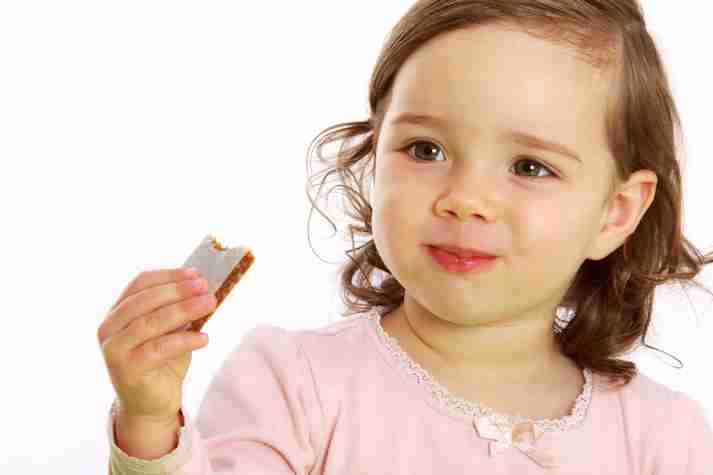 The Base Ingredient
I usually do not measure my ingredients to create this snack. There is, however, always one ingredient that makes up the largest amount of the batch and that I call the "base ingredient". Most people use figs as the base ingredient but to me, figs taste somewhat bitter if you use too many of them. For that reason, I prefer apricots or plums as the base ingredient. You could also use dates, but they are very sweet and tend to overpower the the taste with sweetness.
Which Ingredients are Best
Fruits
You can basically use any dried fruit for this recipe as long as it is soft. So, i.e. dried apricots are great as they are soft. Banana chips, on the other hand, don't work very well.
If you want to use dried apple slices, you would first need to soak them in some water, then drain the water and use the apples then. Be aware that if the apples have become too wet, it can decrease the days the slices will be good.
Nuts
As an ingredient, nuts are optional. You can use walnuts, hazelnuts, almonds, pecans … or if you want to go for a little more tropic taste, add some shredded coconut. Instead of whole nuts, you can also add some nut butter but don't use too much or your batch will be too liquid. Avoid the oil in the nut butter if possible.
Alternative to nuts, sunflower seeds, and cashews work, too.
Oats
In the traditional, store-bought version, there are not oats in the recipe. I prefer my fruit slices without oats but other than keeping it traditional, there is no reason to not use oats. So if you feel like it, just add them and be aware that it might require a little more liquid in the recipe.
Freeze-Dried Fruits
No matter what ingredients you are using, adding freeze-dried strawberries will always taste great. I also used freeze-dried mangos but the taste didn't come out as much as with the strawberries. Freeze-dried fruits are usually more on the pricy side. I discovered, that Dollar Tree also carries them for less money, on the downside, these seem to be sugared.
Juice
Adding an acidic ingredient always adds taste and brings out flavors in recipes. In this case, orange juice is the best choice to achieve this. But the juice has not only for flavor a purpose in this recipe: It also gives the fruit bar the freshness that makes it so irresistible.
Wafers / Oblaten
The ingredients will be mashed and put between two layers of wafers which are called "Oblaten" in Germany. You probably know them already from our German Gingerbread at Christmas … or from your communion. We also call them edible paper and they are made from flour and starch. You can get them on amazon and the German brands are Küchle and Hoch. There are also American brands that seem to be used for church communion but if you feel ok with using them for this recipe, that will work, too.
The German Oblaten (wafers) come in different sizes, I was using 90 mm which is large and not available in the US but there are some with 80mm. You can use the smaller ones at 70mm or 50 mm. And here is the link to the "Priest Altar Bread".
Pinterest Picture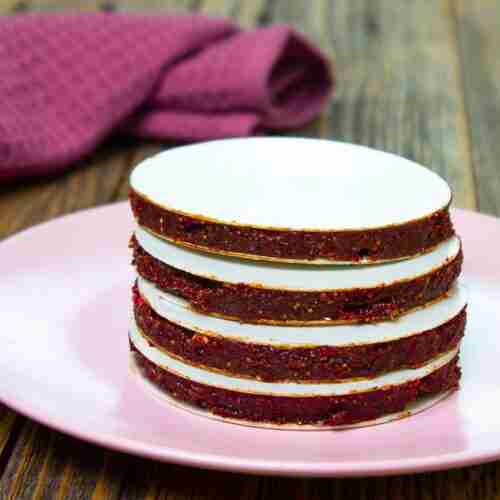 Fruit Bar – Fruit Slice Snacks
Equipment
Ingredients
57

g

Cranberries

dried

40

g

Cherries

dried

100

g

Figs

dried

80

g

Apricots

or Prunes (Plums)

10

g

freeze-dried Strawberries

or freeze-dried Mangos

20

g

Walnuts

½

tbs

Orange Juice

maybe more

5-20

Wafers (Oblaten)

amount depending on the size
Instructions
Put all dried fruits, orange juice, and nuts into a food processor.

Process for 1 to 2 minutes until a smooth, gooey mass is created. Check if additional liquid is needed but don't make it too moist.

Spread some of the mass onto a wafer, create an even and about ¼ inch layer, then add another wafer on top.

Stored in the fridge, the fruit bars should be good for a week or even 10 days.
Notes
Experiment with the ingredients as you like and increase or reduce some of them as you like.