This recipe for fried Snowballs is a regional specialty from a German town, called Rothenburg ob der Tauber. I have never heard of it until a friend at the gym told me about it. She visited Germany and came across these fried Snowballs which she loved. Searching for the recipe, I got lucky since I also found a video from a bakery that shows how they are made. I think otherwise I would have never figured it out!
Video "Fried Snowballs"
Unfortunately, the bakery didn't share the recipe (which I understand though) but I found one on a recipe sharing website. Apparently, it differs a little from what they described in the bakery since they seem to use more eggs and a little sugar. I decided to play it save and sticked to the recipe instead of experimenting with the ingredients.
Filling & Form
I covered the snowballs in a glaze from confectioners sugar but you could also cover them with chocolate or even add some sprinkles. It seems that the bakery has a lot more options but they didn't share such details, either. However, we liked it with the glaze!
My Fried Snowballs look a little more like yarn balls. That is because I don't have the original tool to shape them into a tight, round ball. I tried my best to shape them with two slotted spoons and I think the shape doesn't affect the taste.
Here you can watch how they are made at that bakery:
Experimenting with the dough
If you have watched last week's video about the Split Pea Soup, you might have noticed that little heart shaped thing on the pictures. Actually, I made both videos on the same day and when I had some of the snowball dough leftover, I decided to use a cookie cutter to cut it into a heart shape and fry that. It turned out very nice and since there is no sugar in my dough, this can definitely be used as a cracker or so for soups or as some sort of chips (crisps, if you are British).
Frying the Snowballs
I used a peanut frying oil for this recipe. The temperature for the oil is supposed to be 350°F or 180°C. Once they are in the oil, the snowballs stay there for 5 minutes. I personally think a little less time in the oil would be ok, too, since I don't like them too dark.
Eating the Snowballs
Well, this is definitely nothing you can eat in one bite! I was mostly breaking pieces off the snowball or tried to nibble my way through it. Once you start with eating them, it is hard to stop though. So additionally to the sweet taste, it is also a lot of fun and some sort of occupation while you eat it.
Pin für Pinterest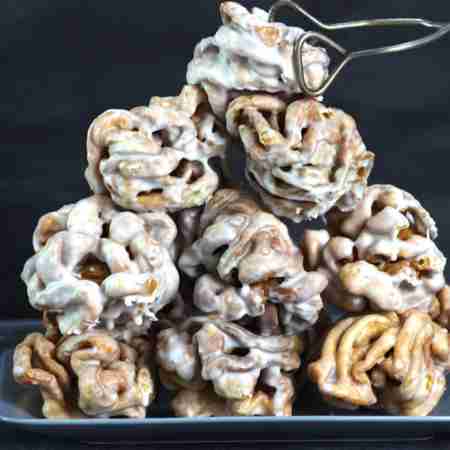 Fried Snowballs from Rothenburg
Ingredients
Dough
500

g

flour

100

g

butter (a little less than 1 stick)

250

g

sour cream or creme fraich or schmand

1

dash

of salt

2

egg

2

egg yolks

2

Tbsp.

Kirschwasser or other schnaps

1

large pot

with frying oil, i.e. peanut oil
Glaze
1

package

confectioners sugar

some

aroma like lemon or imitate rum ...

some

cold water
Instructions
In a large bowl, mix the ingredients for the dough until the dough is smooth.

Refrigerate the dough for one hour.

Heat the oil to 350°F / 180°C.

Devide the dough into even portions, each about the size of a small lime.

With each portion, first shape a shere, then roll it into a circle like shaped flat dough.

Use a knife or dough cutter and cut thin stripes inside the flat surface, leaving the rim intact.

Grab every second of the dough stripes and pick them up.

Cross the stripes on the left over the ones on the right side and create some sort of mess.

Put the "mess" on a slotted spoon and cover it with a second slotted spoon.

Carefully put it into the hot oil, trying to contain the shape in a ball.

Fry for 4 - 5 minutes, then take the snowball out onto a drying rack and let cool.

Proceed the same way with the rest of the dough.
The Glaze
Use about half of the confectioners sugar in a large bowl. Add a little water to it and stir, adding water as needed until a slightly runny sugar glaze is created.

Add some lemon juise or aroma/extract like imitation rum to it to add some specific taste.

Take one of the snowballs and put it into the glaze, tunring it in the bowl until it is completely covered.

Remove the snowball from the bowl, let some excess dripp down and then put it back on the rack to dry. Repeat with all snowballs.
Notes