When I'm in my hometown Hamburg, a Fish Cake is an absolute must-have during my visit! Fish Cakes – or Fischfrikadellen as we call them – are best near the Ocean! Although one can buy them at a fish restaurant chain in Munich, they are better in Hamburg!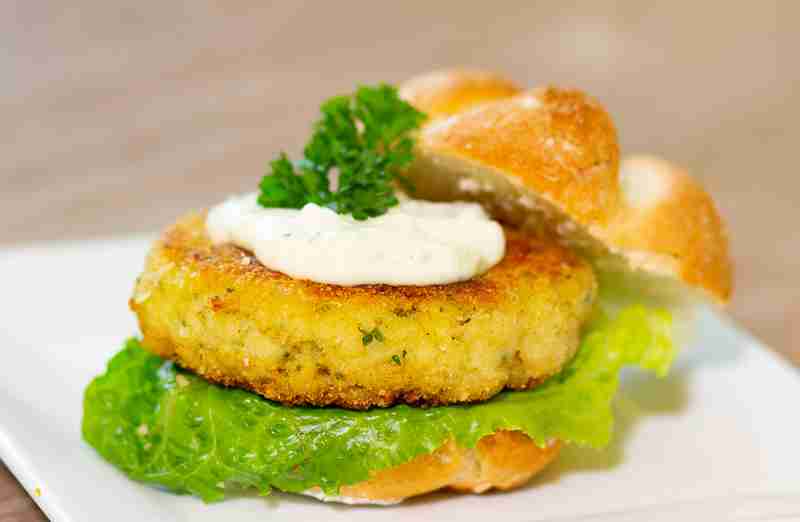 This dish doesn't need a lot to make. There are no fancy spices in them or fancy ingredients. I have come to the conclusion though, that using Panko bread crumbs work a little better in the cakes than regular bread crumbs. If you can't get the Panko bread crumbs, the regular product will work good, too.
How to make Fish Cakes video
The Fish Cake Recipe
Every town in North Germany has their own recipes and it is sometimes the little things, that make the difference. In order to get the original recipe for the Hamburg Fish Cake, I was writing to a restaurant and a fish shop in Hamburg, asking for help. Unfortunately, only the restaurant answered me. They said they get them delivered and they don't know the recipe. Since that restaurant is known to have "the best fish cakes in Hamburg" I was a little disappointed that they don't make them in their kitchen. However, I figured it out on my own and I believe my fish cakes taste very much the same as those that I can buy at the harbor area or farmers markets in Hamburg.
The Fish
I am using Pollock in my video. You can also use Cod for this recipe. There is no need to use frozen fish, you can as well buy fresh fish. However, I like it when the fish is slightly frozen so it is easier to shred it in the grinder.
How to serve Fish Cakes
Most of the time you will get your fish cakes at a fish stand in a roll like a Kaiser Roll and with some Tartar Sauce. They won't give you a plate but a napkin and you'll eat it will standing or walking around. If you are in a restaurant, you might get it on a plate though and maybe with some potato salad as a side.
Btw. you might be asked if you want to eat it hot or cold. I personally prefer them cold!
Not getting to Hamburg?
If you travel to Germany but not to Hamburg, there are other places you can buy a Fish Cake like that. The restaurant chain "Nordsee" has them and you will find a "Nordsee" in almost every larger town. They are good but a little dry compared to the ones I get in Hamburg. But if you are at a Nordess restaurant, also ask for "Nordeseekrabben" – the best (and very tiny) crabs in the world!
Pin Fish Cakes to Pinterest
Fisch Cakes
Fish Cake or Frischfrikadelle Hamburg style
Equipment
Grinder of Food Processor
Ingredients
800

g

Cod or Pollock

without skin and bones

1

ct.

Onion, small

3

ct.

Eggs

1

clove

Garlic

1

bunch

Italian Parsley

½

ct.

lemon, juice of it

1

ct.

small potato

150

g

Panko Bread Crumbs

Salt

Pepper

150

g

regular Bread Crumbs

100

g

Butter
Instructions
Cut the onions and the garlic into smaller pieces.

Peel and then cut the potato in quarters and also chop the parsley.

Cut the fish so it will fit into the grinder.

In a large bowl, mix the fish with the onion, garlic, lemon juice, and parsley.

Put all into the grinder, using the plate with the smallest holes.

Put the potato through the grinder, this will also get all the previous ingredietns out of the machine.

Add the eggs, salt, and pepper to the ground fish and mix it well.

Now add half of the panko bread crumbs and mix. Add more panko bread crumbs as needed until you have a consistency that keeps the shape.

Taste if more salt and pepper is needed.

Let rest in the fridge for 30 minutes.

Shape the fish cakes, then cover them with the regular bread crumbs.

In a large pan, melt half of the butter and fry the fish cakes from both sides until golden brown. Add more butter if needed.

Serve the fish cake warm or cold in a fresh kaiser roll (recipe on the blog) with a salad leaf and some Hamburg style tartar sauce (recipe on the blog). You can also, instead of a roll, have potato salad as a side to the fish cake.