If I say the word "Eierlikör Torte" (= Egg Liqueur Cake or Egg Schnaps Cake), the eyes of my father in law instantly start to brighten up and a wide smile goes over his face. He loves it! … and so does everyone else.
You can get Egg Liqueur Cake every time of the year but Easter is basically its primary season.
Some people make the Eier Schnaps from scratch but I personally don't like to mess with raw eggs here in Texas so I buy mine. However, if you want to blow out eggs to paint on them, you might have some eggs to use and they are perfect for the first layer of this cake.
Video Instructions
Beautiful Egg Liqueur Cake
This cake has it all: It tastes fantastic and it looks fabulous and as a side effect one might feel a little tipsy after a slice or two. In my opinion its a sweet end for an Easter Brunch!
The bright yellow color brings some sunshine on your table – very much needed after the long, German winter! So no wonder everyone wants to bake it for an Easter Cake.
Not For Children
It should be obvious but I still want to point out that this cake has quite a bit of booze and should not be eaten by children or even teens. If you feel like it is too much to ask for from your kids to stay away from it, maybe change the recipe a little bit: Instead of the Egg Schnaps, you can use some strawberry puree and trade the Kirschwasser / Amaretto for some strawberry syrup.
It takes time
Eierlikör Torte takes time and it's definitely not a cake you can bake last minute. The first layer has to be mixed in several steps and then needs to bake. Then it needs to cool. The second layer can only be made when the first layer is completely cooled and in order for the gelatine to become solid, you have to wait another two hours. Once that is ready, the third layer also needs to be made and get firm in the fridge. Decorating is the last step and takes a little time, too, if you want to go fancy. So, I recommend to make this cake a day before and just do the decorating on the day you want to serve it.
About the Egg Liqueur
We call it Eierlikör in Germany and a common brand is Verpoorten Advokaat. The name sounds Dutch and the reason for that is that it was invented near the German-Dutch border. Fun fact: It was first made with Avocados! They made it like that in South America but wanted to enjoy it in Europe, too. Back then they couldn't have them in Europe, so they tried eggs and it was perfect!
I have published a recipe with Verpoorten, before: Schneeflockerl
The German Original doesn't come cheap (around $27) but the quality and taste are worth the spending. It sometimes appears that other brands are cheaper but at a closer look, it turns out that those cheaper bottles are mostly just smaller with only 700ml (70 cl).
German VERPOORTEN ADVOCAAT: https://goo.gl/cq3RZR
Other ingredients and Tools
Sahnesteif
In order to keep the whipped cream for the decoration in the shape I piped it, I use Sahnesteif, a whipped cream stabilizer. It is a German product, here sold as WhippIt. You can get it at amazon: https://goo.gl/cq3RZR
If you don't have it, don't worry: You can either leave it out or use 1 – 2 teaspoons of corn starch.
Cake Ring
If you don't have a cake ring, you can use the ring from the baking pan. But first remove it from the cake after baking, so the first layer doesn't stick to it. Then put it back on for the Filling. If you want to get a Cake Ring, this is the one I am using: https://amzn.to/2HOtGPa
Kirschwasser
Kirschwasser can be translated to Cherry Water but don't be fooled, it's not water at all. It is a clear Cherry Schnaps. When I looked online, I only found the large bottles but usually, there are small bottles (pocket size), too. Here is a Link for a large bottle from a cheaper brand: FIDELITAS KIRSCHWASSER
Kirschwasser is also used for Schwarzwälder Kirschtorte (Black Forest Cake). So if you plan on that, a lage bottle might be just right!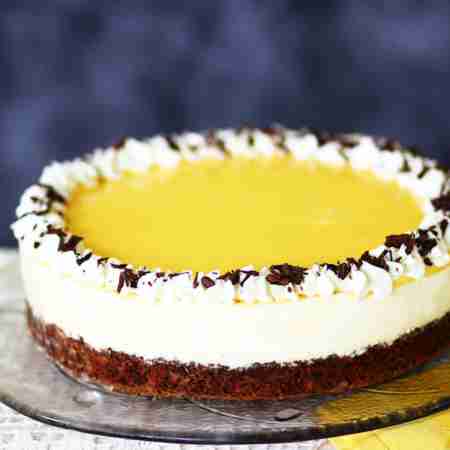 Egg Liqueur Cake
Ingredients
First Layer
6

Eggs, divided

100

g

Butter

100

g

Sugar

1

pinch

Salt

250

g

Hazelnuts, chopped

3

Tbsp.

All Purpose Flour

1

tsp.

Baking Powder

100

g

Chocolate, dark, shredded

3

Tbsp.

Egg Liqueur
Second Layer
1.5

pouches

Gelatine

20

ml

Kirschwasser (or Amaretto)

500

ml

Whipping Cream

70

g

Confectioners Sugar

200

ml

Egg Liqueur
Third Layer
0.5

pouch

Gelatine

200

ml

Egg Liqueur
Decoration
175

ml

Whipping Cream

some

Chocolate Sprinkles or shredded Chocolate
Instructions
First Layer
Mix the Butter with the Sugar & Vanilla, and Salt and mix until it has a light color.

While slowly mixing, add the Egg Yolks, one at a time.

Mixing everything well, then set aside.

Preheat the oven to 185°C / 365°F.

Use a separate, clean and fat free bowl and mix the Egg Whites until they are stiff.

Carefully add the whipped Egg Whites to the Butter Mix and incorporate while trying to keep the air.

In a separate bowl mix the Chocolate, Flour, Baking Powder, and Hazelnuts.

Add these dry ingredients to the wet ingredients, mix carefully until everything is mixed well and add the three tablespoons of egg liquor.

Fill into a prepared baking pan and bake for 30 minutes.

Let the cake cool completely, then prepare the second layer.
Second Layer
In a small bowl, dissolve 1 1/2 pouches of Gelatine in a little hot water.

In a separate bowl, whip the Cream until it can hold its peaks.

In a medium size bowl, mix the Egg Liqueur, Kirschwasser (or Amaretto or other Schnaps) and Confectioners Sugar, then add the Gelatine and stir.

Add the Egg Liqueur Mix to the Whipped Cream and stir well.

Put a cake ring (cake mold) around the cooled cake.

Fill the Cream on top of the cake and let get solid in the fridge for 2 hours.
Third Layer
After 2 hours, mix the remaining half pouch of Gelatine with hot water.

Mix the Egg Liqueur with the Gelatine and carefully pour it on top of the second cake layer.

Decoration
Whipp the Cream and put it in a piping bag with a star attachment.

Decorate the cake with the cream and sprinkle some Chocolate on top.

Keep refrigerated until it's served.