I am baking this Easter Bread for about 25 years and everyone loves it. Fill your house with the scent of this wonderful bread!
It is easy to make but like all yeast bread, it takes some time. The Easter Bread tastes best when it is freshly baked and still a little warm, which means that I bake it in the morning before our easter brunch.
Our Easter celebration with the kids has always been like this: The kids search eggs in the morning in the backyard and after that, we eat a nice brunch. Often we would have friends come over for our easter brunch.
In Germany, an easter brunch at our house would have this Easter Bread, fresh rolls, egg salad, cold cut, cheese, crab salad (Nordseekrabben are crabs from the Northern Sea, you can't get them in the US), salmon, cake and maybe some warm food like lamb, too. Mimosa, coffee and fresh juice for the kids and everyone is happy! We try to get as close to this kind of brunch here in the US, though we don't always get all foods.

Now, the original recipe calls for 80g sugar but I always use 100g since I have a sweet tooth.
The bread tastes best with some butter and optional some jam or honey. A total delicious spread is "Brandy Butter": Use softened butter, add some sugar and mix until the butter has mostly dissolved. Slowly add some brandy and keep mixing. Chill and enjoy on the Easter Bread.
Beeswax Sheet Cover
Instead of using plastic wrap, I am using a beeswax sheet to cover my yeast dough. It is reusable, adjusts to the shape of your bowl by your warm hands and works really well. Is so much better for the environment.
You can get it here: https://amzn.to/2WQEa3X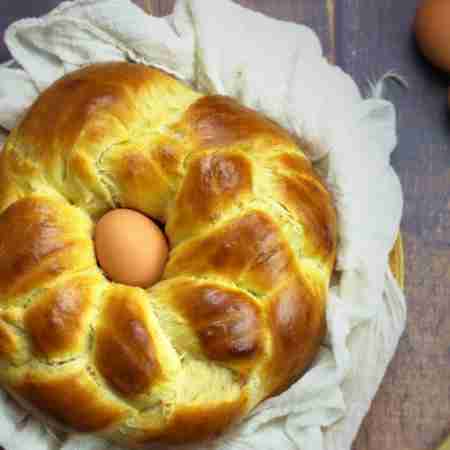 Easter Bread - Osterzopf / Hefezopf
German Easter Bread, braided
Ingredients
500

g

all purpose flour

50

g

sugar

or up to 100 g

250

ml

cream

(or mix 150 ml heavy whipping cream with 100 ml milk

2

eggs

1

egg yolk

1

egg white

1

tsp

vanilla extract

1

envelope

rapid yeast

1

Tbsp

milk
Instructions
In a large bowl, mix the flour and the sugar.

Put 100 ml cream into a cup and put it in the microwave for a very short time until it is luke warm. Don*t let it get to hot or it will "kill" ;-) the yeast.

Sprinkle the yeast onto the warm cream and let stand for 5 minutes.

In the meantime add two eggs and one egg white to the flour bowl.

Set the egg yolk aside.

Now add the yeast mix to the flour bowl.

Add an additional 150 ml of luke warm cream to the mix and stir until a nice, slightly sticky dough has formed.

Put the dough back into the bowl, cover with a towel and let rise for about 45 minutes. Then the dough should be a lot larger than before.

Remove the dough into a floured surface, and slightly knead it.

Preheat the oven to 350 F.

Let it rise for another 15 - 20 minutes.

Bake for 20 to 30 minutes or until it has a nice slightly brown color (check for color after 20 minutes).
Notes
Pin on Pinterest