Domino Stones or as we call them "Domino Steine" are tiny, delicious, 3-layer Christmas cakes, covered in chocolate. The name probably comes from the domino game because these little square cakes resemble them in color and shape.
Just like so many other of my Christmas bakery goods, these are a staple during December in Germany. They are a part of our Advent traditions when we enjoy tea/coffee and Christmas cookies and cakes each Sunday before Christmas.
Video: How to make Domino Stones / Steine
Making Chocolate Dominos from Scratch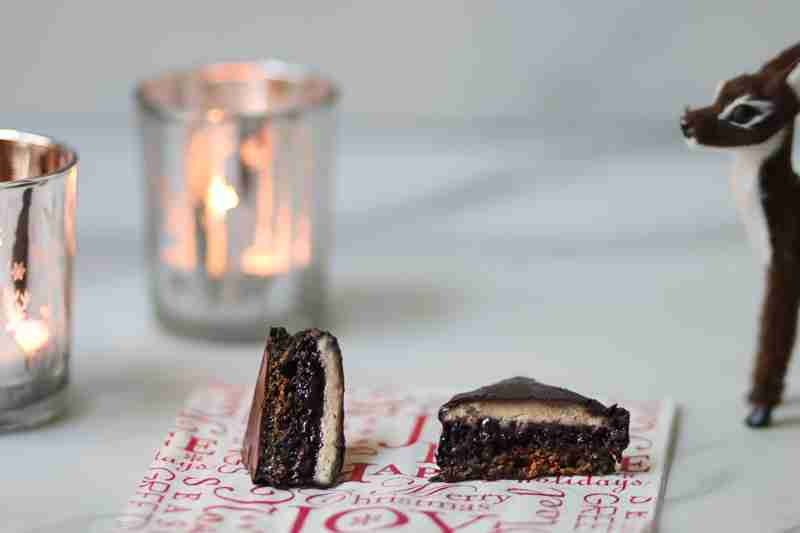 I've never thought about making them from scratch because it seemed too complicated and I can still buy the Domino Stones here in the US at Aldi, where they are called "Chocolate Dominos". However, I decided to challenge myself this year and make them myself and BOY was that a difference! I liked Domino Stones my entire life and never thought that they could be even better. But making them from scratch is a whole new level of taste. I am not sure if I can ever go back to store-bought.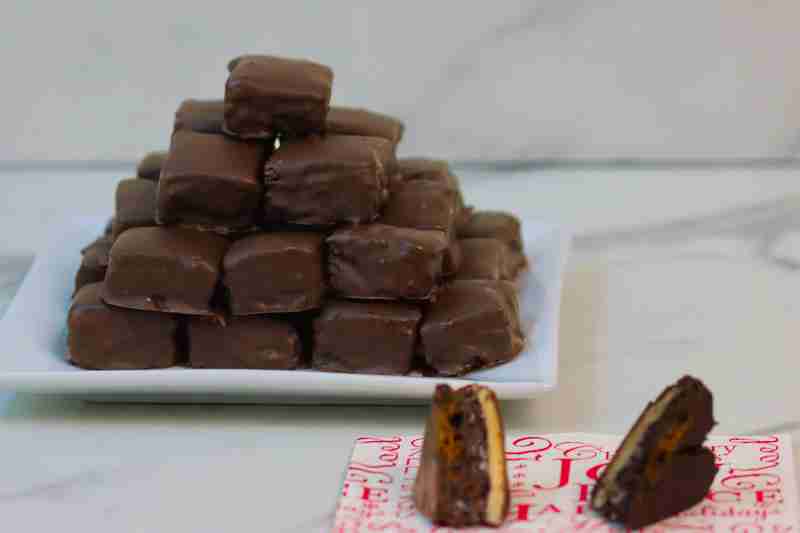 Giving some of these to an American family friend who frequently gets some of my cookies and cakes to taste, was a must. He likes my treats every time but I have never seen him so enthusiastic as after having some Domino Stones. Even two weeks after trying them, he was still talking about how good they tasted.
Looking back, I think I was too scared of making them myself. It is not really difficult. You basically bake a cake, add a layer of jam that prior needs to be cooked with some gelatine, then roll out some marzipan and put it on top. Cut into cubes and then covered in chocolate, this part is actually a bit time-consuming but none of these steps is difficult.
Give Them as Christmas a Gift
I think these Dominos are just perfect as a gift for friends, neighbors, teachers, … everyone who "has already everything" but can use some delicious treat to make Christmas even better! In general, I think it is a great idea to gift something edible. Everyone likes it, this gift doesn't end up in the trash and won't add to the tremendous landfills we already have. If you get some cute reusable containers and make the Domino Stones a few days ahead, I am sure someone will love you a lot for it!
Best paired with …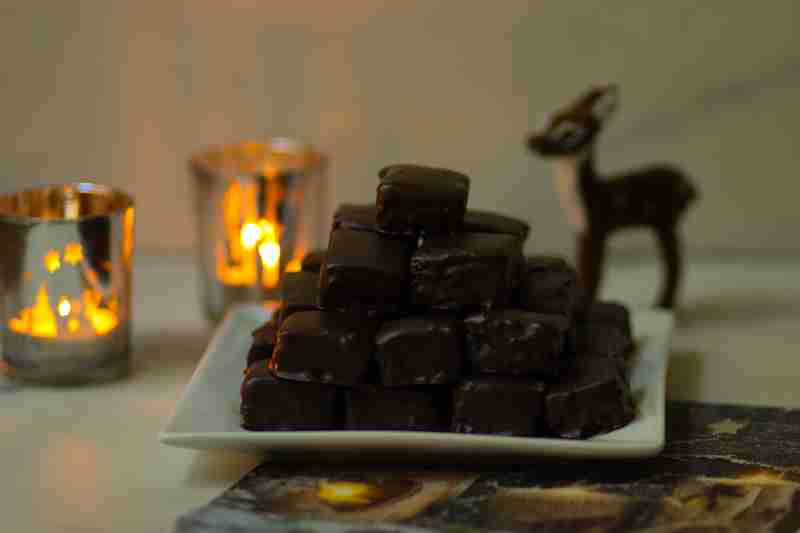 … TEA! At least that is what I think because during my entire childhood this is how we had them. My mom would put a plate of the Domino Stones on the table, a teapot placed over the warmer with a little candle next to it. The "Adventskranz" with the right amount of lighted candles (read all about that HERE) … and then the four of us kids destroying the peaceful setting by fighting over the Domino Steine, Lebkuchen, cookies.
But having grown up, I became more of a coffee person and these days I enjoy them with a delicious latte!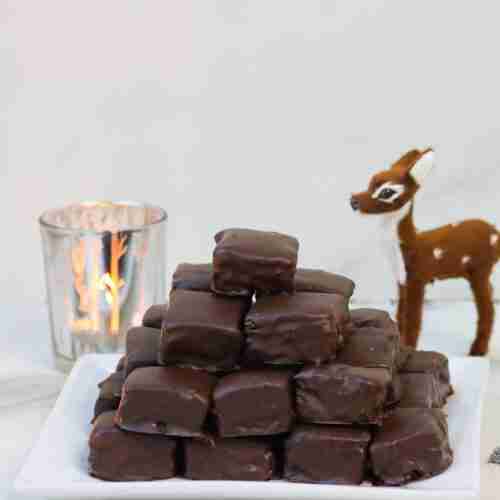 Domino Stones – Dominosteine
Equipment
Ingredients
2. Layer (Jam Layer)
300

g

Jam

Cherry or Berry without seeds

1

tsp

Gelatine

or vegan Alternative
3. Layer (Marzipan Layer) + Chocolate Cover
Instructions
Baking the 1. Layer (Cake)
Preheat the oven to 350°F/180°C and prepare a baking frame by putting parchment paper under it and greasing the sides.

Mix the water, sugar, honey, and molasses in a saucepan und warm it on the stove until the sugar has disolved.

125 ml Water,

30 g Honey,

50 g Molasses,

70 g Sugar

Add the cocoa, gingerbread spice mix, salt and butter to the saucepan and stir in. Remove from the stove and let cool.

30 g Butter,

1 pinch Salt,

1-2 tsp German Gingerbread Spice,

2 tsp Cocoa

In a bow, mix flour, baking soda, and baking powder. Add the cooled liquid from the sauce pan and mix it together.

1 tsp Baking Soda,

1 tsp Baking Powder,

120 g Flour

Pour into the baking frame and bake for about 22 minutes.

Remove from the oven, cover it with aluminum foil (important!) and let cool.
2. Layer: Jam Layer
Mix the jelly with the Gelatine, bring to a boil, and let boil for 2 minutes while stirring.

300 g Jam,

1 tsp Gelatine

Pour the jam onto the cooled cake and put into the fridge to set.
3. Layer: Marzipan
Roll out the marzipan to the size of the cake. If it sticks too much on the counter, use some cornstarch under it before rolling it out.

Transfer the marzipan onto the cake on top of the jam layer.

Tipp: It is best to let the cake set overnight in the fridge before cutting and covering!
Chocolate Cover
Melt the chocolate over hot water or in the microwave. Make sure it is very liquid. Don't use Candy Melts, it doens't taste well.

Cut the cake into small squares of about ¾ of an inch (1 cm).

Dip each square into the chocolate to cover it completely, then set it onto some parchment paper or way paper to set. It's best to have that on some kind of tray that fits into the fridge to cool.

Keep in the fridge in a closed container until serving.
Nutrition
Calories:
180
kcal
Carbohydrates:
23
g
Protein:
3
g
Fat:
9
g
Saturated Fat:
4
g
Polyunsaturated Fat:
1
g
Monounsaturated Fat:
3
g
Trans Fat:
0.03
g
Cholesterol:
2
mg
Sodium:
58
mg
Potassium:
153
mg
Fiber:
2
g
Sugar:
14
g
Vitamin A:
27
IU
Vitamin C:
1
mg
Calcium:
27
mg
Iron:
2
mg