Often I will refer to something that is called vanilla sugar. Lucky for me, I let my family bring me lots of that stuff from Germany but if I ever run out, I know how to make it myself – and you will too!
The vanilla extract that I bought here can be a substitute for vanilla sugar but no matter how big they write "REAL VANILLA" on the bottle, it still has a different taste and tends to be a little too intense, which makes it taste kind of bitter. Vanilla is supposed to have a soft and gentle taste and that's exactly what you get from vanilla sugar.
Use of Vanilla Sugar
Vanilla Sugar is easily made and you only need two ingredients and a jar. You can use it in cakes, puddings, vanilla sauce, sweet dumplings … a lot of my recipes on this blog call for it. Often, I use a vanilla pod for something else like vanilla pudding and then reuse the pod in my sugar. You can also just use an entire vanilla pod, empty the little black seeds into the sugar and then add the pod to the sugar jar. I show this in the video.
Purchase Vanilla Sugar
You can buy Vanilla Sugar on Amazon either in little paper sachets or in bulk:
Pin Recipe to Pinterest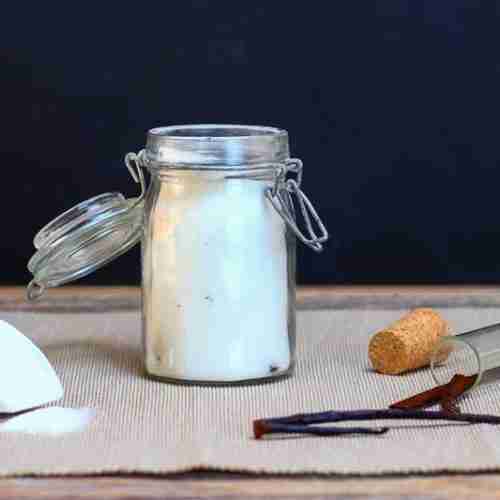 Vanilla Sugar
Ingredients
1

pod

vanilla,

emptyed

200

g

sugar
Instructions
Carefully scrape the black seeds from the center of the pods. If you need to use the vanilla seeds for some other recipe, that's ok, then just use the pods. If you want to use the entire vanilla in the sugar, just add the seeds to the jar and also add the vanilla pod.

Add more sugar to the jar.