Skiing in the Alpes comes with eating Germknödel aka Dampfnundeln! If you've been there up on the mountain for lunch, this food is what gives you all the energy back that the cold weather sucked out of your body. Even if you are not skiing but maybe shoveling snow or just trying to make it to the mailbox, have in mind that you will always be able to reward yourself with Dampfnudeln!
How to make Dampfnudlen and Germknödel
I mostly lived in the North of Germany, far from the Alpes, so except for vacations I didn't get Dampfnudeln and I had no idea how to make them myself. But I loved these sweet dumplings with the delicious plum spread filling (recipe for Plum Spread here) and wanted to learn it.
Oh, at first I was so scared to make these. My friend Sybille from Stuttgart showed me how to make Dampfnudeln when we visited her and that's when I realized that it is really simple. My family loves them and except for the fact that you cannot make them last minute right before a meal, they are a relaxed meal.
Sweet Yeast Dumplings
As mentioned before, Dampfnudeln are also called "Germknödel" and the word "Germ" stands for "yeast" in Austria. The yeast is why one cannot make them twenty minutes before lunchtime – this food needs to rest and grow like bread dough. And that's what it basically is. It's a sweet yeast dough and one can either cook them over steam – then they are called Germknödel – or in a mix of cream, milk, butter, and sugar – then they are called Dampfnudeln.
Dampfnudeln and Germknödel are traditionally served with a warm vanilla sauce and some poppy seeds on top.
Dampfnudeln or Germknödel?
The difference is in the cooking method: Dampfnudeln are cooked in a mix of mik & cream while Germknödel are cooked over steam or in boiling water. If you make Germknödel, add some salt to the water. But don't overdo it, your Germknödel shouldn't taste salty.
Some people make their sweet yeast dumplings in the oven (called "Rohrnudeln"). I tried that but I think the dough dries out too much in the oven. In my opinion, it tastes better to cook the dumplings.
Now learn the really simple method to make this sweet treat of a delicious meal and don't even think about just serving it for dessert – they really make you full … very full!
Pin to Pinterest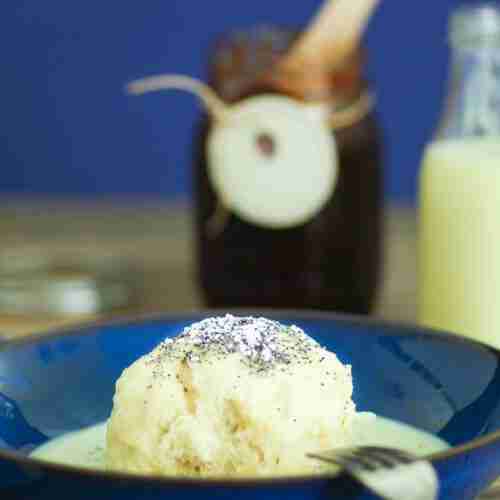 Dampfnudeln / Germknödel – Sweet Dumplings
Perfect for cold days!
Ingredients
For the dough
300

g

flour

70

g

sugar

8

g

dry yeast

125

ml

milk

50

g

unsalted butter

½

tsp

salt

1

egg
Filling
some

plum or other jam, alternative an apricot
To cook in
50

g

unsalted butter

unsalted

100

ml

cream (whipping cream or heavy whipping cream)

(do not mix with the dough!)

100

ml

milk

(do not mix with the dough!)

1

tbsp

sugar

(do not mix with the dough!)
To serve
30

g

Butter

(do not mix with the dough!)

1

Tbsp.

poppy seeds

1

Tbsp.

Confectioners Sugar

1

recipe

vanilla sauce
Instructions
Mix the flour with 70 g sugar,

vanilla sugar

, yeast, and salt in a large bowl.

Add the egg and the milk, mix and knead well for about 5 minutes.

Cover the bowl and place it where it is warm. Let stand there at least 40 minutes to 1 hour.

When the dough has clearly risen and about doubled it's volume, remove it from the bowl and start kneading it with your hands on the kitchen counter top.

Mold each piece of dough into a sphere.

Take about one teaspoon of plum spread or other jam and fill it in the cave that your thump left in the dough.

In a large pot (must have a good closing lid!) put the 100 ml milk and 100 ml cream, add the butter and heat the stove on medium.

When the butter melts, sprinkle one tbsp sugar all over the milk.

Place the dough spheres into the pot with the seam placed downside and let rest for another 15 to 20 minutes.

On medium heat simmer for about 20 -25 minutes and don't open the lid. Really. I mean it. Keep it closed! But at the same time make sure your Dampfnudeln don't burn

Serving Dampfnudeln / Germknödel: In a deep plate put some vanilla sauce. Place a dumpling in the center of the plate and pour some vanilla sauce on top or melt some butter on it to make the poppy seeds stick. Last, mix the poppy seeds and confectioners sugar and sprinkle it on top.
"Guten Appetit"!
Notes
How I prefer my Dampfnudeln:
Personally I like to put some cinnamon-sugar mix onto my Dampfnudeln / Germknödel!
Summary
Recipe Name
Dampfnudeln / Germknödel - Austrian Sweet Yeast Dumplings
Author Name
Published On
Preparation Time
Cook Time
Total Time
Average Rating





Based on 2 Review(s)