This German Cucumber Stew was a classic in my childhood. We grew a lot of vegetables in our garden and when cucumbers were ripe, we had this stew every week and never got tired of it.
Some people may think that there is not much to cucumbers other than water but they have a lot of antioxidants. They are also great for hydration and contain Vitamin C (14% of the RDI), Vitamin K (62% of the RDI), Magnesium (10% of the RDI), Potassium (13% of the RDI), Manganese (12% of the RDI). [source: https://www.healthline.com/nutrition/7-health-benefits-of-cucumber#section1]
Cucumbers also have only few carbs, which make them a perfect ingredient for a Low Carb or Keto recipe. This recipe is actually perfect for the Keto Diet, just add a good amount of cream and voila – you stay in ketosis!
Hot to cook Cucumber Stew Video
Quick Dinner
The cucumber stew makes a great, quick healthy and hearty dinner for the family and comes at a low budget. That's why I opt for the more expensive grass-fed beef. Not only is it better for the animals to be fed with their natural food, but it also gives the beef a much, much better taste!  The cucumbers and tomatoes are in season and really cheap right now and parsley and tomato paste only cost a few cents. One could eat it without any sides but I found that it doesn't keep us full until the next meal, so I prefer to serve it with potatoes or rice, so we don't start snacking in between the meals.
Usually, I cook enough for two days or to put half of it into the freezer. I actually made enough for an army once, when we renovated our kitchen and only had a freezer and a microwave for several weeks.
All Seasons
As I mentioned, this is a cheap meal in Summer while during Winter the vegetables are definitely more expensive. I usually promote to eat what the season provides in your area. But truth be told, we also love to eat Cucumber Stew during the winter time because it is so belly-warming on cooler days – which we do have in South Texas! Especially in January and February, it can be quite cold and even freeze in the night. On very few occasions we even have snow. So, keep this recipe in mind for the cooler season.
Acid and Tomatoes
Fresh tomatoes sometimes have a lot of acid and in this stew there is a simple solution to it: Either add some cream or some sour cream to soften the taste. But keep in mind that cream and sour cream also reduce the taste of the spices, so you need to add more salt and more of the other spices to keep the taste up.
Parsley
If you really don't like parsley (is there anyone?), you can leave it out but in my opinion, it is to this stew what the cherry on top is for a milkshake: It pops the colors and tastes amazing in the combination with the other ingredients. If you want to be carefully trying, just put a bowl of cut parsley on the table and everyone can add some or not.
Pin to Pinterest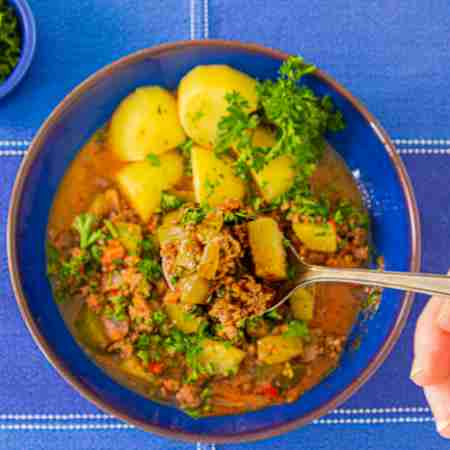 Cucumber Stew
Ingredients
500

g

Ground Beef (preferred grass-fed)

about 1 lbs

1

Onion, medium size, diced

2-3

Tbsp.

Tomatoe Paste

2

English Cucumbers

2-3

Tomatoes

1

bundle

Parsley

3

Tbsp.

Olive Oil

some

Salt

some

Pepper

some

Italian Herbs

some

Paprika

some

Steak Seasoning

a little

Cayenne Pepper

4

Tbsp.

Sour Cream (optional)
Instructions
Season the Ground Beef with Salt, Pepper and Steak Seasoning and set aside.

Peel and cut the length of the cucumber and then cut into smaller pieces.

Cut the tomatoes in fourth, remove the green part and slice each piece one more time before cutting into smaller pieces.

Heat the Oil in a large pot.

Fry the Ground Beef in the oil until it is almost done, then add the onions and fry for three more minutes.

Add the Tomatoes and the Cucumbers and stir.

Season with some Salt, add a lid and let cook for a couple of minutes.

Open the lid and check if the vegetables released enough liquid - if not, add some water or broth.

Let cook with a lid on for about 20 minutes, stirring in-between and check the liquid.

Season with the Salt, Pepper, Paprika, Italian Herbs and a little Cayenne Pepper to your liking.

If there is much acid in the stew, add some Tbsp. of Sour Cream, then add more spices.

Cut the Parsley and add it to the stew right before you serve it.

Serve with rice or potatoes or with a slice of bread.