As I child I grew up with a lot of German Potato Pancakes. They were delicious and easy to make and would fill the six of us on a dime. Here in the US, it seems that they are more known as Latke and as a traditional Hanukkah meal.
My parents usually bought a huge sack of potatoes from a nearby farmer every now and then and sometimes we had potatoes to harvest from our own garden. I still use a lot of potatoes in my kitchen and am keeping in mind that they are a cheap but nutritious food. So, it you have to feed a crowd on a low budget, think of potatoes! [Read more about the health benefits of potatoes]
In my childhood, I only knew the sweet potato pancake version, where we sprinkle a sugar-cinnamon mix on top and have some apple sauce at the side. It wasn't until my mid-20s when a friend introduced me to the hearty version with graved salmon and sour cream. I really can't tell which version I like better. When I make them, I usually first eat some with the hearty sides and then have some with cinnamon-sugar and apple sauce.
Remove the liquid
It is very important to get most of the water out of the shredded potatoes. Otherwise, your potato pancakes will not be crisp and lack taste. It is also more difficult to shape them. In the video, you can see me doing this by taking some of the shredded potatoes in my hands and squeeze it. Another way to do this, is, putting the shredded potatoes in a clean kitchen towel or cheesecloth and twist it until the water has come out.
Make potato pancakes gluten-free
To make this recipe gluten-free, you can simply switch the flour for potato starch. I have made this with potato starch for years and then switched to four. So, both works.
Make it egg-free / vegan
I have to confess that I haven't tried this, yet, but some of my friends are vegan and they tell me that a mix of flax seeds and water can be used instead of eggs. I can imagine that for this recipe since the point of the eggs is to keep it all together in the batter. My friends make their breakfast pancakes with this substitute and claim that it is just as good as with eggs. So, this should definitely work.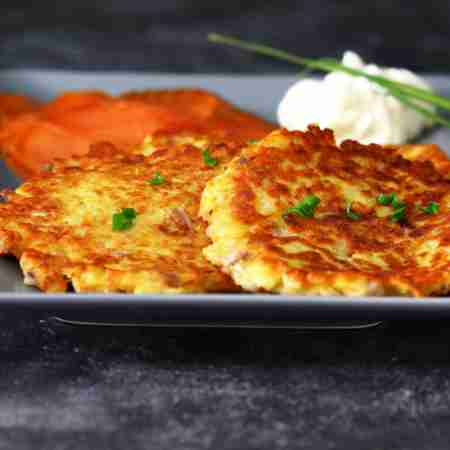 Potato Pancakes - Latke - Kartoffelpuffer
Ingredients
1

kg

Potatoes

1

medium

Onion

3

Eggs

1

tsp

Salt

40

g

flour or potato starch

100

ml

oil for frying
Instructions
Set the shredded potatoes aside for a little bit.

Cut the onion into small cubes.

Take some of the shredded potatoes into your hands and squeeze the fluid out of it. Put the squeezed potato shred into a different bowl.

Add the onions and eggs to that bowl and mix.

Add the salt and flour and mix well.

1 tsp Salt,

40 g flour or potato starch

Heat oil in two pans - not too hot!

Using a spoon shape several small, round pancakes in the pans and fry for about 3 to 4 minutes.

Flip the potato pancakes when the bottom of them is golden brown.

Fry from the other side another 3 to 4 minutes.

Place some paper towels on a plate and put the potato pancakes on top so it absorbs some of the oil.

Serve fresh from the pan (best) or keep warm in the oven for a little bit.

Serve either with sour cream and graved salmon or with a sugar/cinnamon mix and apple sauce.