Baked Camembert with a crisp breaded layer around is a wonderful comfort food in winter. My husband and I enjoyed it often when we lived in Germany.
Since we live in the US, we can't buy the frozen version of this delicious snack. I have to make it from scratch and that is not complicated at all. It is prepared within a few minutes and the frying and baking don't take long.
How to make Baked Camembert: Video
With Cranberry Jam
Actually, any kind of jam fits perfectly with this melted camembert. Traditionally we have it with "Preiselbeer Konfitüre" which is cranberry jam and that is a match made in heaven.
Salad as a Side
In restaurants the serve this dish with a small salad as a side and also some baguette. I think this is the best pairing but you can also just eat the baked camembert with the cranberry jam and enjoy a glass of wine with it.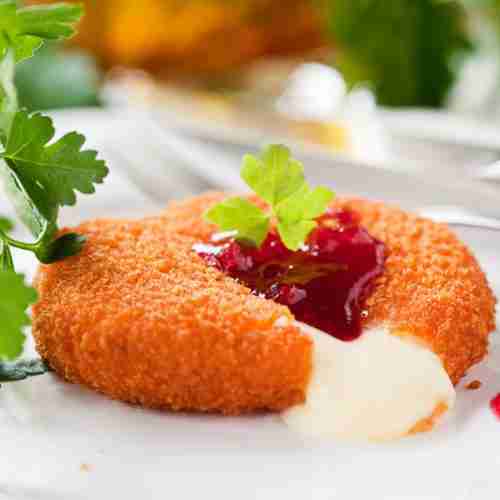 Baked Camembert
crisp melted camembert cheese
Ingredients
2

Camembert

1

ct.

Egg

some

Flour

some

Bread Crumbs

some

Oil

for frying

4

tbsp

Cranberry Jam or Sauce
Instructions
Preheat the oven to 200°C / 400°F.

Put the flour and the bread crumbs each on a seperate plate.

Whisk the egg on a third plate.

Bread the camembert: Put it in the flour, then egg, then bread crumbs and repeat the process until the camembert is completely covered in bread crumbs.

Heat a pna with a lot of oil and fry the camembert from both sides.

Put the camembert in a baking pan and bake for a couple of minutes until the cheese melted all the way to the center.

Serve with the cranberry jam or sauce and maybe a salad as a side.