Cream Puffs are not a German idea. I think it's from France but I'm not an expert. Anyway, in a German bakery, you will often find cream puffs and often they are filled with cream or with pudding or with a light yogurt cream. Also, there are often some fruits involved like strawberries, peaches, tangerines …
The dough for cream puffs is a little weird: First, you mix the ingredients into hot water, then you mix it and add eggs and at the very end, you add the baking powder. To be honest, the first time I made this, I was quite intimidated by this technique. It turned out that it wasn't difficult at all! It's just different but there is not much one can do wrong.
The French call the dough "Pâte a Choux" and we Germans call it "Brandteig". This dough goes into a piping bag and then you can get creative. Try different shapes and piping tips and see how they turn out. For bite-size puff pastries make them round but if you want to make Eclairs, shape the dough into long ovals.
When the cream puffs come out of the oven, they might have some weird shapes, some maybe look like little ducklings or some like seashells, that doesn't really matter. Just cut them open, let them cool and then fill them with your favorite filling.
Find it here:
Whip-it (=Sahnesteif) / Cream Stabilizer
The Sweet Cream Puffs
This filling is probably something you are familiar with from the puff pastries from the freezer section: Filled with sweet cream. But add some slice or piece of fresh fruit to it and it's a feast on your tongue! Sprinkle some powdered sugar on top and it looks like fresh from a German bakery and will be the hit on your coffee table!
The Savory Cream Puffs
Planing a cocktail party, wine tasting or brunch? In that case, you should consider this as the perfect snack in pairing with some wine or champagne. The cream is made from salmon and cream cheese and you can add herbs of your liking. This filling is quickly made and tastes wonderful.
Eat Cream Puffs Fresh!
This is something you need to bake and serve the same day! If you keep it in the fridge overnight, they will taste like an old book! You can freeze the baked Puff Pastries though, and then thaw and fill them when you need them.
Tipp: Make some big Cream Puffs and fill them with a scoop of vanilla ice cream and some fruits!
Cream Puff Dough
Equipment
Ingredients
125

ml

Water

25

g

Butter

75

g

Flour

15

g

Corn Starch

2-3

Eggs

1/4-1/2

tsp.

Baking Powder
Instructions
In a saucepan, bring the water with the butter to a boil.

In a separate small bowl, mix the flour and the corn starch, then add both at once to the boiling water.

Stir for about 1 minute, creating a big lump.

Remove the saucepan from the stove and add the dough to a mixing bowl.

Preheat the oven to 200°C/390°F.

Mix for about a minute or two, then add one egg and continue to mix.

When the dough is smooth, add the second egg and mix again until smooth.

If the dough has a good consistency for piping, continue with the next step. If the dough is too firm, beat a third egg and add some of it to the dough and mix until you have a good piping consistency that keeps its shape.

Add the baking powder and mix well.

Fill the dough into a piping bag with a star-shaped or round tip.

On a prepared baking sheet, pipe about 20 little round shapes or fewer oval shapes.

Bake at 200°C/390°F for about 20 minutes.

Cut the puffs open as soon as you can touch them, then let cool completely.

Fill the Puff Pastries with the filling of your liking and serve fresh.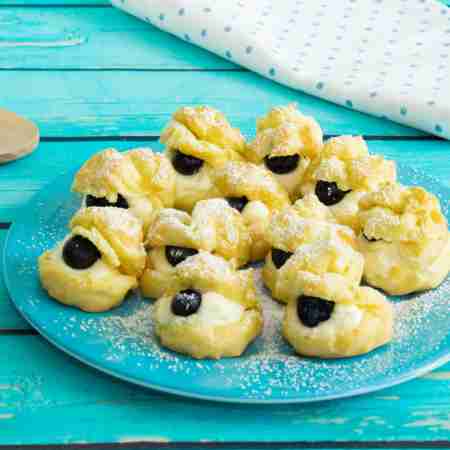 Sweet Cream Puffs
Ingredients
470

ml

Heavy Whipping Cream

1

tsp.

Stabilizers like Sahnesteif or some corn starch

30

g

powdered Sugar
Instructions
Whip the cream until it starts to get a shape

Add the stabilizer and keep whipping.

Then add the powedered sugar and vanilla sugar and whip until smooth tips are created.

Cool until you fill the Cream Puffs.
Salmon Cream Puffs
Ingredients
150

g

Smoked Salmon in slices

150

g

Cream Cheese at room temperature

some

Milk

1

Tbsp.

Lemon Juice

some

Dill or other herbs of your liking

Salt & Pepper if needed
Instructions
In a bowl, blend the cream cheese and some milk until smooth.

Cut the salmon into smaller pieces.

Add the salmon, the lemon juice and some of the herbs to the cream cheese and blend.

Add salt and pepper if needed.

Chill in the fridge until filling the puff pastries. Serve immediately.
Pin on Pinterest
[av_one_half first av_uid='av-405qva']
[/av_one_half]
[av_one_half av_uid='av-29v5ue']
[/av_one_half]