Chocolate Hazelnut Ice Cream is delicious and very typical for Germany. What pecans are for the people in Texas, that's what hazelnuts are for Germans. We bake with it, cook with it, and also make ice cream with it.
Video for Chocolate Hazelnut Ice Cream Recipe
I like making ice cream at home because I know exactly what's in it. Especially with the frequent recalls of store-bought ice cream due to salmonella, I think it is a good idea to just make it from scratch. Of course, you have to make sure you work clean and take care of the salmonella risk … but I will show you how to do this in the video.
Nutella Ice Cream
In some way, this recipe is also a Nutella Ice Cream recipe because quite a bit of this lovely spread is going into it. Leave the hazelnuts out and voila, that's it. Instead of Nutella, you can also use a different brand of hazelnut spread. Aldi i.e. has its own brand and some stores have alternative brands, too. They are all suitable for Chocolate Hazelnut Ice Cream!
Finding Hazelnuts in Texas
I really missed eating Chocolate Hazelnut Ice Cream! A lot of our German recipes are made with hazelnuts and it has so far always been a bit of a challenge to find chopped or even whole hazelnuts here in Texas. To my surprise, they now sell it in a little pouch at HEB at the baking ail. But I don't know how available hazelnuts are in other parts of the US … or the world. So, if you can't find them, just switch to nuts like almonds, walnuts, or pecans. You might not even notice much difference.
Salmonella-Free Ice Cream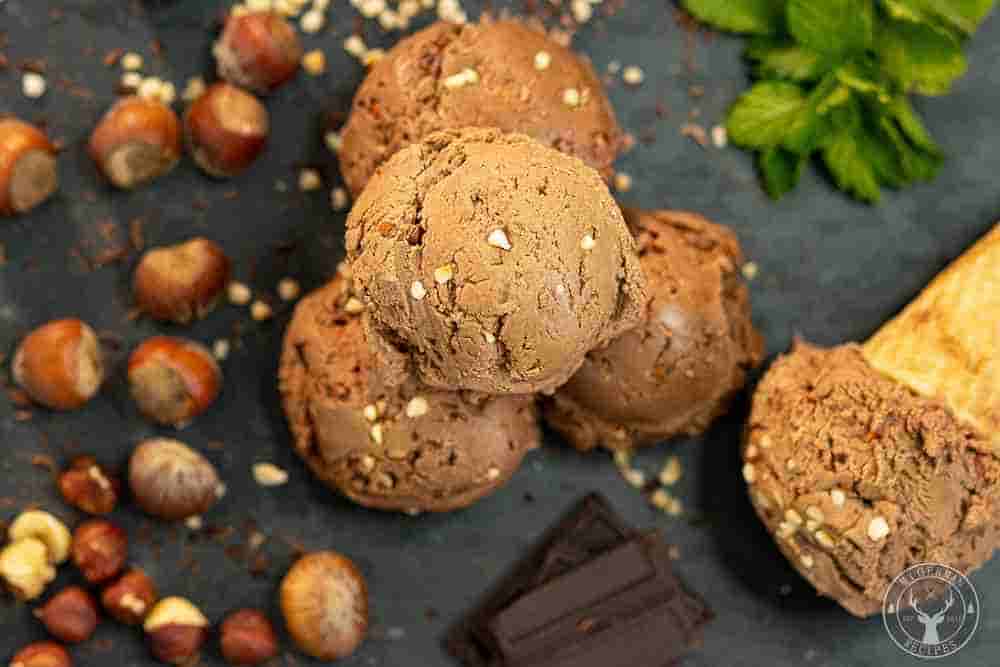 As mentioned earlier, salmonella is a real risk when making ice cream and it is very important to take care of it. So, PLEASE heat the mixture to 75°C / 167°F to make sure no evil salmonellas from the egg could survive. After that, you let it cool down and then put it into the ice cream maker.
The Ice Cream Maker
Now, in my video, the ice was not very firm when I stopped the ice maker. There were two reasons for that:
It is currently very hot here in Texas and we are asked to put our A/C on a higher temperature to preserve power. The Texas power grit is failing and the choice is either having an A/C running at a warmer temperature or not having an A/C running (or having any power) at all.

I mixed it too long! I got caught up in a facetime call with my daughter in Germany and that resulted in the container thawing in the heat of our house. Had I stopped the ice maker earlier, the consistency would have been a lot better.

But in general, I have not managed to get the same consistency of ice cream that I am used to from the ice parlor and I think "mushy" is as good as it gets with these ice cream makers. Putting the ice cream mush into a container and freezing it for some additional time, still resulted in perfect ice cream as you can see at the end of the video. So: Problem solved!
I had considered sending this machine back and trying one with a compressor, even though they are more expensive. Here in Texas, a good, convenient ice cream maker seems a reasonable investment. But after reading some reviews and looking at the prices, I decided it's not worth the extra cost. Even at the price range of $300 the ice cream is still very soft. I'll probably stick to what I have.
More Ice Cream Recipes to Come!
I want to make more ice cream recipes on my blog in the future, I have some very special recipes for Oktoberfest and for Christmas! Don't forget to sign up for my newsletter so you don't miss it!
Pin Chocolate Hazelnut Ice Cream to Pinterest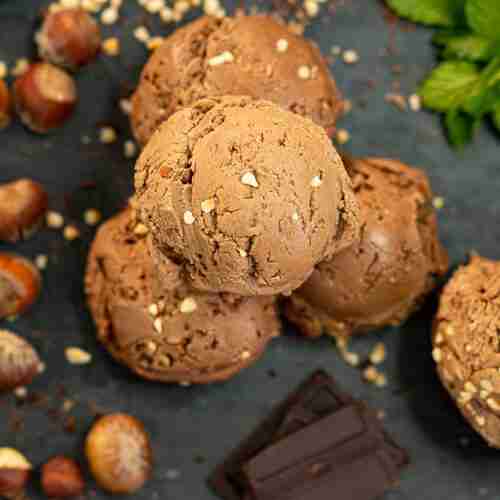 Chocolate Hazelnut Ice Cream
Equipment
Ingredients
400

ml

Whole Milk

100

ml

Heavy Cream

60

g

Hazelnut Spread

i.e. Nutella

1

tbsp

Cocoa

unsweetened

60

g

Dark Chocolate

chopped

1

Egg

100

g

Sugar

50

g

Hazelnuts

roasted, chopped
Instructions
Pour the milk and the cream into a saucepan, add the hazelnut spread, and heat to a warm temperature.

400 ml Whole Milk,

100 ml Heavy Cream,

60 g Hazelnut Spread

Add the chocolate and the cocoa, stir and wait for the chocolate to melt.

1 tbsp Cocoa,

60 g Dark Chocolate

Remove from the stove, then in a bowl, mix the egg with the sugar until it's foamy.

Carefully add 2-3 tablespoons of the warm liquid with the egg mix and stir. Then add the entire egg mix into the warm liquid.

Put the saucepan back onto the stove and heat to a temperature of 75°C / 167°F.

Pour the mixture into the ice cream maker and turn it on. DO NOT add the hazelnuts, yet!

When the ice cream becomes firmer, close to being ready, add the hazelnuts and continue until the ice cream is ready or won't become more solid.

If the ice cream is still too liquid / slushy-like, put it into a container with a lid and put it into the freezer for 1-2 hours.
Nutrition
Calories:
519
kcal
Carbohydrates:
49
g
Protein:
10
g
Fat:
33
g
Saturated Fat:
17
g
Polyunsaturated Fat:
2
g
Monounsaturated Fat:
11
g
Trans Fat:
0.01
g
Cholesterol:
82
mg
Sodium:
71
mg
Potassium:
448
mg
Fiber:
4
g
Sugar:
43
g
Vitamin A:
605
IU
Vitamin C:
1
mg
Calcium:
191
mg
Iron:
3
mg