Cauliflower Pasta Casserole is packed with healthy minerals and the vitamins C and B. Though, the real reason why you want to make this recipe is, that it is very delicious!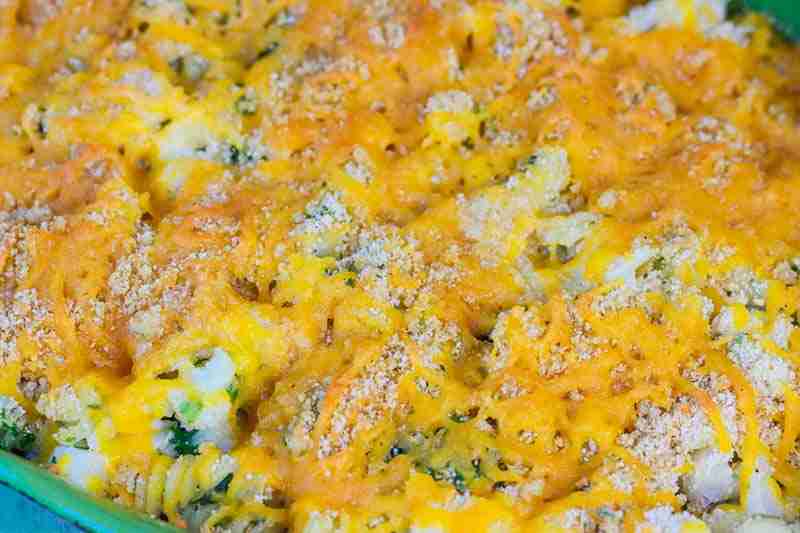 I am a big fan of cauliflower and also of pasta. Combining the two in a casserole is one of the best ideas cooks ever had. Though this recipe contains several steps, it is quite easy to make.
Video: How to make Cauliflower Pasta Casserole
How Germans Enjoy Cauliflower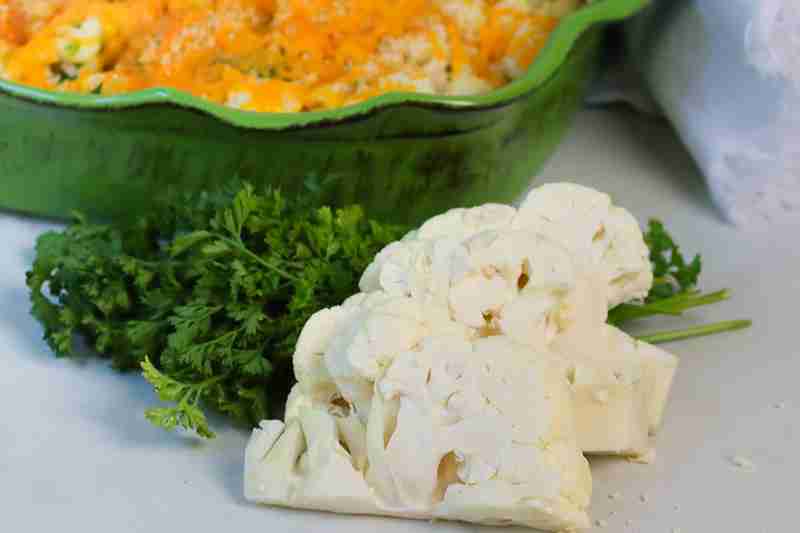 Unlike most American kids, I myself and also my kids always enjoyed cauliflower. Here are a few tips to follow in order to make everyone like it:
It has to be fresh: Convenience is a nice thing and our grocery here in Texas offers cauliflower cut into the flowers in a plastic bag. Once you open that bag, you basically faint from the smell! It's awful and if my kids had ever witnessed something like that, they would never have eaten cauliflower.
Listen: Cauliflower has to be bought fresh as a whole and consumed asap.
My mom would soak the cauliflower in cold salt water for 15 minutes and then cook it as a whole in salted water until soft.

If you want to go low sodium, skip the chips, the fries, and whatnot but don't skip the salt when cooking vegetables. Admittedly, that is a personal opinion, not medical advice. But if you want your kids to eat veggies, there has to be salt involved. Yes, steaming without salt is healthy but in general eating cooked vegetables is healthier than not eating veggies at all, right? I see it as a compromise.

Add sauce hollandaise and every vegetable, including broccoli and cauliflower, will become a favorite food. I mean, what doesn't taste better with a load of butter, right? And sauce hollandaise is mainly that.

Add some crunch! In Germany, we roast some breadcrumbs in butter and then put that on top of the cauliflower – absolutely delicious! Try it.
Enhance This Recipe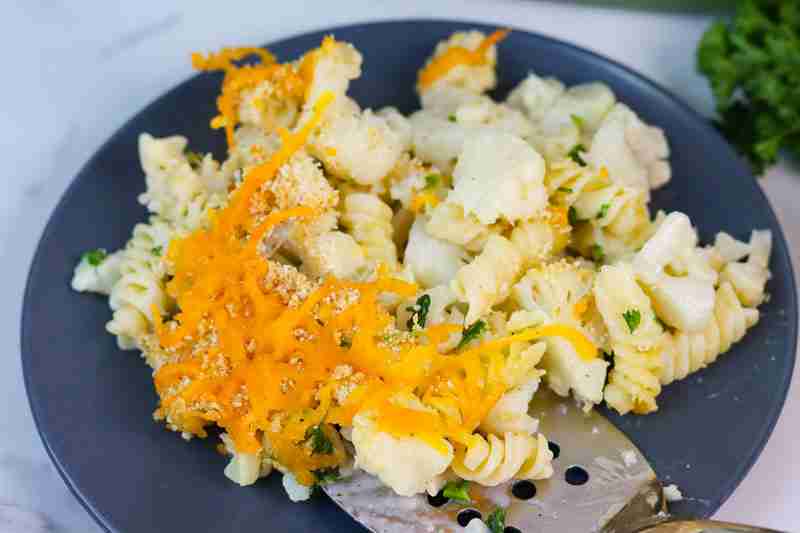 Understand this recipe as a basic recipe that can be adjusted to your taste. You can add spices and herbs to your liking and make it spicy. Or you add cheese to the sauce and make it more cheesy. Switch out the regular pasta for some whole wheat pasta. There are no limits to what you might want to add. If you feel some meat is missing, maybe add some fried bacon or ground beef, or sausage … it's your casserole and you are the queen/king in your kitchen!
Don't forget: Pin Cauliflower Pasta Casserole to Pinterest!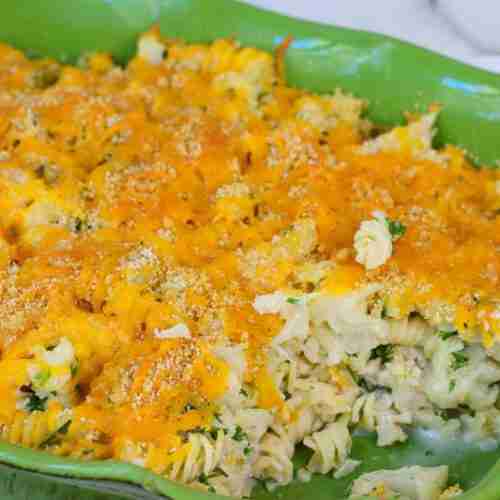 Cauliflower Pasta Casserole
Ingredients
1

small

Cauliflower

400

g

Pasta

Spirelli

1

tbsp

Butter

1½

tbsp

Flour

300

ml

Milk

reduced fat

½

bunch

Parsley

italian

½

bunch

Chives

½

tsp

Butter

for the topping

4

tbsp

Breadcrumbs

plain

140

g

shredded Cheese

i.e. Gouda or Mozzarella
Instructions
Wash the cauliflower, remove the leaves, and cut everything (including the stem) into bite size pieces.

Bring 2 liters / 8½ cups of water to a boil. Add some salt, then add the pasta and boil until cooked.

Remove the pasta from the pot but keep the water.

Measure 300 ml / 1¼ cups of the pasta water and set aside. Use the remaining pasta water to cook the cauliflower until soft (about 7 minutes).

Preheat the oven to 400°F / 200°C or (180°C / 350°F for convection).

In a saucepan, melt the butter. Sprinkle the flour on top of the butter and mix well. Let it "sweat" a bit, then add a little bit of the milk. Whisk it in and again add a bit of milk. Repeat until the entire milk is used, then add the pasta water that you had set aside earlier.

1 tbsp Butter,

1½ tbsp Flour,

300 ml Milk

½ bunch Parsley,

½ bunch Chives

Mix the cauliflower, pasta, and sauce, add the herbs, then put everything into a casserole.

Mix the breadcrumbs with the butter, then add the cheese and cover the casserole with it.

½ tsp Butter,

4 tbsp Breadcrumbs,

140 g shredded Cheese

Bake for about 15 minutes.
Nutrition
Calories:
605
kcal
Carbohydrates:
89
g
Protein:
25
g
Fat:
16
g
Saturated Fat:
9
g
Polyunsaturated Fat:
1
g
Monounsaturated Fat:
4
g
Trans Fat:
0.1
g
Cholesterol:
46
mg
Sodium:
359
mg
Potassium:
431
mg
Fiber:
4
g
Sugar:
7
g
Vitamin A:
1100
IU
Vitamin C:
10
mg
Calcium:
323
mg
Iron:
3
mg