This traditional Buckwheat Cake with Cranberries (Lingonberries) comes from the region called "Lüneburger Heide", which is in the north of Germany, just south of Hamburg. It is a rather rustic recipe with a very unique taste.
About Buckwheat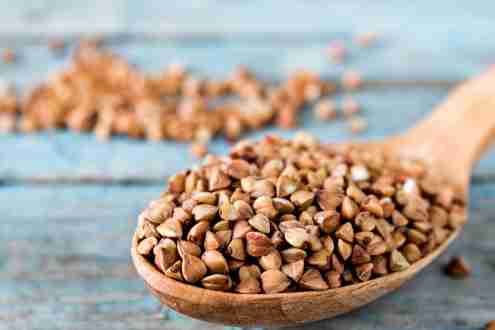 Buckwheat is mostly grown in the East of Europe and in China but also in smaller amounts in parts of Germany since medival times. It is a minor crop in the US, grown in North Dakota, Washington, Minnesota and New York. It is a pseudocereal (like Quinoa and Amaranth) and needs soil temperatures above 10°C (50°F) to grow and it is also sensitive to cold temperatures. Buckwheat is a good crop to grow on fields where a previous crop has failed i.e. due to bad weather. It grows fast and it's also very tolerant to poor, sandy soils. Buckwheat usually doesn't need fertilization and even suppresses most weeds.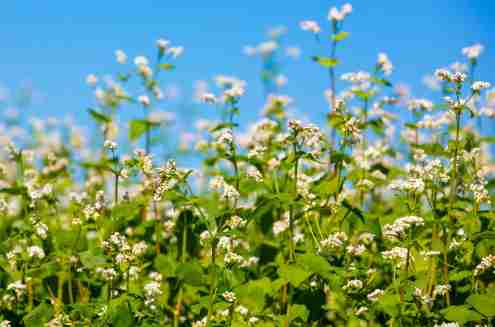 The triangular kennels, that result from the flowers, must be hulled and should not be fed to livestock with the hull. However, the hulls can be used in little heat pillows. While Buckwheat can be milled into different colors (more milling results in a whiter flour) and made into noodles, pancakes, and cakes, it is often also used as a kind of porridge or like rice.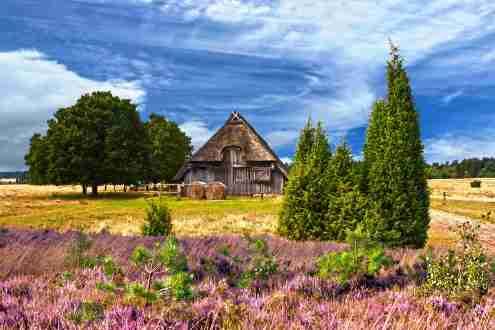 The taste of buckwheat is very unique and one might need to get used to it since the taste expectations are set from wheat flour.
Video: How to bake Buckwheat Cake
Why Buckwheat?
I mention in my video that there is currently a shortage of wheat on the world market. This is caused by the war in Ukraine and results in hight prices for wheat. While we are probably doing OK here in the USA and other rich countries, poorer countries like many regions of Africa cannot afford it any longer. But those countries rely on cheap wheat to feed their population. Now, reducing the demand for wheat in rich countries can help to reduce prices for wheat. So, Buckwheat is one alternative, even if we mix it in part with wheat flour it can help.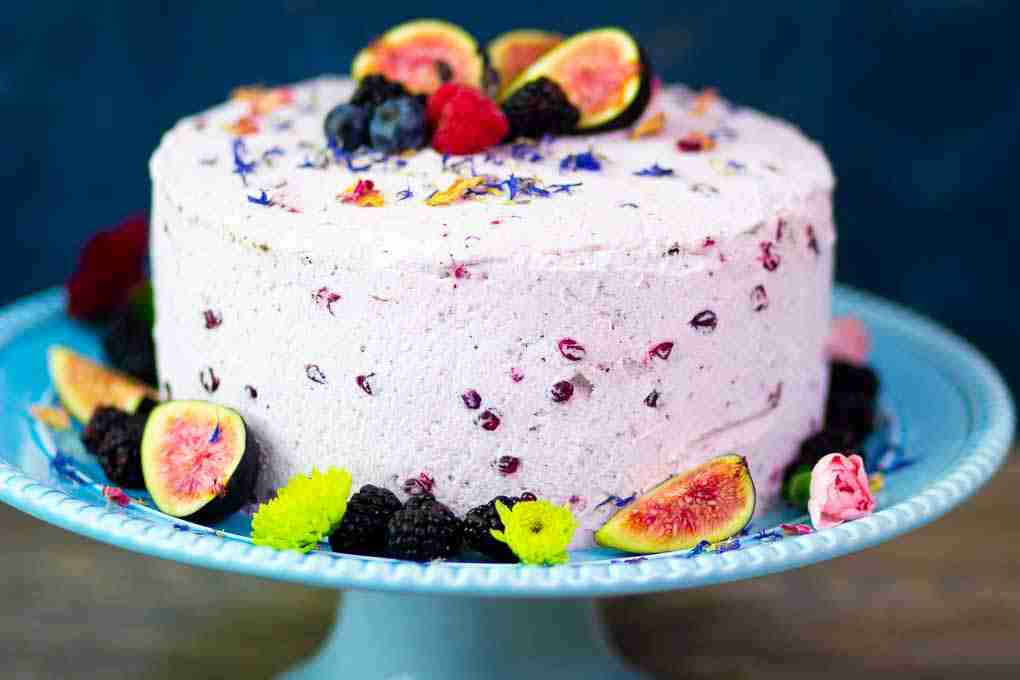 For those who are gluten intolerant and used to eating a gluten-free diet, buckwheat is probably not new to their pantry. There are plenty of recipes using buckwheat for gluten-free cooking and baking.
It is also healthy with plenty of protein and essential amino acids. It contains many important vitamins and also Calcium, Potassium, Iron, Zink, and Magnesium.
Cranberries / Lingonberries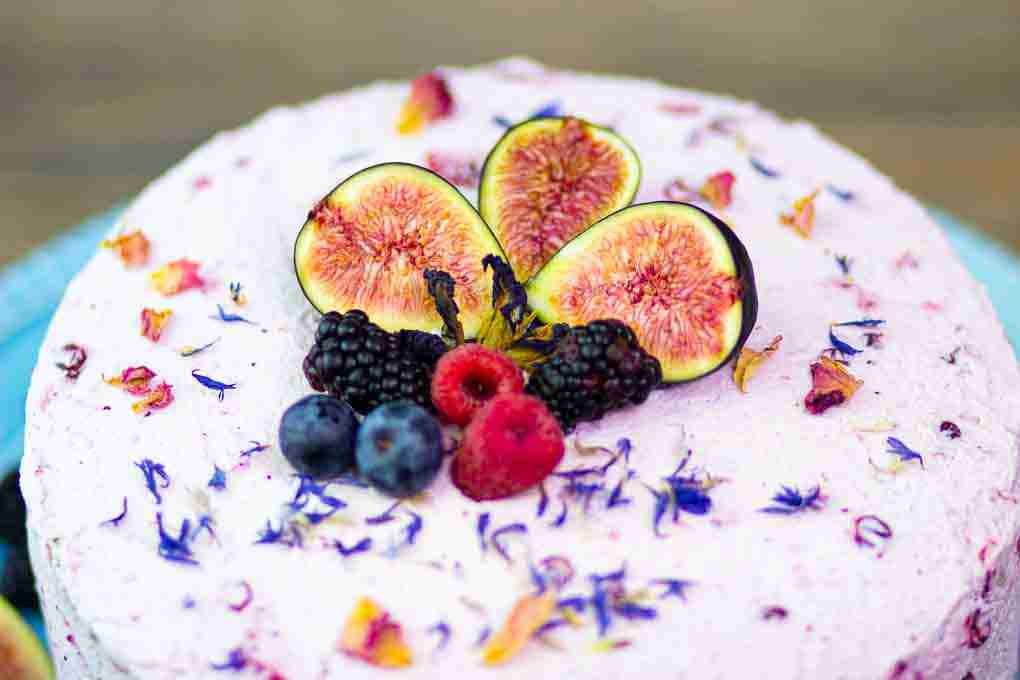 Since we are already talking about healthy food: Cranberries aka Lingonberries contain plenty of Vitamin C, also Vitamin A and B, Potassium, Calcium, Magnesium, and Phosphor.
Cranberries are not consumed raw but make a pretty delicious jam and compote and are very well known in the US as a side for the turkey at Thanksgiving. I got my Lingonberry jam at IKEA, that's why I write both names in this recipe since you might need to know that name, too, to find it.
Baking with Buckwheat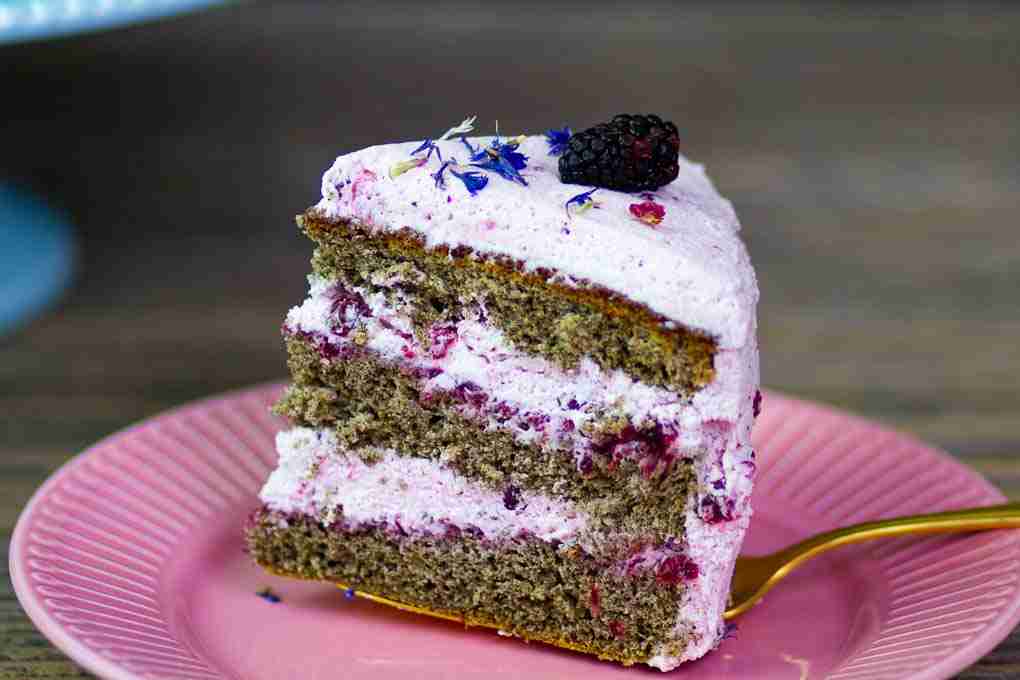 As I noted, buckwheat is gluten-free and therefore often not ideal for baking. But you can make a perfect sponge cake with it. If you want to use it in let's say a bundt cake, you'll need to mix it with some wheat or spelt flour to succeed. But there are also ways to make a gluten-free bread with buckwheat like THIS RECIPE.
The Taste of Buckwheat Cake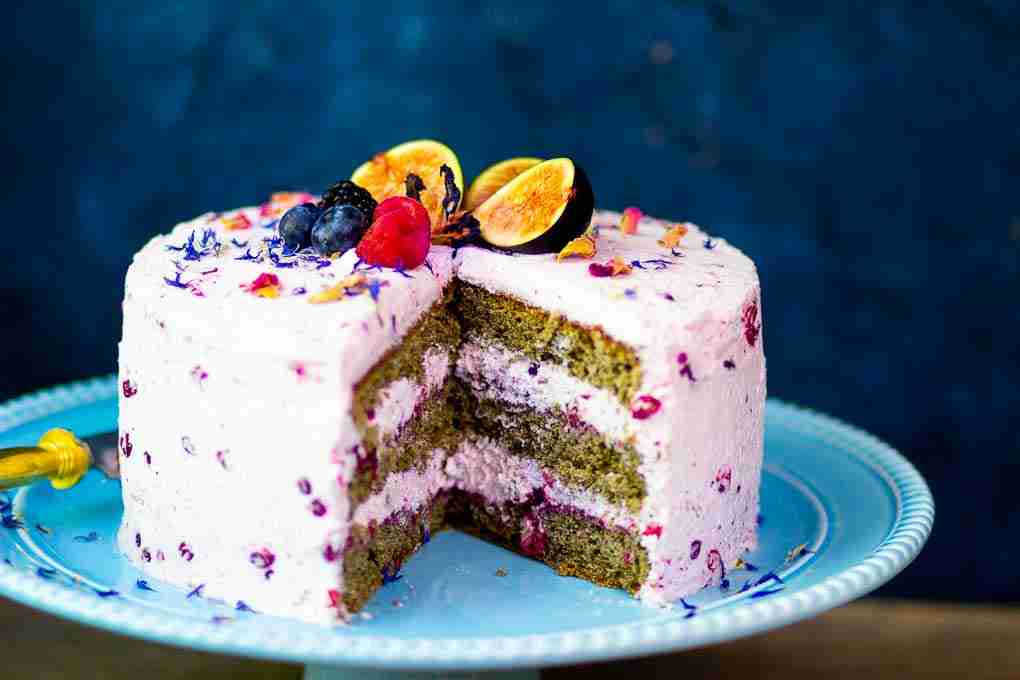 I'll be honet with you: The first time I had some buckwheat cake in the 90's, when there was a hype for it, I did not like it very much. My expectation was for that cake to taste like any other cake but it didn't. The fact that my sister, who baked the cake, also reduced the sugar to an absolutle minimum didn't help. But over time, I tried it again and with different recipes and I started to like it. Especially the combination with the tart cranberries is very interesting and delicious. If you want to be on the safe side when you first serve it to someone unfamiliar with the taste of buckwheat, maybe use a bit more sugar (Mary Poppins style) to ease people into the taste.
Pin To Pinterest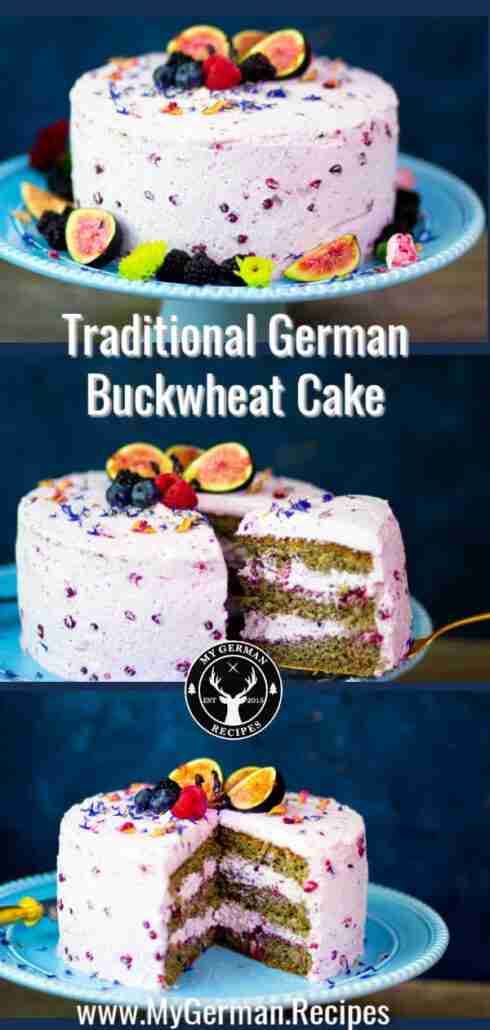 Buckwheat Cake with Cranberries (Lingonberries)
Instructions
Pre-Heat the oven to 180°C / 350°F.

Start with whisking the egg yolks with the sugar, vanilla and lemon zest until it has a very light color.

6 Egg Yolks,

½ Lemon,

2 tsp Vanilla Sugar,

150 g Sugar

Then whisk the egg whites with the salt until it keeps it shape but is not over whisked.

6 Egg Whites,

1 pinch Salt

Mix the baking powder with the buckwheat flour.

150 g Buckwheat Flour,

2 tsp Baking Powder

Add the egg yolk mass and the buckwheat flour on top of the egg whites and start carefully folding it into the egg whites as shown in the video.

Grease the baking pan and fil the batter into it. Make sure it is even.

Bake at 180°C / 350°F for about 30 minutes … this might be longer or shorter depending on the size and color of the baking pan and the oven. Use a wood toothpick to check if it's baked through.

Let the cake cool completely, then cut it into 3 layers of even height.

Use the first layer from the top of the cake upside down so the open side faces up. Spread ⅓ of the cranberry jam on that layer.

Now whip up the cream, add some stabilizer if needed. mix it with ⅓ of the cranberry jam.

600 ml Whipping Cream,

2 to 3 sachets Stabilizer

Mix the cream with ⅓ of the cranberry jam.

Spread a layer of that cream on top of the jam on the first cake layer.

Put the next layer on top, spread the last ⅓ of the cranberry jam on top and then some whipping cream.

Use the last cake layer with the bottom up so you have a very even top.

Spread the remaining whipping cream on top and on the sides and even it as good as possible.

Decorate with the fruits and petals or decorate with chocolate sprinkles.

some fruits, berries, edible flower petals

Put into the fridge for at least 1 hour.
Nutrition
Calories:
303
kcal
Carbohydrates:
25
g
Protein:
6
g
Fat:
21
g
Saturated Fat:
12
g
Polyunsaturated Fat:
1
g
Monounsaturated Fat:
6
g
Cholesterol:
154
mg
Sodium:
118
mg
Potassium:
146
mg
Fiber:
1
g
Sugar:
15
g
Vitamin A:
866
IU
Vitamin C:
3
mg
Calcium:
88
mg
Iron:
1
mg
Summary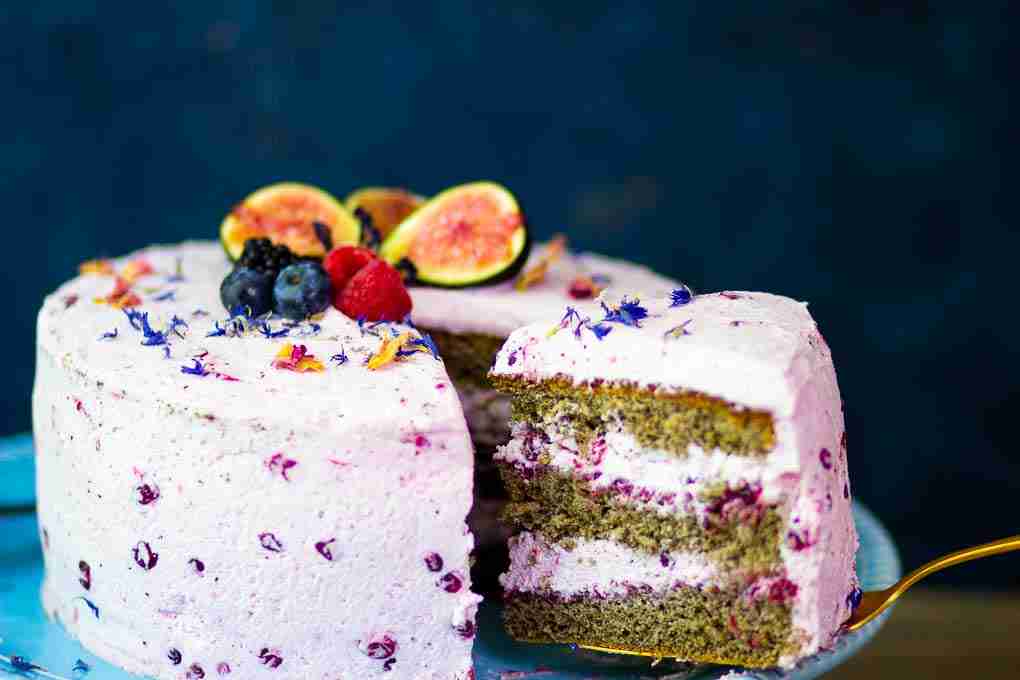 Recipe Name
Buckwheat Cake with Cranberries
Published On
Preparation Time
Cook Time
Total Time
Average Rating





Based on 4 Review(s)