A visitor of my blog asked me about the recipe for Boeuf Stroganoff. Nothing easier than that! I will happily consider every request and try to publish the recipe and if time allows it, also make a video tutorial for it.
Now, Boeuf Stroganoff (or Beef Stroganoff) is not a meal I cook a lot. There is no specific reason for that, I think the recipe had just slipped my mind. The kids couldn't even remember eating it ever in their lives. So for them, it was kind of a "first" and both kids liked it – though my youngest doesn't eat mushrooms and picked those out of her food and that's ok.
In some way, Boeuf Stroganoff is a variation of Gulasch (which is Hungarian and makes me think of my friend Klara from Hungary) and it is not really a German recipe. It is from Russia (which makes me think of my friend Elena, who is from Russia), and according to Wikipedia, it became popular around the world in the mid-19th century. Let's add this piece of knowledge to your internal "small talk library" and move on to the kitchen.
Get really good beef!
It is suggested to get some really good beef for this recipe, but I happened to go to the grocery in the evening and that's when choices become limited. I was hoping for a nice filet but all the filet that was left on the shelf was wrapped in bacon. We love bacon. But I have lowered our bacon consume after watching a very disturbing video about how pigs are treated – I'll spare you a description. So I settled for some stir fry beef and as expected it turned out a little chewy.
If you watch the video, you will learn a German expression: Guten Appetit! (Good appetite or "enjoy your meal"). This is what Germans say before they start eating. It is considered as very rude to start eating before everyone has food on the plate and has said "Guten Appetit". We start eating all at the same time and the "Guten Appetit" kind of is the start signal. In my family, we also say "thank you for cooking" to the person who prepared the meal – which is either me or my husband since we share the duty.
Boeuf Stroganoff Video tutorial
Potatoes – again?
As a side we serve potatoes with the Boeuf Stroganoff. I love potatoes! Don't believe what they say about potatoes – they are a great food and very beneficial (as long as you don't turn them into french fries)!
5.3 oz potatoes have:
only 110 calories
zero fat, sodium or cholesterol
almost half our daily value of vitamin C
even more potassium than a banana
lots of vitamin B6
healthy fiber, magnesium, and antioxidants
I hope you try this recipe, and if you did, I would be happy about your comments to it.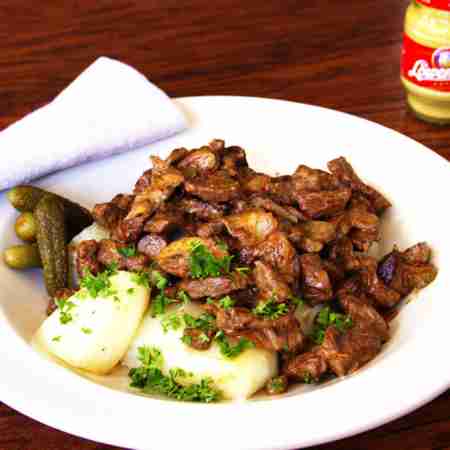 Boeuf Stroganoff
Ingredients
3

Tbsp

olive oil

600

g

beef

preferred filet

150

g

onions

diced or in slices

150

g

mushrooms

100

g

pickles

sliced

250

ml

beef brooth

1

tsp

mustard

2

Tbsp

sour cream

some

salt & pepper to taste
Instructions
Heat the 3 talespoons of olive oil in a pan.

Dab the meat dry and if not already done by your butcher, cut the beef into small slices.

Once the oil is hot, add half of the meat and fry from all sides.

Remove the beef from the pan and set aside, then repeat this with the second half of the meat.

In the frying pan add the onions and mushrooms, fry for a few minutes and then add the pickels. Fry all until it has a nice, brown color.

Add the content of the pan to the meat and set aside again.

Pour the beef broth into the pan and let cook until it has been reduced.

Add 1 teaspoon of mustard and 2 tablespoons of sour cream and stir.

Put the beef and vegetables back into the pan and reheat it without bringing to a boil.

Add some salt and pepper for the taste.

We eat it with potatoes but pasta is a great side, too! Guten Appetit!