Beets usually come in a jar like pickles … at least in Germany. They are also a great Fall vegetable to boost your health for the upcoming winter. My recipe for a beet salad is rich in vitamins and minerals and the taste is heavenly. It's rather on the mild side and since the beets are not pickled, they keep more of their wonderful taste.
Vegan or With Additions
I made my recipe vegan, using plant-based cream, but that is a personal choice you don't have to follow. You can use regular cream, and add goat cheese or the like. However, I don't miss this in the recipe, it tastes great as a vegan version. I sometimes also add some chopped walnuts.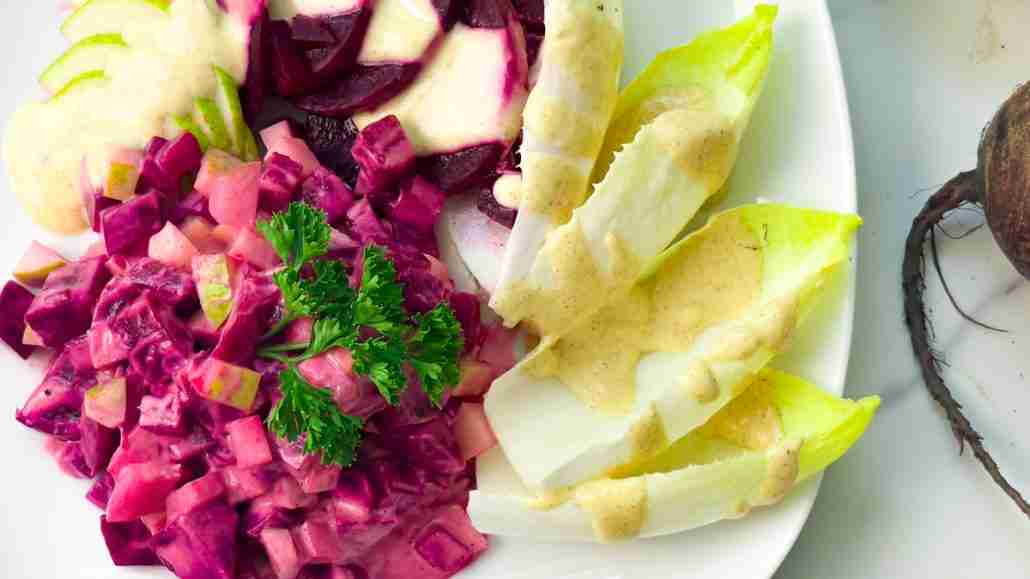 Also, you don't have to follow the way I cut and decorated the plate. It works just as well if you simply dice the beets and pear, cut the endives small, and mix everything in a bowl. Tastes just as good but looks a bit … like a massaker? Well, Halloween is coming up, maybe that's an inspiration.
Video: Beet Salad Recipe
Nothing Beats the Beets
Whether you enjoy them as a salad, roasted, pickled, or blended into a smoothie, here are some compelling reasons to make red beets a regular part of your diet.
Nutrient-Rich Superfood: Red beets are a nutritional powerhouse. They are rich in essential vitamins and minerals, including vitamin C, potassium, folate, and manganese. They are an excellent source of dietary fiber, which supports digestive health and helps maintain a feeling of fullness.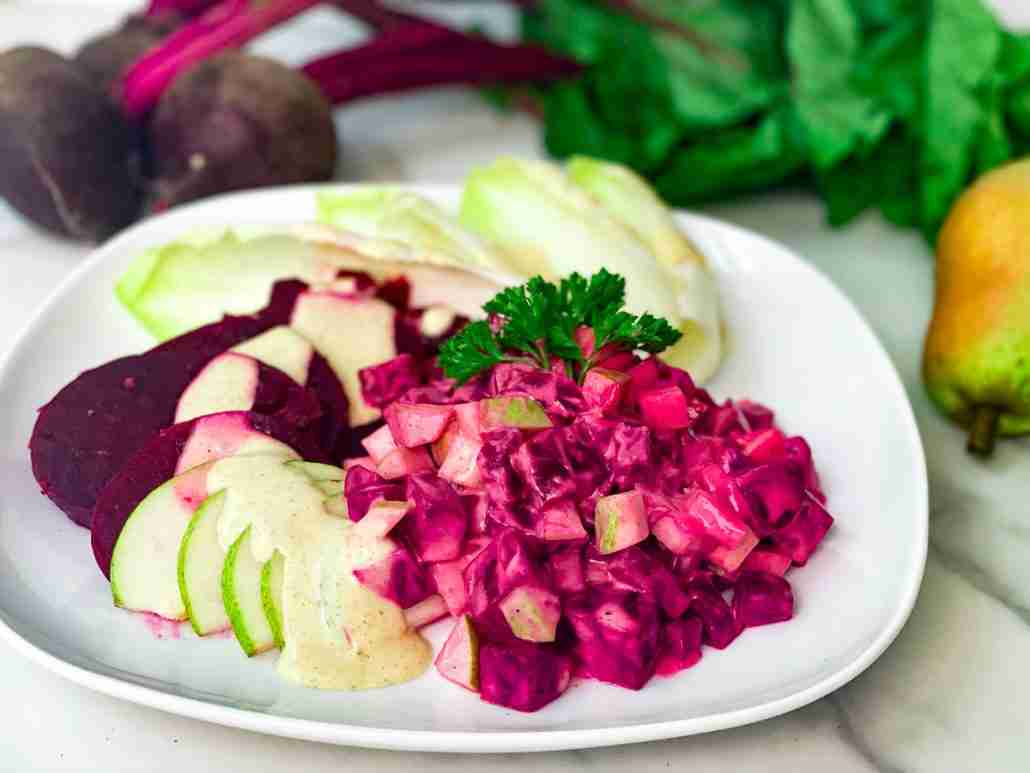 Heart Health: Consuming red beets may be a heart-healthy choice. The high levels of dietary nitrates found in beets have been shown to help relax blood vessels, reduce blood pressure, and improve overall cardiovascular health.
Antioxidant Properties: Red beets are packed with antioxidants, including betalains and anthocyanins. These compounds help protect cells from oxidative stress, reduce inflammation, and may even play a role in preventing chronic diseases such as cancer.
Improved Athletic Performance: Athletes and fitness enthusiasts take note – red beets can boost your performance. The nitrates in beets can improve oxygen utilization and increase stamina during exercise, making them a natural and safe way to enhance athletic performance. I can definitely feel the difference when I'm in the gym.
Detoxification and Liver Health: The betalains in red beets support the liver's natural detoxification processes. They help break down toxins and aid in their elimination from the body … just what we need after Oktoberfest, haha!
Brain Function: The nitrates in beets can also benefit brain function by increasing blood flow to the brain. This improved circulation may enhance cognitive function and potentially reduce the risk of age-related cognitive decline.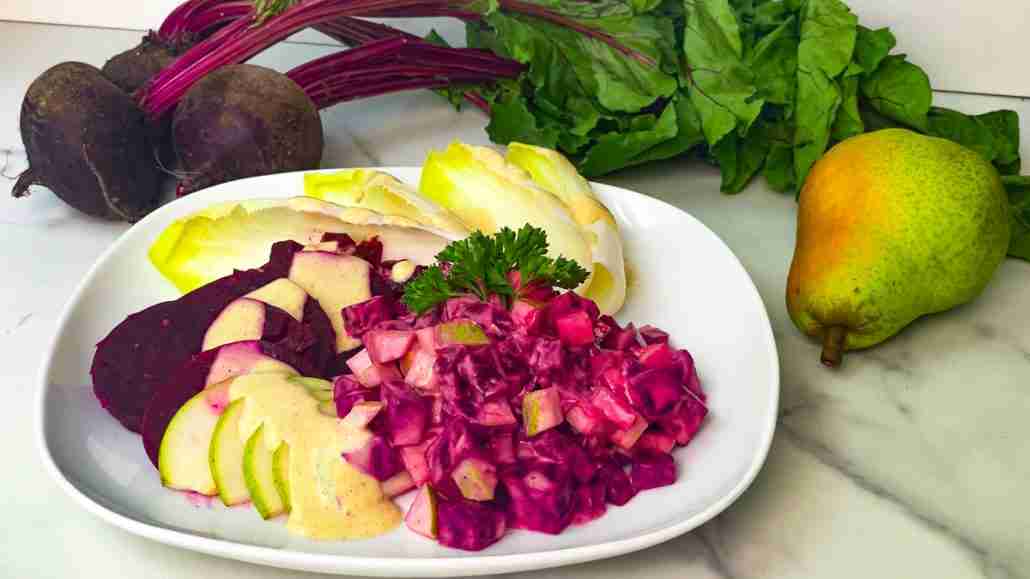 Weight Management: Red beets are low in calories and high in fiber, making them an excellent choice for those looking to manage their weight. The fiber content helps control appetite and promote feelings of fullness, reducing the likelihood of overeating.
Even healthier are the greens of red beets: Often overlooked, they offer a bounty of health benefits. These vibrant leaves are rich in essential nutrients like vitamin K, which supports bone health, and vitamin A, vital for vision. Beet greens contain antioxidants that combat inflammation and protect against chronic diseases. However, if you are taking prescription blood thinner, you should discuss with your doctor if food rich in vitamin K is an option for you.
For "how to cook the greens of beets", check out my recipe for creamy spinach and just follow those same steps.
NAKANO KNIFE
In my video I show you my new knife from Nakano, made in Japan. It is a professional, high-quality chef knife that is used by Michelin chefs and TV cooking stars globally. The Mito series is beautifully made from natural olive wood. So far my knife has cut easily through pumpkins, beets, onions, meat, cake … you name it. It's my new favorite knife and you can get it with the discount code MYGERMANRECIPES from this link https://nakano-knives.com/mygermanrecipes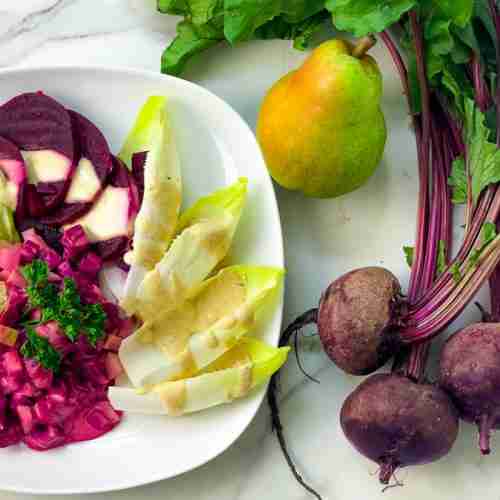 Beet Salad
Equipment
Ingredients
500

g

Beets

fresh

Lemon Zest of ½ Lemon

organic lemon!

2

tbsp

Lemon Juice

¼

tsp

Coriander

ground

1

pear

sweet & juicy

2

Endive or Chicory

small

some

Salt & Pepper
Dressing
100

ml

Orange Juice

fresh

80

ml

Cream

optional: plant-based

1½

tbsp

Nutbutter

nut of your choice

2

tbsp

Lemon Juice

some

Salt & Pepper
Instructions
Remove the greens from the beets, then wash the beets, place them into a pot, cover with water and boil for about 20 minutes. The beets are done when you poke & lift them with a sharp knife and they slide of from it.

Let the beets cool and then remove the outer skin.

Cut half of the beets in slices, then dice the other half.

Cut the pear in half, remove the core. Cut one half in slices, dice the other half.

Grate ½ of an organic lemon and mix the zest with the lemon juice.

Lemon Zest of ½ Lemon,

2 tbsp Lemon Juice

Add the coriander, also some salt and pepper. Mix it.

¼ tsp Coriander,

some Salt & Pepper

Place the beets and pears into a bowl and mix carefully with the lemon marinade.

In a diffrent bowl, mix the orange juice, nut butter, cream, and lemon juice. Add salt and pepper and maybe some more lemon juice until you like the taste.

100 ml Orange Juice,

80 ml Cream,

1½ tbsp Nutbutter,

2 tbsp Lemon Juice,

some Salt & Pepper

Cut the endive or chicory, put some leaves on a plate, add the slices of beets and slices of pear, then the diced beets and pear. Pour the dressing over everything and enjoy!
Notes
The Cholesterol drops to "0" if you use plant-based cream in this recipe.
Nutrition
Serving:
1
serving
Calories:
204
kcal
Carbohydrates:
25
g
Protein:
4
g
Fat:
11
g
Saturated Fat:
5
g
Polyunsaturated Fat:
1
g
Monounsaturated Fat:
4
g
Cholesterol:
23
mg
Sodium:
105
mg
Potassium:
647
mg
Fiber:
6
g
Sugar:
16
g
Vitamin A:
409
IU
Vitamin C:
28
mg
Calcium:
68
mg
Iron:
1
mg