Beer and bread are traditionally enjoyed together in Germany every night. An even better combination is a Beer Toast where the dough contains beer! This makes a fantastic bread!
The name Beer Toast already suggests that this is a German recipe. Who else would put beer in a bread dough and therefor combine two of the most traditional culinary treasures into one food?
Video for Beer Toast Bread
The Beer Pre-Dough
This bread is easy to bake but you must prepare the pre-dough with the beer and let it rest over-night. So, plan ahead and prepare this the night before you bake the bread. If you have the pre-dough stand for longer than over-night, it will still work. I happened to have to postpone my baking an entire day and I think it made the beer dough even better!
The yeast taste of the beer is giving the beer toast bread a lot of flavor, without tasting like baking yeast. Though one can't smell the beer later, you will taste a hint of it in the bread and that makes it very delicious. Anyway, you can still enjoy it for breakfast or tea with a sweet topping like honey, jam or chocolate spread. In the evening, I mostly eat it with cheese or cold cut or a cream cheese spread.
Pin Beer Toast Recipe to Pinterest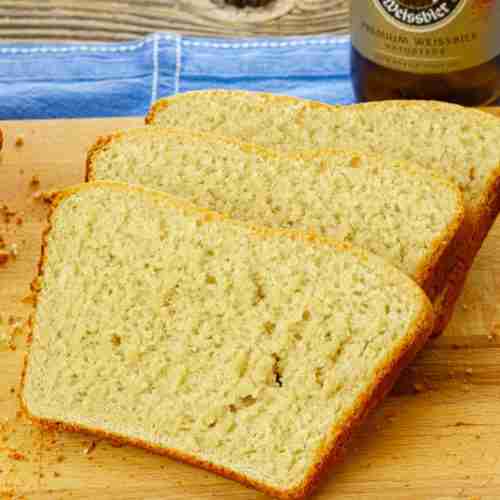 Beer Toast
How to bake a toast bread with a beer dough
Ingredients
Beer Pre-Dough
250

g

wheat flour

250

ml

beer (any!)
Bread Dough
1

batch

Beer Pre-Dough

250

g

wheat flour

15

g

malt

½

tbsp.

honey

½

tbsp.

vinegar

45

g

butter

1

egg yolk

1

package

active dry yeast or instant dry yeast (it doesn't matter which!)

35

ml

luke warm milk

7

g

salt (maybe a little less)
Instructions
Mix all ingredients except for the salt in a large bowl.

You don't need to proof the yeast as I do it in the video, it's just a habit.

Knead with a mixer for 10 minutes, adding the salt after about 3 minutes.

Remove the dough from the bowl and knead by hand.

Let the dough rest for some minutes, this will make it easier to work with it.

Start folding the dough as shown in the video: from the sides to the center, rotating the dough.

Grease a baking pan, then add the dough to the pan, pressing it into the corners to get an even surface.

Let rest and rise for 50 to 60 minutes or until it has doubled in size.

Cover your baking pan with another baking pan of same size, putting it upside down.

Preheat the oven to 270°C / 480°F.

Bake at the above temperature for 10 minutes, then reduce the heat to 210°C / 410 °F and bake for about 20 minutes. Since ovens are different, please trust your nose and check inbetween if the bread is ready to be taken out. It might take less time or longer.