Expecting guests or craving a hearty snack? Arugula Feta Crostini will be exactly what you need! You can make it within minutes and yet I've never met anyone who wouldn't L.O.V.E it!
Arugula and Feta are a wonderful combination and I believe this is one of the few things that cannot be improved by adding garlic – but feel free to try for yourself.
Video Arugula Feta Crostini
When I lived in Germany, there was this little shop, called "Vom Fass" and you could get different oils, vinegar and wines there. They had something called "heavy walnut oil" and this was just perfect for this recipe. It was so tasteful and had a really thick consistency. Unfortunately I cannot get it here but the regular walnut oil from the grocery is a really good alternative.
Arugula has many health benefits, similar to those of broccoli etc.  and feta has a lot of calcium, less fat and calories than other cheeses but has a lot of salt, so don't add any salt to this recipe. You might want to spice it up with some fresh ground black pepper.
I can't really give you measurement for Arugula Feta Crostini, it is something you have to do by feeling. I'm sure you'll figure it out pretty fast, since it is an easy recipe.
With this recipe, I found a little bit of fame: I published it in a German online recipe collection and lots of people praised it. That's why it got picked up by a print magazine, they even sent me an issue all the way from Germany to Texas :-) .
A little downside of this recipe is, that things tend to fall off the bread while eating. I sometimes solve the problem by eating it on a Ciabatta roll instead of a Ciabatta slice.
If you want, you can put the Arugula-Feta-Crostini in the oven with the toping for a few minutes and enjoy it warm.
Pin on Pinterest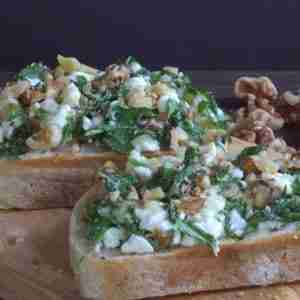 Arugula Feta Crostini
Ingredients
40

g

arugular (some more or less)

112

g

feta, crumbled (some more or less)

(about 1 cup)

3-5

tbsp

walnut oil

¼

cup

fresh walnuts, cut in smaller pieces

some

fresh ground black pepper (optional)

½

loaf

ciabata bread

or some toast or baguette
Instructions
Preheat the oven to 480°F / 250°C or turn on the broil on low.

Add some walnut oil, just enough to make the mix stick together a little bit.

Place the bread slices on a rack into the oven for about 5 minutes or until crispy but not hard.

Remove the bread from the oven and spread the Feta-Arugula-walnut mix on top.