These Apple Yogurt Swirls will surprise you with a dough that seems to be yeast dough … but isn't! It is made with a quark oil dough (quark oil dough) and since most people can't get quark outside of Germany, I am using yogurt instead and it works just as good.
Quark / Jogurt Oil Dough
In times, when yeast is scarce, it is good to have an alternative but this dough hasn't been an invention during the Corona Crisis. In fact, it is around since many, many years. We use it when we have not enough time for a yeast dough with all the rising etc. and there are many uses of quark oil dough (or in this case yogurt oil dough). Made with either more sugar or more salt, it can go in both directions: You can make things like a pizza with it, sausage in a blanket, or bake a sheet cake or swirls or little cakes with this dough …
There are different recipes for it, often requiring an egg and milk. My recipe is much simpler but just as delicious and soft.
… because I know you will be asking how to make the pizza dough, I will add that recipe at the end of this post. You're welcome!
Video Apple Yogurt Swirls
How to make Apple Yogurt Swirls
You can chose to make the Apple Yogurt Swirls just as I do them in the video but you can also try other variations. You could, instead of using apricots, use some other dried fruit that you think goes well with apples.
In my recipe, I like the combination of the sweet apricots with the tart apples. The lemon zest and the glaze with lemon juice emphasizes this even more.
I can imagine that using rhubarb instead of apples could taste great, too. In late summer or fall I think peas would be great with this or how about some plums? So, basically what I am saying is, that you can experiment with this quite a bit and if all ideas fail: Make it into cinnamon rolls.
A Helpful Mistake
In the video, I made a little mistake and accidentally put the entire sugar into the dough. It was meant to be only 75 g and the remaining 25 g should have gone into the filling. However, I think it was a lucky mistake because the dough is barely sweet and in my opinion needed the extra sugar. So, I changed the recipe to this.
Pin Apple Yogurt Swirls to Pinterest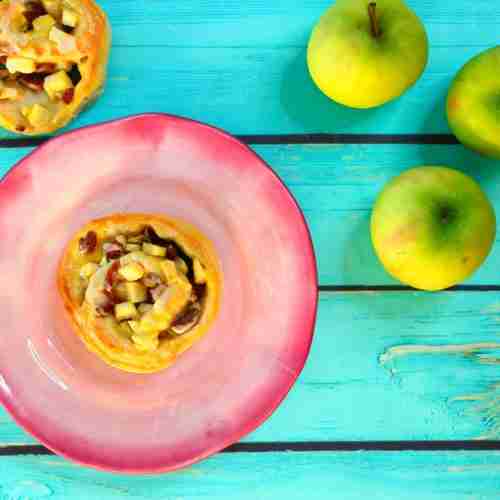 Apple Yogurt Swirls
Ingredients
350

g

Apples (tart)

100

g

dried Apricots

1

Lemon

150

g

Yogurt (whole milk is best)

6

Tbsp

Milk

6

Tbsp

Oil (like grapeseed oil, sunflower oil …)

100

g

Sugar (for the dough)

1

pinch

Salt

1

tsp

Vanilla Extract

300

g

Flour

(All Purpose / regular)

2½

tsp

Baking Powder

Lemon Zest from one lemon

25

g

sugar (for the filling)

1

Egg

1

tsp

whipping cream

75

g

confectioners sugar

some

water or lemon juice or rum
Instructions
Cut the apritots into slices. Then soak them in water and set aside until later.

Remove the skin and core from the apples, then cut them into small pieces. Pour the lemon juice over them, stir, cover and set aside.

Mix the Yogurt with the 100 g sugar, the salt, vanilla, oil, and milk and mix together.

In a different bowl, add the baking powder to the flour. Pour half of that mix into the bowl with the yogurt and start kneading. Keep adding the flour spoon by spoon and knead until a smooth dough is created.

On a surface, roll the dough into a square of 35 x 35 cm / 14 x 15 inch.

Remove the water from the apricots. Mix the apple pieces and the apricots with the lemon zest and the 25 g of sugar in a bowl. Spread this on the dough but leave a 4 finger wide rim at one side.

Preheat the oven: Convection Oven: 175°C / 350°F or conventional Oven: 200°C / 390°F.

Divide the egg and brush some egg white on the rim of the dough. Then start rolling the dough from the oposit side towawrds the rim with the filling being rolled in.

Flip the rim over the roll and attach it to it as good as possible.

Cut the dough roll into slices of about 2,5 cm / 1 inch width and place them onto a prepared baking sheet.

Mix the egg yolk with the cream, you will need this to brush the swirls later.

Bake for about 15 minutes, then brush the egg yolk onto all swirls and bake for another 5 minutes.

After baking, remove the apple yogurt swirls from the baking sheet. Mix the confectioners sugar with either water or lemon juice or rum and glaze the swirls.

Let cool a little and either enjoy warm or cold.

For storage: Keep the swirls in an airtight container at a cool place.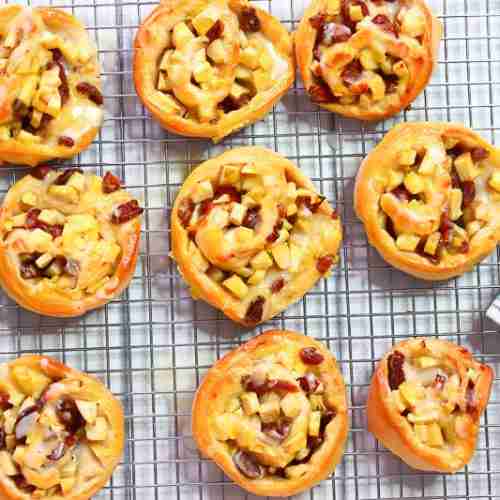 Jogurt Oil Dough for Pizza
Ingredients
125

g

Yogurt

4

Tbsp

Milk

4

Tbsp

Oil

1

Egg

1

tsp

Salt

250

g

Flour (regular)

2½

tsp

Baking Powder
Instructions
Mix the Jogurt, Oil, Milk, Egg, and Salt.

Mix the Flour and Baking Powder.

Add the flour mix to the jogurt mix and knead until you have a smooth dough.

Shape or roll out a pizza, then add the toppings.

Bake at 175°C / 350°F for about 20 to 30 minutes (time might vary with different ovens).