The region of Alsace has a history of belonging sometimes to France and sometimes to Germany. It's French now but the unique culinary mix of German and French culture has created wonderful food. This recipe for Alsatian Dinner Rolls is a quick twist of their "Flammkuchen" / Tarte Flamé.
I am so busy lately, that I sometimes have to use shortcuts and quick recipes to feed the family and still still get everything else done. On those days, the Alsatian Dinner Rolls are a quick and easy solution which everyone loves.
Video for Alsatian Dinner Rolls
What is Schmand?
For the most authentic taste, I am using Schmand for the topping and you might wonder what that is. We have a lot of dairy in Germany, that is unknown to Americans and other nations. There are a couple of cultured creams that mostly differ in their content of fat. The more fat they contain, the more suitable they are for cooking.
Sauerrahm or Saure Sahne – is basically the same as sour cream and has 18% fat
Schmand – has 24% fat and a less acidity taste than sour cream
Creme Fraîche – aka fresh cream comes with 30% fat
Creme Double – has 40% of fat
The good news is, that you can make any of them at home!
How to Make Schmand …
… or other cultured creams.
All you need to make Schmand, is some cream and some sour cream, which will deliver the cultures, and 24 hours at a warm room temperature.
Use 200 ml (1 cup) of cream mixed with 2 tbsp of sour cream and put it in a jar with lid. Let stand at room temperature (about 78!F / 24°C) for 24 hours. If your house is colder than that, place it in the oven with only the oven lights on. Let stand without moving (!) for 24 hours, then keep it in the fridge until you use it or max 1 week.
Some pictures that I took at a German dairy aisle … but it's only a fraction of that area! It is often an entirely separate, cold room at the grocery.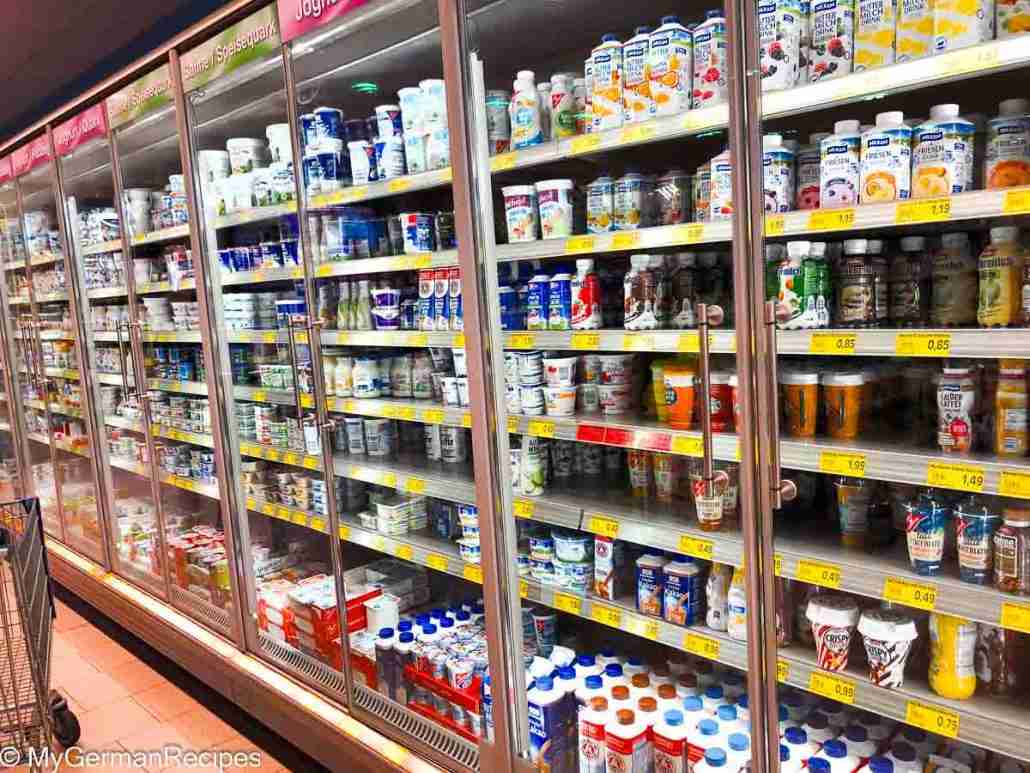 Can I use Sour Cream instead?
Yes, you can use sour cream instead of schmand. Since it has less fat, it might crumble or separate a bit in the heat of the oven but it still works. An other alternative is using some cream cheese mixed with some sour cream to make it more smooth.
Onions, Green Onions, or Leek for Alsatian Dinner Rolls?
Originally, the Alsatian recipe for Flammkuchen (flat bread) is using onions. They have the right sharpness to counter the sweet, creamy taste of the topping. But I like to have some color on my food, therefore I prefer green onions. Some people also use leek.
Also Great For a Party
The Alsacian Rolls are not only a quick weekday dinner option. They are also suitable for a party or potluck. Easy to prepare ahead you can either bake them when your guests have arrived or bake it ahead and serve them cold. Either way, everyone will love this snack!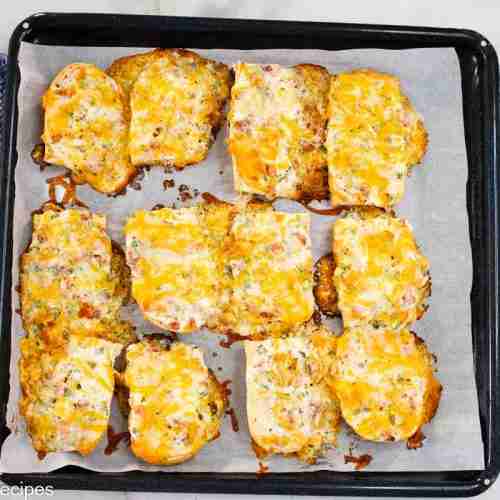 Alsatian Dinner Rolls
Ingredients
6

Dinner Rolls

to ready to bake

200

g

Schmand

or sour cream

1

onion

or green onions

150

g

Prosciutto or Pancetta

diced

1

clove

Garlic

1

pckg

Cheese

shredded

some

Salt

some

Pepper
Instructions
Preheat the oven to the temperature suggested on the package.

Cut open the

6 Dinner Rolls

and place them face up on a baking sheet.

In a bowl, mix the

200 g Schmand

, diced

1 onion

,

150 g Prosciutto or Pancetta

, and pressed

1 clove Garlic

.

Season with

some Salt

and

some Pepper

to taste.

Spread the mix on the rolls and cover each roll with the shredded cheese.

Bake for about 20 minutes and serve either warm or cold.